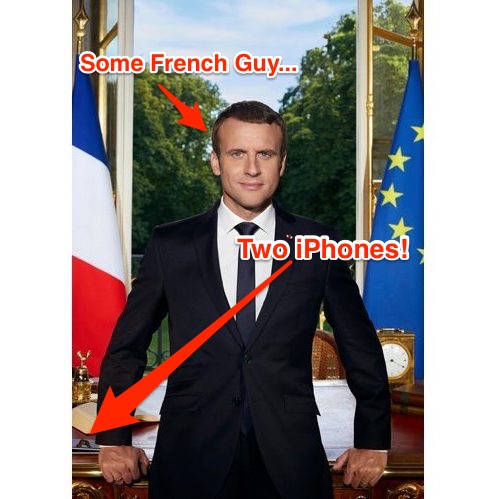 Commencement Day, Wireless CarPlay, official photos, and 64-bit apps are all in the news today:
The first graduates of the Apple Developer Academy are now out of class
Alpine ships its Wireless CarPlay receiver
French President Emmanuel Macron has his official portrait taken, carefully putting his two iPhones in the photo
Apple again reminds developers that their apps must be 64-bit compliant soon
Take control of your inbox with Postbox 5 for macOS and Windows, this week's Apple World Today sponsor.
The text version of the podcast can be viewed below. To listen to the podcast here, click the play button on the player below. Apple News readers need to visit Apple World Today in order to listen to the podcast.
Text Version
This is Steve Sande for Apple World Today, and you're listening to the AWT News Update for June 29th, 2017.
Congratulations to the first graduating class from the Apple Developer Academy in Naples, Italy. This academy is a partnership between Apple and the University of Napoli, and opened last October. The entire cost of the nine-month program was underwritten by Apple, which gave every student a new MacBook, iPad and iPhone. Students came from around the world, with lessons in English. Apple VP Lisa Jackson tweeted a group selfie earlier today congratulating the class of 2017. The company is also offering introductory coding classes as part of its Today at Apple program in Apple Stores, as well as opening a Development Accelerator center in India.
After being announced at CES back in January, Alpine has announced that the first aftermarket Wireless CarPlay receiver can now be purchased and installed through authorized dealers. The Alpine iLX-107 uses a 7-inch capacitive touch display and can be integrated with backup cameras on cars. Unlike most CarPlay integrations, the Alpine unit is wireless, meaning that it uses a combination of Wi-Fi and Bluetooth to work without having to be connected to a Lightning cable. Except for the iLX-107 and all BMW cars, all CarPlay implementations require the cable. If you want to try one of these units, they're $900 and you'll have to find an Alpine authorized dealer.
Power users — isn't it time that you controlled your email inbox instead of having it dominate your life? Postbox 5 for macOS and Windows is what you need. With a full toolbox of features designed to help you master your email, Postbox can help you organize, prioritize, and altogether streamline your email workflow. Postbox is this week's sponsor of Apple World Today, and we invite our readers to discover the power of Postbox at postbox-inc.com.
Most heads of state are famous for having at least one "official photo" taken. Those photos are used in government offices, police stations, and embassies. Recently French President Emmanuel Macron had his official portrait taken, featuring in front of a French flag, a European Union flag, three books from the Pléiade collection, and several other props to show not only his essential French-ness but his intellect. President Macron was shown in a short video on Twitter preparing for the photo session, fussing with his two iPhones, probably conveying the image that he's a really tech-savvy guy.
Yesterday, Apple reminded developers of a new requirement that will be necessary for apps to appear in the iOS or Mac app stores: they must be 64-bit. The change must be made by developers by the time iOS 11 ships in order for apps to remain in the iOS app store, while Mac apps will be given until January of 2018 to comply with the rule. If you want to know what apps are on your iPhone or iPad that will need to be upgraded in order to even operate on your iOS device, launch the Settings app and point to General > About > Applications. Our recommendation on those apps? Delete them if they're not currently in the App Store or leave feedback to the developer if they still work but might not once the update is available.
That's all for today ; I'll be back tomorrow afternoon with another edition of the AWT News Update.