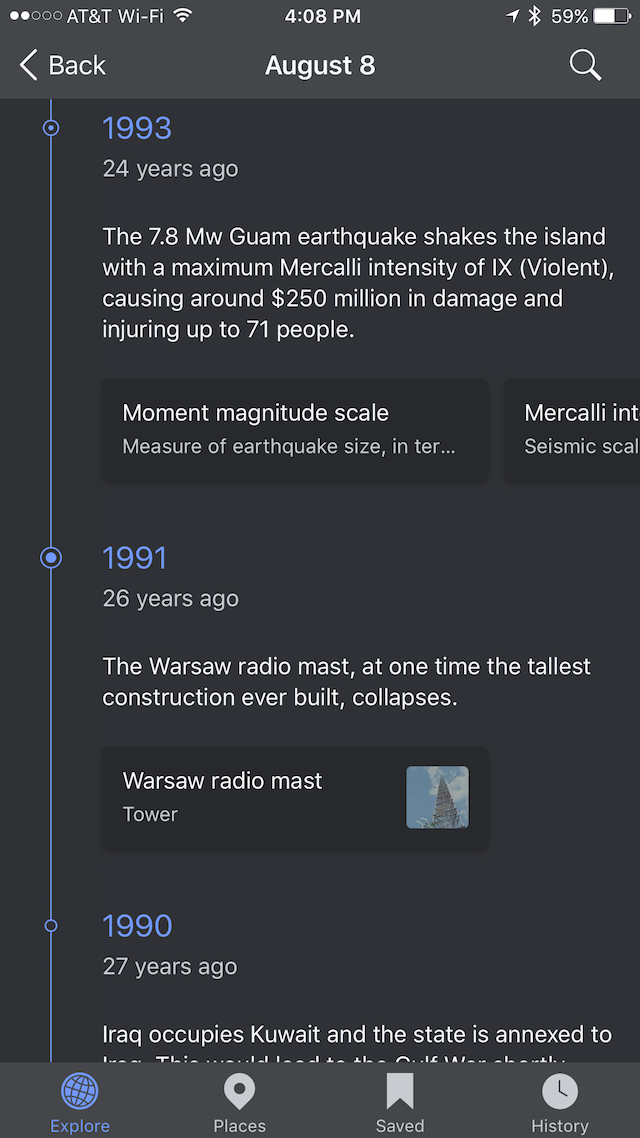 Not a lot of Apple news today, but we have descriptions of a few app updates that might get you excited!
AAPL closes at $160.08, a new record high
Developer Steve Troughton-Smith hacks the tvOS Simulator, finds that 4K is easy for developers to enable in a new Apple TV
The free iOS Wikipedia app (image at right) gains a number of new usability features
Foursquare's Swarm app also gets a nice update, adding an interactive map of where you've been
The text version of the podcast can be read below. To listen to the podcast here, click the play button on the player below. Apple News readers need to visit Apple World Today in order to listen to the podcast.

Text Version
This is Steve Sande for Apple World Today, and you're listening to the AWT News Update for August 8th, 2017.
Another day, another record high for Apple shares. Today the stock closed at $160.08 per share, giving the company a market capitalization of $826.9 billion.
Developer Steven Troughton-Smith has been having loads of fun digging through the recent leaked HomePod firmware, where he keeps finding all sorts of hints for the future of the iPhone and Apple TV. Today's find by Troughton-Smith? He was able to take Apple's tvOS Simulator and easily hack it to run at 4K resolution — that is, 3,840 x 2,160 pixels. Troughton-Smith says that "if you're making art for tvOS, I'd be adding @2X elements already just to be prepared." Doubling the resolution of art created for the current 1080p resolution of the Apple TV results in 4K content. The developer says that it should be an "easy transition" for those working on tvOS apps, "same as original Retina iPhone." It's thought that the new Apple TV model will support HDR in 10-bit, Dolby Vision and HLG formats, and mostly like use the A9 processor found in the iPhone 6s or the A10 in the iPhone 7.
People who love to play around with the iOS Wikipedia app have a surprise in store. Yesterday, the app was updated with a dark mode that lets users adjust the app for better browsing and reading in low-light conditions. The dark mode includes a toggle for image dimming, making brighter pictures less glaring when reading entries. There's also a separate sepia mode, and users can adjust text size in the settings. For those who enjoy zapping Messages to friends, there's also a sticker pack available although it only has 9 rather odd images at present. The Explore fee now includes an "on this day" card that highlights events that occurred on the day in question — with a tap, a scrolling timeline is revealed showing important events that happened on that day throughout history.
Another fun iOS app update today was to an app I use constantly — Foursquare's Swarm. This app is used to gamify going places, with points being accrued as you check in at places around the world. The update now shows a small interactive map to users with a timeline of personal check-ins below, acting as a memory jogger about where you've been. The check-in map is shareable, and there are now 100 collectible categories, each paired with a sticker. If you're a fan of gaining Swarm stickers, the update is going to make you very happy. The update is available on the iOS App Store now.
That's all for today; I'll be back tomorrow afternoon with another edition of the AWT News Update.