It's Apple Watch Launch Week, but we decided to start the week with a completely Watch-Free News Update. Here's what's up today:
Apple doesn't want felons building its new headquarters in Cupertino (seen in the image above)
Foxconn gives Re/Code a tour of the living quarters for those employees who build all of your favorite Apple products
Samsung paid 500 people in China to act as "fans" at a press event for the new Samsung Galaxy S6 and S6 Edge
LG says Apple will release an 8K iMac this year, which of course Apple hasn't announced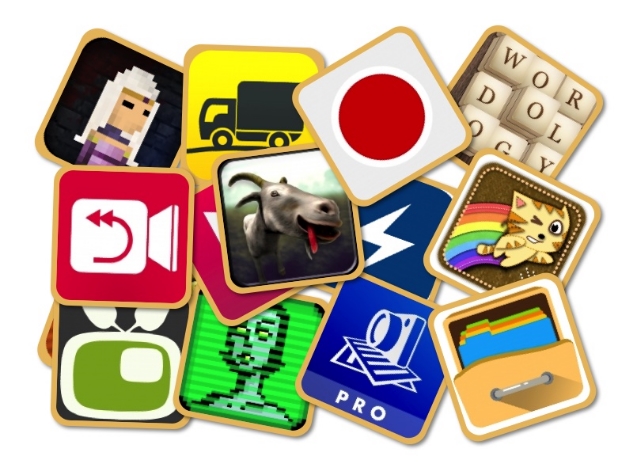 Today in the App Store — Transloader, Transmit for iOS and more
Here are some of the best free apps, app updates and new apps that have landed in the App Store recently. Today's notable apps include a discount on Transloader for OS X, the new Tallowmere game and a notable update to Transmit for iOS. All app prices are USD and subject to change. Some deals may expire quickly, so grab them while you can.
iOS Apps Now Free
Boximize: Structured note taking, personal database, form builder and organizer! [Now free, down from $4.99] Boximize is a structured note taking app that brings you the power of personal databases and the simplicity and usability of note taking apps.
Word Ring [Now free, down from $1.99] Create words quickly as you progress through levels of increasing difficulty. Rings of letters and blocks will fall more and more rapidly.
War of Eclipse [Now free, down from $1.99] War of Eclipse is a retro style game that combines timing action, role playing, and adventure elements. You play as a captain who crashed in a battle but is saved by human survivors.
Video in Video [Now free, down from $1.99] Video in Video is pioneering the way in mobile video creation by allowing anyone to create stunning HD quality video within a video. Perfect for creating instructional or promo videos on the go.
Goat Rampage [Now free, down from $1.99] The Goat Rampage The most ridiculous animal simulator. You're just a stupid Goat, but you're about to make the biggest rampage this world has ever seen.
iOS Apps On Sale
SharpScan Pro + OCR: rapidly scan multipage documents into clean PDF on the go [On sale for $0.99, down from $6.99] Turn your iPhone into a jet Fast multi-page document scanner with SharpScan!
OfficeSuite Pro – Microsoft Office Word, Excel, PowerPoint & PDF documents editor [On sale for $6.99, down from $9.99] The latest version of OfficeSuite brings the power and capability of a desktop app to the iPhone and iPad like never before!
Dictionary.com Premium Dictionary & Thesaurus for iPad [On sale for $2.99, down from $6.99] Top-rated app with trusted reference content from Dictionary.com & Thesaurus.com. WORKS OFFLINE – no Internet connection needed when searching words.
Reverser – Backwards Video Maker with Reverse Cam [On sale for $0.99, down from $1.99] Use Reverser to quickly and easily make hilarious backward videos.
Say Play – Voice search and play background music from the tube [On sale for $4.99, down from $6.99] Play any song in the world by just saying its name.
Wordology [On sale for $0.99, down from $2.99] If you pride yourself as a word game expert and have been looking for a challenge, then this game is for you.
Discounted Mac Apps
Total Manager – Files Archiver, Ftp / Sftp Remote Client [On sale for $0.99, down from $14.99] Total Manager is a powerful file manager with a classic double-window and multi-tab interface.
Cataline [On sale for $0.99, down from $2.99] Set in a world made entirely of fabric, wool and yarn, this physics-based puzzler let's you play Cataline the ginger cat which has to fly and land safely in a fish bowl to catch a meal.
Transloader [On sale for $3.99, down from $5.99] Start downloads on your Mac remotely from your iPhone or iPad. Add URLs to any kind of file in Transloader on your iPhone, iPad or iPod touch and it will sync them to your Mac for download.
New and Notable Apps
Tallowmere [$3.99] Indulge Lady Tallowmere and see how far through her lovingly violent dungeons you can delve in this 2D indie action roguelike-inspired platformer.
The Barbarian [$9.99] The Barbarian is a Top Down Action RPG built for mobile. Intuitive controls allow for enjoyable game play.
Updates you don't want to miss
ThinkBook – Todos, Notes, Projects, Outlines [Free] Imagine the next step up from a todo list app. It has todos, sure, but it also lets you take notes, organize them into outlines, make projects from them and track your progress. . Version 2.0.1 includes the following changes:
ThinkBook 1 was definitely old-school! so I've totally re-jigged the user interface.
So I've made ThinkBook a universal app. The toolbar is moved to the bottom, and the history bar is now a menu. It's a much more intuitive interface.
did you know you could bookmark entries in the old navigation bar? no? most people didn't. Now there's a 'bookmark' button next to each entry, you won't miss it.
Cloud services.
I've had to make ThinkBook free with in-app purchases. Owners of the old version get everything I've mentioned so far for free, but new functionality is provided as IAP.
iCloud transfers. Use iCloud to update your notes between devices.
More notebook covers, there are now two default ones, and you can buy ten more.
Dark themes, there are three default themes, they have light backgrounds like the old ones, and you can buy three more with dark backgrounds.
Transmit for iOS [$9.99] Transmit for iOS allows you to connect to that server and manage all your files, exactly as you'd expect. Transfer. Make folders. Rename. Delete. Set Permissions. You know how it works, and Transmit does it.. Version 4.5 includes the following changes:
Greatly improved S3 support!
SFTP now supports encrypt then MAC (ETM) for SHA2-512 and SHA2-256
SFTP now prompts with the DSA or RSA fingerprint when connecting to a server for the first time
WebDAV will no longer attempt to reconnect repeatedly on authorization failure
Improved battery life (well, we're now making fewer redundant connections, which means less load on your CPU, so why not)
Small fixes: in some cases data wasn't being refreshed in the UI where it should have been, some UI elements were the incorrect size, etc.