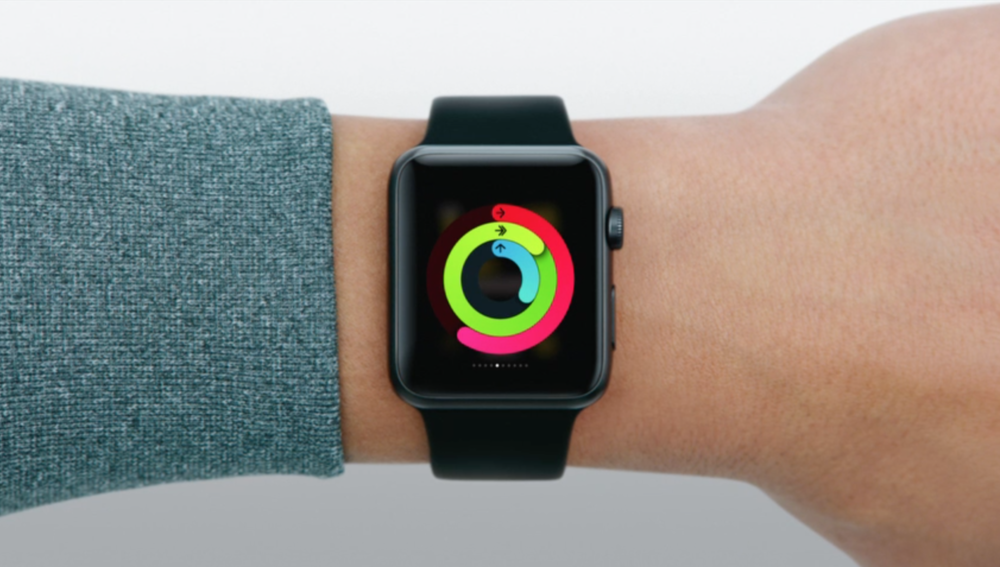 This week's app: Activity
A week ago, just a handful of people were using Apple's Activity app; now, it's on the Apple Watch and iPhone, tracking your every step and trying to keep you moving and working out. 
Over the past few days as I've become accustomed to having the Watch on my left wrist, I've found Activity to be a helpful tool for personal health. It's unobtrusive, but tells you when you ought to get up from sitting too long and walk around a bit, and also gives you an idea of your activity with a glance.
To get to the app on the Watch, just press the Digital Crown and tap the Activity button, which looks like a trio of concentric circles — red on the outside, green in the middle, and blue on the inside. The first time you do this, Activity takes you through a short tutorial on how to help your health by not sitting for prolonged amounts of time (standing up at least one minute of every hour), achieve a calorie burn goal by moving more, and try to hit a higher level of activity by spending at least 30 minutes at a brisk walk or beyond.
As you go through your day, you try to "fill the activity rings"  for standing, moving, and working out. During that first session with Activity, you'll also need to enter some personal information such as sex, weight, height and current activity level. A personal calorie burn goal is listed, and using the digital crown you can adjust it up or down. For me, that level was 360 calories per day.
To see how you're doing during the day, you can put the Activity rings right on a watch face as a complication. With a glance, you can see how far those circles have progressed around their orbit or tap on the Activity icon to open the app. By default, Activity is one of the Glances you can view by swiping up from the bottom of your Watch. 
Once you're viewing the Activity app, you can scroll up to see active calories burned, total steps taken and total distance walked, or swipe side to side to see each of the rings individually. 
Helpful reminders can be set up in the Apple Watch app. I set my Watch up to show my activity in Glances, give me reminders to stand and move every hour, provide me with a progress update every four hours (so it's not constantly nagging me!), and provide goal completion notifications as well. 
If you achieve a certain milestone or personal best, you'll get a notification as well, and the app also provides "medals" to award you for doing things healthily.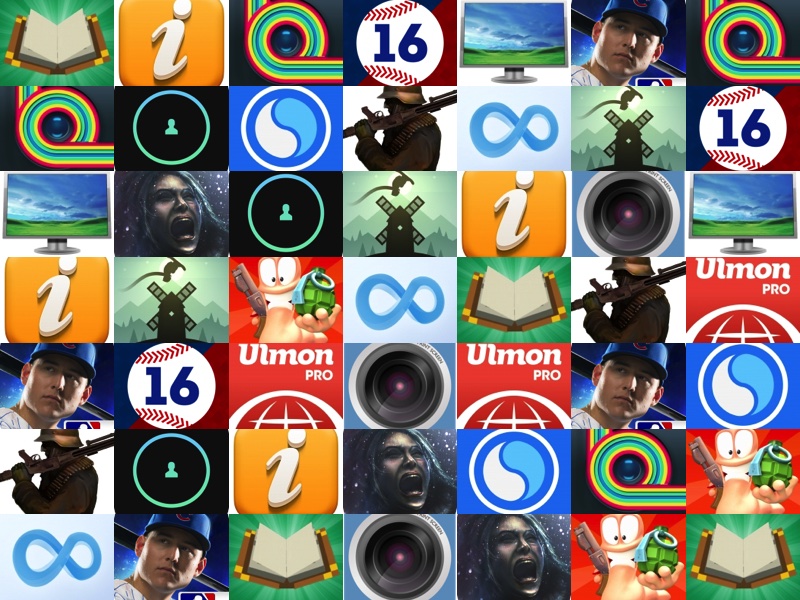 Here are some of the best free apps, app updates and new apps that have landed in the App Store recently. Today's notable apps include a discount on Display Desktop, the new R.B.I. Baseball 15 and a major update to OOTP Baseball 16. All app prices are USD and subject to change. Some deals may expire quickly, so grab them while you can.
iOS Apps Now Free
Guide Pro for Minecraft [Now free, down from $1.99] Now that you have downloaded Minecraft, what do you do? The answer is simple, download the this app so we can help you out!
My Followers for Instagram (Original Edition) [Now free, down from $0.99] Ever wondered who unfollowed you on Instagram? With My Followers On Instagram, you can find that out and much more.
City Maps 2Go Pro » Offline Map and Travel Guide [Now free, down from $4.99] CityMaps2Go is your reliable and easy-to-use global travel companion. Detailed offline maps, in-depth travel content, popular places, and insider tips.
DMD Panorama [Now free, down from $1.99] High Definition 360 Panoramic Camera with a 3d Viewer in a Snap? – take full 360 panoramas instantly and don't miss any beauty around you
iOS Apps On Sale
Alto's Adventure [On sale for $1.99, down from $2.99] Above the placid ivory snow lies a sleepy mountain village, brimming with the promise of adventure.
Calculator ∞ [On sale for $0.99, down from $2.99] Calculator Infinity (∞) – The sleek, multi-function calculator for iPhone/iPad is proud to offer a variety of features to satisfy all ranges of customers.
Convertible – The Best Unit Converter [On sale for $1.99, down from $2.99] Convert anything from the normal to the not-so-normal with the most elegant and unique unit converter in the App Store.
Worms3 [On sale for $0.99, down from $4.99] The follow up to the award-winning, best-selling Worms 2: Armageddon is here! Worms™ 3 has been designed and developed exclusively for iOS.
Discounted Mac Apps
Display Desktop [On sale for $1.99, down from $3.99] With just 1-click, Display Desktop will display your clean desktop!
Making History II [On sale for $14.99, down from $19.99] International trade, religious and cultural strife, military campaigns, diplomatic negotiations… here, you control it all.
Any File Info [Now free, down from $1.99] Any File Info is a professional tool to view and browse files' information. It supports multiple types of files:documents, images, audios and videos.
New and Notable Apps
R.B.I. Baseball 15 [$4.99] The legendary Major League Baseball franchise returns to the diamond. Make History.
Forgotten Memories : Alternate Realities [$4.99] TAKE A DEEP BREATH AND GET READY FOR THE HORROR OF FORGOTTEN MEMORIES.
Print Screen Pro [$1.99] Brand new menu bar application for taking screenshots.
Updates you don't want to miss
Knock – unlock your Mac without a password using your iPhone and Apple Watch [$4.99] Knock and Apple Watch: a match made in heaven. Knock 2.0 makes unlocking your Mac faster and more secure than ever.. Version 2.0 includes the following changes:
Knock and Apple Watch: a match made in heaven. Now you can lock and unlock your Mac from your wrist using your Apple Watch!
Want extra security? Turn on Touch to Unlock to require Touch ID on your iPhone – or a tap on the Apple Watch on your wrist – to unlock your Mac. It's all the security of two-factor authentication, but all the convenience of Knock.
Admin Password Support. Now you can use Knock to install software, unlock System Preferences and more.
Improvements to Knock's connection speed and stability
OOTP Baseball 16 [$39.99] Out of the Park Baseball 16 – Now officially licensed by MLB.com – The award-winning and best-selling baseball game is back better than ever!. Version 16.4.17 includes the following changes:
Updated roster set (need to start new game for changes to apply)
Player counter offers should now be acceptable deals to them
Fixed performances of the day for all-star games
Adjusted reputation calculation for coaches
Adjusted budget calculations double counting cash. Adjusted budget calculations to tie closer to revenue.
Fixed online leagues duplicating player shortlists on upload
Fixed HOF text for closers (need to delete newshtmlimageshof*.png files from saved game folder to regenerate cards)
Added batting GS stats to historical import for years starting in 1975
Fixed several minor bugs + text issues