Apple Watch introduces sleep tracking by, per Apple, taking a holistic approach to sleep by providing tools to help users get the desired amount of sleep, get to bed on time, and create a pre-bedtime routine to meet their sleep goals.
Through the detection of micro-movements from the watch's accelerometer, which signals respiration during sleep, Apple Watch intelligently captures when the wearer is sleeping and how much sleep they get each night. In the morning, the wearer will see a visualization of their previous night's sleep, including periods of wake and sleep. He/she will also see a chart showing their weekly sleep trend.
According to the American Academy of Sleep Medicine, a bedtime routine helps the body prepare for sleep. To support this, Wind Down allows Apple Watch and iPhone users to create a customized routine before bed, including setting up a specific scene in the Home app, listening to a soothing soundscape, or using a favorite meditation app. In Sleep Mode, Apple Watch turns on Do Not Disturb and automatically darkens the screen overnight.
To help users wake up, Apple Watch offers a silent haptic alarm or gentle sounds, while the wake-up screen shows the current battery level. Depending on personal charging behavior, if the battery is too low within an hour of bedtime, Apple Watch will remind users to charge it ahead of sleep. Sleep data is encrypted on device or in iCloud with iCloud sync, and data is always in the user's control, according to Apple.
Make sure your Apple Watch is charged at least 30% before wearing it to bed (and more than 30% is better). To set up Sleep on an Apple Watch:
Open the Sleep app on your Apple Watch.
Follow the onscreen instructions.
You can also open the Health app on iPhone, tap Browse, tap Sleep, then tap Get Started.
You can create multiple screen schedules; I have one for weekdays and another for weekends. For each schedule, you can set up the following:
° A sleep goal (how many hours of sleep you want to get);
° What time you want to go to bed and wake up;
° An alarm sound to wake you up;
° When to turn on sleep mode, which limits distractions before you go to bed and protects your sleep after you're in bed;
° Sleep tracking, which uses your motion to detect sleep when Apple Watch is in sleep mode and worn to bed.
To exit sleep mode, first turn the Digital Crown to unlock. Then swipe up to open Control Center and tap
To change or turn off your wake-up alarm:
° Open the Sleep app on your Apple Watch.
° Tap your current bedtime.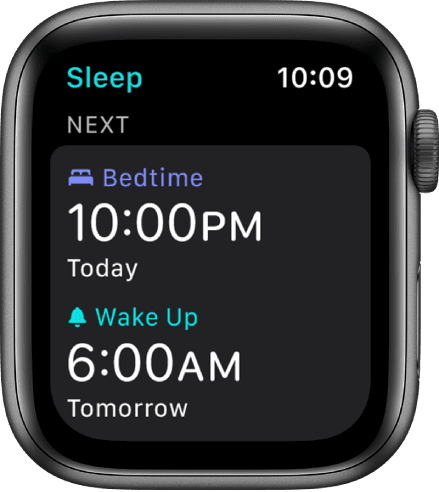 To set a new wake-up time, tap the wake-up time, turn the Digital Crown to set a new time, then tap Set.
If you don't want your Apple Watch to wake you in the morning, turn off Alarm.
The changes apply only to your next wake-up alarm, after which your normal schedule resumes.
To change or add a sleep schedule:
° Open the Sleep app on your Apple Watch.
° Tap Full Schedule, then do one of the following:
Change a sleep schedule: Tap the current schedule.

Add a sleep schedule: Tap Add Another Schedule.

Change your sleep goal: Tap Sleep Goal, then set the amount of time you want to sleep.

Change Wind Down time: Tap Wind Down, then set the amount of time you want sleep mode to be active before bedtime.
To reduce distractions before your scheduled bedtime, sleep mode turns on during Wind Down. Sleep mode turns off the watch display and turns on Do Not Disturb.

Do any of the following:

Set the days for your schedule: Tap your schedule, then tap the area below Active On. Choose days, then tap Done.

Adjust your wake time and bedtime: Tap Wake Up or Bedtime, turn the Digital Crown to set a new time, then tap Set.

Set the alarm options: Turn Alarm off or on and tap Sound to choose an alarm sound.

Remove or cancel a sleep schedule: Tap Delete Schedule (at the bottom of the screen) to remove an existing schedule, or tap Cancel (at the top of the screen) to cancel creating a new one.
To change sleep options: Open the Settings app on your Apple Watch.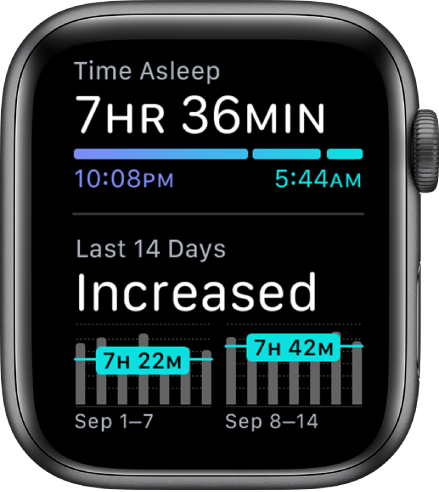 Tap Sleep, then turn on or off any of the following options:
Sleep Mode: Sleep mode simplifies the Lock screen at your scheduled Wind Down time. By default, sleep mode turns on automatically. Tap Sleep Mode, then turn off this option to manually control sleep mode in Control Center.

Show time: Show the date and time on your iPhone and Apple Watch during sleep mode. Tap Sleep Mode to turn it on or off.

Sleep Tracking: When this option is on, your Apple Watch tracks your sleep and adds sleep data to the Health app on your iPhone.

Charging reminders: Apple Watch can remind you to charge before your Wind Down time and notify you when your watch is fully charged.

Wake to haptic taps: Touch and hold the bottom of the screen, swipe up to open Control Center, then tap to turn on silent mode. Apple Watch wakes you with taps, but no audible alarm.
(This how-to is based on my experiences and info on Apple's support pages — where the images sometimes come from.)
(Dennis Sellers has been covering the Apple industry since 1996. In addition to"Apple World Today," he also runs his own freelance writing/editing service. If you want more info about the latter, email him at dennis.sellers@comcast.net.)