If you need an indoor camera that works just fine with Apple's HomeKit and has strong privacy features, look no further tan Eve System's US$149.95 Eve Cam. It's great for keeping an eye on kids or pets, as well as for keeping an eye out for home intruders.
Eve Cam is made exclusively for Apple HomeKit Secure Video. Live images are never streamed through a server, and recordings are stored securely and fully encrypted in your iCloud. (By the way, Apple's HomeKit is a framework that allows control of compatible home automation devices through iOS, iPadOS, macOS, and Siri.)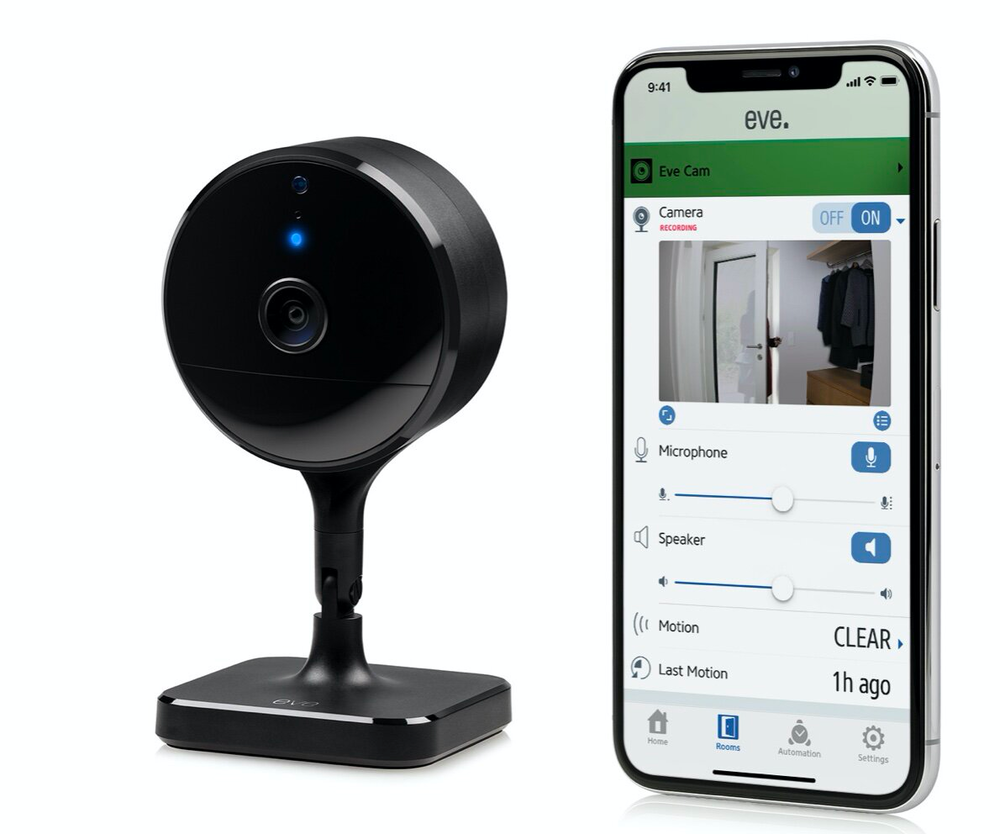 The Eve Cam can be customized to your needs. You decide when it's up and running and how it should respond to activity. An Apple TV, HomePod, or iPad can be used as a home hub. As mentioned, in order to securely store activity detected by Eve Cam, HomeKit Secure Video relies on iCloud.
A single camera can be added to a 200GB storage plan or up to five cameras to a 2TB plan at no additional cost. Camera recordings don't count against the iCloud storage limit.
The Eve Cam streams video at 1080p resolution and around 24 frames per second, and has a 150-degree field of view. The infrared motion sensor alerts you to any activity that passes within view of the camera, and it has night vision up to 15 feet. The Eve Cam also includes a built-in microphone and speaker for clear two-way audio.
Whether the camera's video stream is on or not, the integrated motion sensor can be used to keep track of activity around the house. The Eve app (more on that in a sec) displays every event on a timeline. Via automations based on motion, Eve Cam will turn on HomeKit enabled lamps, light switches and power outlets.
Installation is relatively easy thanks to the 360 x 180 degree flexible design of the camera and its magnetic base. You'll need a WLAN (2.4GHz/5GHz) wireless connection to use it. You'll also need to scan the pairing code via Apple's Home app or via the Eve app itself.
Eve Cam works with Eve 4.3 software, the app that works with all HomeKit-enabled apps from Eve. Version 4.3 brings quicker access to all of HomeKit's features, improved customization options, and improvements for the newest members of the Eve family, Eve Cam and Eve Window Guard.
With Eve 4.3, you can touch and hold almost anywhere to unlock the power of context menus such as:
° At a Glance, which allows you to control an accessory, set a scene that it's part of, and view all accessory details;
° Room Overview, which allows you to instantly toggle all lights in a room and refine room settings in a snap;
° Accessory Details & Types, which allows you to jump back and forth between individual accessories' details;
° Automation, which allows you to quickly toggle Rules and set Scenes.
Eve 4.3 also introduces a new way to view and manage commands: directly in the accessory's details view. At the bottom of each accessory's details, you'll find a new "Automation" entry that lists all Rules and Scenes that this accessory is a part of. Users can touch and hold new entries, offering a quick way to toggle Rules and set Scenes.
To use the Eve Cam an Eve 4.3 software, you'll need:
iPhone or iPad with iOS/iPadOS 13.5 or later

HomePod or Apple TV with tvOS 13.4 or later as a home hub

Wi-Fi network (2.4/5 GHz 802.11a/b/g/n)

200 GB Apple iCloud storage plan or higher (not included).
Included in the box are: the Eve Cam itself, USB power supply, a 7.2-foot micro USB cable, a metal plate for magnetic wall installation, screws and anchors for the metal plate, an adhesive pad for the metal plate, and a quick start guide. I wish Eve had included a USB-C cable rather than (or in addition to) the micro USB cable.
As far as I know, the Eve Cam is the first indoor camera for use with HomeKit. For most folks, outdoor cameras may be more valuable. But if you need to keep an eye on the inside of your home or office, I have no hesitation recommending the Eve Cam.
Apple World Today Rating (out of 5 stars): ★★★★