UBTECH Education has announced Camp:ASPIRE, At-home Summer Programs in Robotics & Engineering, designed to immerse children in hands-on STEM learning activities, design challenges, and creative fun with robots.
Developed in partnership with the STEM Learning Ecosystems Community of Practice, a global initiative dedicated to preparing every child to thrive through high-quality STEM education, Camp:ASPIRE brings virtual instruction with accredited educators and hands-on building with robots to the safety and comfort of home.
Registration for Camp:ASPIRE opens today with the first classes beginning June 15 and running each week until Aug. 24.
Underscoring a commitment to help address inequities in STEM education, UBTECH and the STEM Learning Ecosystems are also providing funds that support equitable access to vital STEM learning resources. Up to 10 percent of revenue from Camp:ASPIRE, with a minimum of $100,000, will be directly reinvested as scholarships awarded to students for whom a summer robotics program would otherwise be out of reach. Information about applying can be found at the Camp:ASPIRE website.
In addition, a portion of revenue from Camp:ASPIRE registrations sold through the STEM Learning Ecosystems will be given back to Ecosystems Communities of Practice, providing valuable funding for future learning initiatives in their communities. It is the shared belief of both UBTECH and the STEM Learning Ecosystems that every child should have access to the STEM education they need for a brighter future.
Participants in Camp:ASPIRE receive 10 hours of live virtual instruction by accredited STEM educators over five days, all delivered using videoconference technology to small, interactive groups at the same skill level.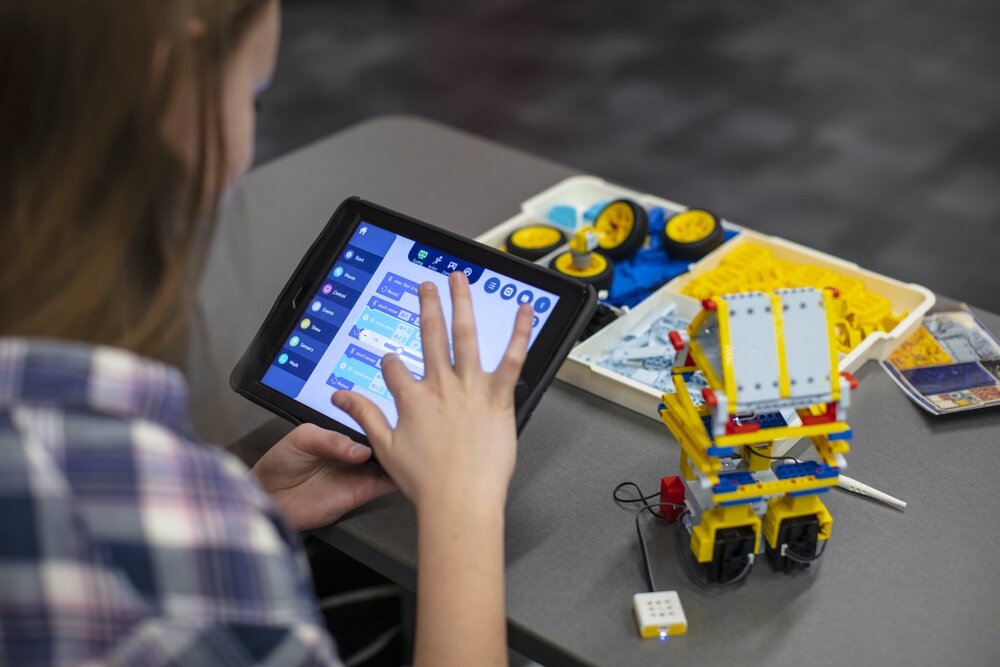 Kids also receive a UKIT robotics building kit that includes servos, connectors, a main control box, and 300-500+ pieces, all of which are the child's to keep and continue building after the class ends. In addition to the live virtual instruction, Camp:ASPIRE also provides 10+ hours of additional, self-guided activities to keep the learning growing and creativity flowing throughout the week.
Camp:ASPIRE class options will be open to all levels of learners, from beginner to more experienced. Classes include:
° Robotics, Coding & Engineering: Introduction to learning the basics of programming, engineering and robotics. Students start by building and programming basic robots to do simple tasks and quickly progress to designing more complex robotic creations that will get them excited about engineering.
° Animal Robots: Designing robots to mimic animal movements. Students use what they can observe in nature as inspiration for a robot they design, build, and program, exploring how biology, art, and robots can all be linked through biomimicry.
° Coding & Sensors: Building robots to interact with the world. Students dive into how computers use sensors to make sense of the world. Students will build and program multiple sensors to expand their computational and engineering design thinking skills.
° A Helping Hand: Designing robots to solve problems. Students dive into different applications of robotics and then design a robot to solve a specific problem in their community, creatively thinking about how they can utilize robotics for a useful purpose.
Full class descriptions, pricing, and availability can be found on the Camp: ASPIRE website. Classes are limited due to the small student-instructor ratio, so parents are encouraged to register as soon as possible.
Camp:ASPIRE Toolkits for educators
In addition to offering Camp:ASPIRE directly to parents and their budding engineers-in-the-making, UBTECH Education is partnering with STEM Learning Ecosystems to offer schools, traditional summer camps, and other STEM educators complete toolkits to coordinate and lead a summer robotics program of their own. By packaging together UKIT robotics building kits, software, curricula, professional development, and support services, educators can introduce a cost-effective, turnkey STEM summer camp in a matter of days instead of weeks or months, says Veronica Gonzales, director of the STEM Learning Ecosystems. "We are excited about the partnership with UBTECH because it enables us to provide a valuable service to the communities and students we serve."
She says the Camp:ASPIRE Toolkits were introduced to STEM Learning Ecosystems earlier this month and have been adopted by many community organizations, who see them as a fast, easy, and cost-effective way for STEM educators to onboard a home-based program that is engaging, instructional, and fun. Gonzales also noted that Camp:ASPIRE is NGSS-aligned and already proven in classrooms, giving it added appeal.
Camp:ASPIRE registration opens today with week-long classes Monday through Friday from June 15 until Aug. 24. See the Camp:ASPIRE website for more information, including discounts for early bird registration, siblings, and multi-week classes.
The Camp:ASPIRE Toolkits are available now. Educators, administrators, and summer camp organizers can contact education@ubtrobot.com to learn more from a UBTECH Education representative.