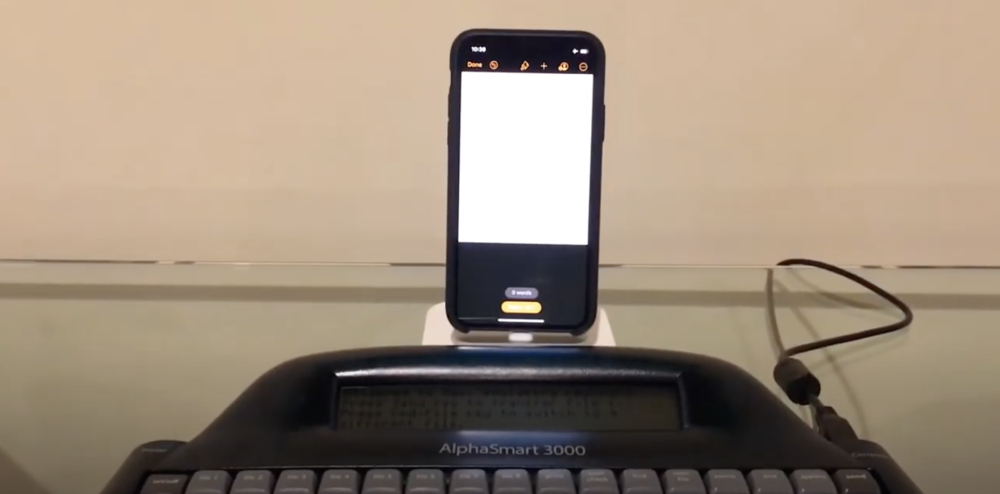 We've highlighted some of Niles Mitchell's wonderful videos in the past, and this one is a keeper! Niles specializes in connecting old technology to modern-day Apple devices, basically just to see if it can be done. In today's video, he connects an AlphaSmart word processor to an iPhone and actually uses it to send macros to the iPhone.
The AlphaSmart line was designed by two ex-Apple engineers who wanted to sell low-cost word processors to schools. They were basically a keyboard with a small LCD display that could save documents locally for eventual transfer to a computer. What Mitchell does here is first use the device as a keyboard for his iPhone (pretty simple since he's using a USB-equipped AlphaSmart 3000), but then he goes completely nerdy by using iOS 13's keyboard connectivity tools (Settings > Accessibility > Keyboards > Full Keyboard Access > Commands) to zap a macro to the iPhone. Check out the video:
Sadly, the AlphaSmart line is no longer produced. It reminds me of one of my favorite 1980s "word processors", the Radio Shack TRS-80 Model 100. Hmmm, Niles, have you tried doing anything with a Model 100 yet?
Be sure to subscribe to the Will It Work? channel on YouTube.