Those of you who are working from home during the current COVID-19 "lockdowns" might be taking on tasks that you've never handled before, like being asked to design graphics for articles or websites, or perhaps creating good-looking warning graphics. DesignCap is a powerful online tool for creating graphics that is inexpensive and easy to use.
By inexpensive, I mean that you can actually start by using DesignCap for free just to get a feel for how it works. If you decide that you'd like full access to unlimited stock photos, templates, icons and modules, you can pay for a Basic ($59.88 annually) or Plus ($71.88 annually) subscription. The paid service allows you to save 100 (Basic) or 1000 (Plus) designs and uploaded images as well, while the free plan only offers 5 saved designs and image uploads.
An Example of DesignCap in Action
Let's create a quick graphic. To be timely, let's make a coronavirus warning poster. DesignCap has all sorts of templates available, including posters, flyers, brochures, menus, cards, invitations, infographics, timeline infographics, presentations, reports, YouTube banners and thumbnails, Facebook covers, and Instagram posts.
For my poster, I can start by either choosing a category or a template. The templates are pre-filled with text and graphics that you can easily change. I selected categories and chose a new one titled "Coronavirus" that the company created in the past few weeks.
For my example, I'm pretending that I actually have an office in a building somewhere instead of my comfy home office where I've always worked in the company of cats. I'd like to make a poster to put on my door letting people know that the hypothetical office is closed, and I want it to look a lot more professional than the hand-scrawled signs on printer paper that I've seen all over the place.
As you can see from the image above, the templates offered by DesignCap are pretty well-designed. If I don't like what they have, I can always create my own. In this case, I decide to select an eye-catching yellow and red "Closed" sign template, and click on it: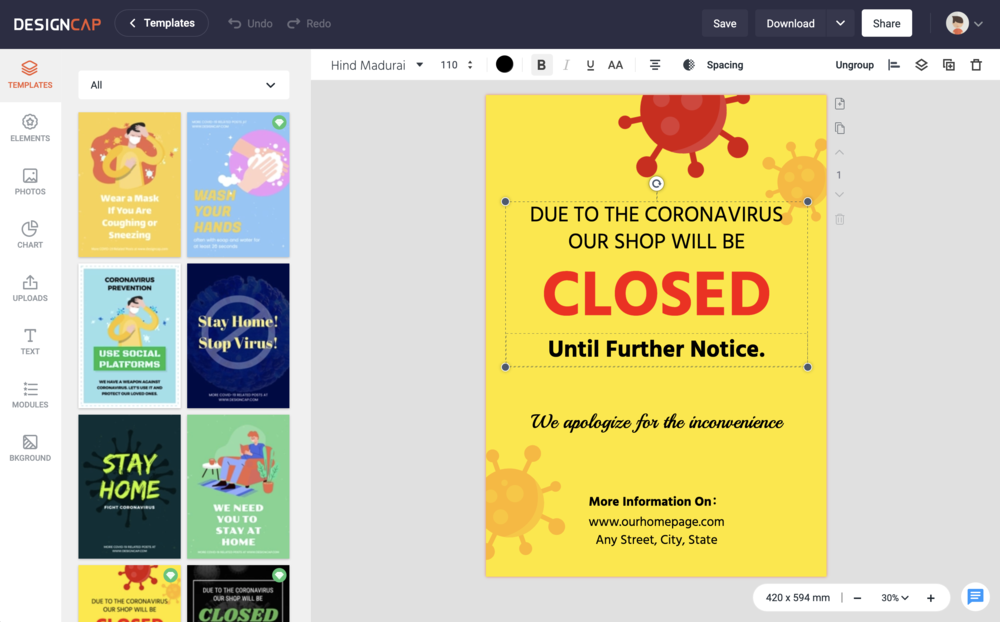 At the left are more template choices if I decide I don't like this one, and if I click on the template elements, I see tools that are associated with them. In the screenshot above, I clicked on some text and the tools show the font used, the size, color, style (Bold), and more.
My business isn't a "shop", so I want to change that word to "office". I double-click on the word "shop" to highlight it and then type in "office".
I decide that I don't like the script font used in the template where it says "We apologize for the inconvenience", so I click on the text element, click on the font name, and look for one that looks like it was written on the poster with a heavy marker.
I made a few more changes, underlining the word "CLOSED", making the "We apologize for the inconvenience" slightly larger and in red, and putting in the correct link. Here's what the final poster looks like: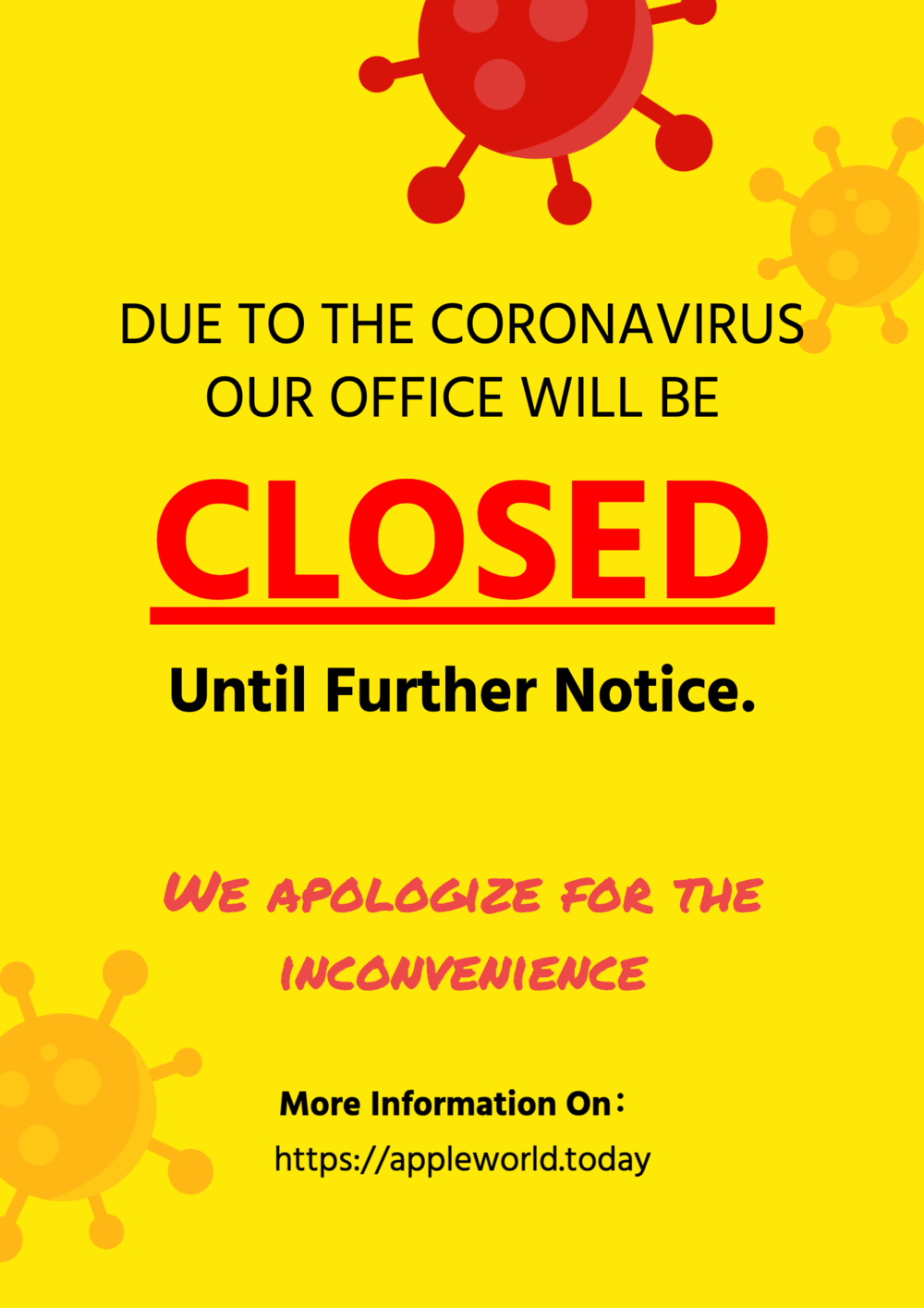 I liked the poster, so I can now download it for printing. With a click on the Download button I'm asked what size and format (JPG, PNG, PDF) I want, and I'm given an opportunity to change the file name. One more click and the file is stored on my Mac, ready for use. I can also save the design online if I want to do some additional work on it later.
DesignCap works with almost any browser on almost any device. However, I did notice that a design created while I was using Safari as my browser was slightly "off" when saved — text wasn't aligned the way I had set it up. Your mileage may vary, but it was enough to make me do my work in the Chrome browser instead of Safari.
Conclusion
I found DesignCap to not only have a wide variety of templates to choose from, but an amazing amount of photos, backgrounds, and similar design elements as well. The cost — even for the Plus subscription — is extremely reasonable, and if you need to design graphics on a regular basis, DesignCap is well worth a look.
Apple World Today Rating (out of 5 stars): ★★★★★
Did you find this review useful? Consider supporting Apple World Today through Patreon.
Become a Patron!