The worldwide market for wearable devices grew 82.3% in the fourth quarter of 2019 (4Q19), reaching a new high of 118.9 million devices shipped according to new data from the International Data Corporation (IDC) Worldwide Quarterly Wearable Device Tracker.
The stunning growth was largely due to the proliferation of hearables, which captured 55.3% of the entire market, adds the research group. Other popular categories that also experienced growth during the quarter included watches (15.3% year-over-year growth) and wrist bands (17.7% growth). Wrist-worn devices captured 43.8% of the total market, down from 68.6% last holiday season.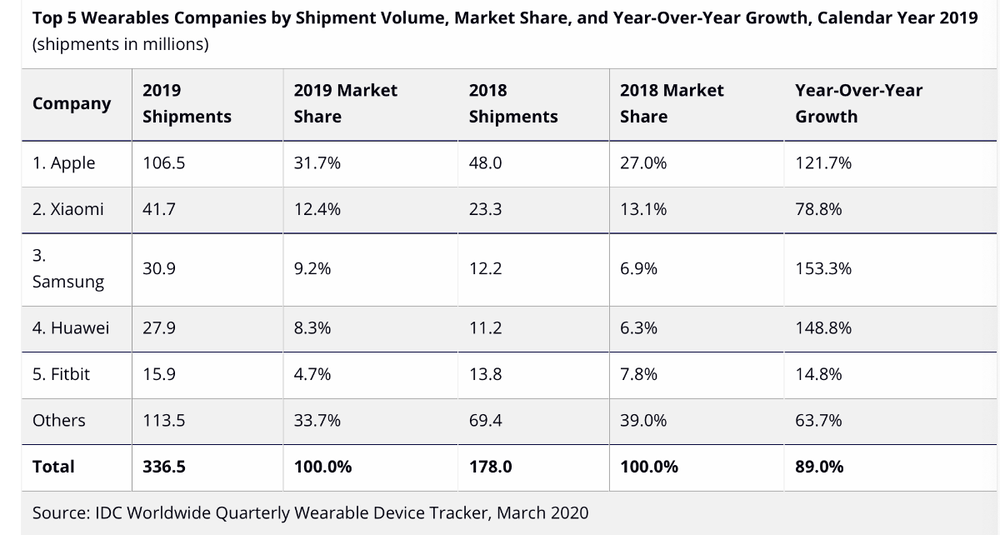 Though the share for wrist-worn devices has declined, the category itself grew 16.3% over the same period. For the entire year, vendors shipped a total of 336.5 million wearable devices worldwide, resulting in an 89.0% increase from the 178.0 million units shipped in 2018.
Apple led the market with 43.4 million units shipped in 4Q19 thanks to its refreshed AirPods, AirPods Pro, and Apple Watch as well as its Beats products spanning multiple price points. However, as the company's products did well overall during the quarter, Apple Watch shipments declined 5.2% year over year as the company experienced supply shortages.
"The market for wearables is also quickly becoming very top heavy as companies such as Apple and Samsung capture a greater share of the market," says Jitesh Ubrani, research manager for IDC Mobile Device Trackers. "While these giants put pressure on the rest of the market, there continues to be plenty of innovation and differentiaion among the smaller brands and this long tail of the market will carry on for the foreseeable future."