Streaming platforms have changed the way Americans consume content, with viewership across traditional Pay TV as well as theaters dipping with each passing year, according to Piplsay, a "global platform for getting people's opinions at scale."
So what viewership trends will dictate the media and entertainment industry? To find out Piplsay polled 56,063 Americans nationwide and found:
° Twenty-eight percent of Americans watch content only on streaming platforms.
° Sixty-two percent of OTT subscribers prefer paid subscription, and 38% prefer free content. OTT stands for over-the-top, initially named in reference to devices that go "over" a cable box to give the user access to TV content.
° Thirty-four percent of Americans spend more than three hours watching Pay TV every day as compared to just 21% of OTT subscribers. In OTT channels, content is delivered via an Internet connection rather than through a traditional cable/broadcast provider. Think Netflix, Amazon Prime, Apple TV+, Disney+, etc.
° Forty-six percent of Americans have either reduced or stopped going to theaters completely.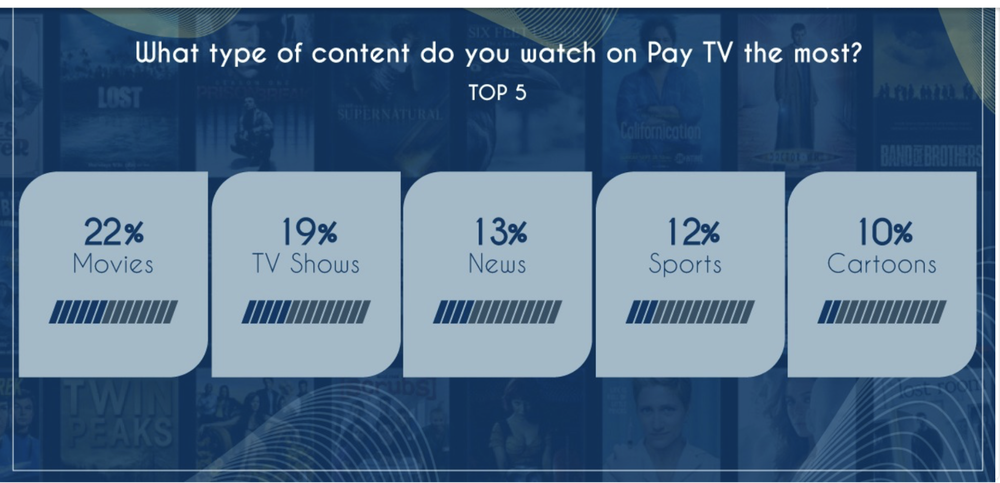 "Streaming services have been challenging Hollywood's status quo for years but never has it felt the heat as intensely as it does today," says Piplsay. "It's not just the 'chilling' at home that makes streaming platforms an attractive option but also the strong original content they produce that helps set them apart. Not surprisingly then, that, close to 50% of Americans today either visit multiplexes less often or have stopped watching movies on the big screen altogether. Among the reasons, about 35% of Americans seem to prefer streaming movies at their own convenience over buying expensive movie tickets."
HOWEVER, data from entertainment and media research firm Screen Engine/ASI's Global Entertainment Tech Tracker (GETT) suggests that movie theaters tend to be frequented more by those who watch a lot of films on streaming services rather than those who watch fewer or none at all on them.
U.S. consumers who watched 13 or more movies (licensed or original) on paid video streaming services in the past 12 months reported seeing on average 6.5 movies in theaters in that same time frame, according to Screen Engine/ASI data fielded in February and May 2019.
Meanwhile, consumers that watched 1-12 movies via SVOD in the past 12 months reported seeing on average 5.2 movies in theaters. For those that didn't watch any movie via SVOD over the past 12 months, the number of movies they reported seeing on average in theaters was 5.3.