Whether you're traveling, on your couch, or in the office, a dying battery can ruin your day. It's not the sexiest peripheral around, but Satechi's 108W Pro USB-C PD Desktop Charger has a variety of fast, convenient, flexible, and safe features.
The charger boasts upgraded USB-C PD ports, 90W and 18W, to charge high-powered Type-C laptops and tablets without downgrading power when connecting two devices. These Mac laptops have Thunderbolt 3 (USB-C) ports: MacBook Pros introduced in 2016 or later and the 2018 MacBook Air. Type-C tablets include 11-inch iPad Pro and the third generation of the 12.9-inch iPad Pro.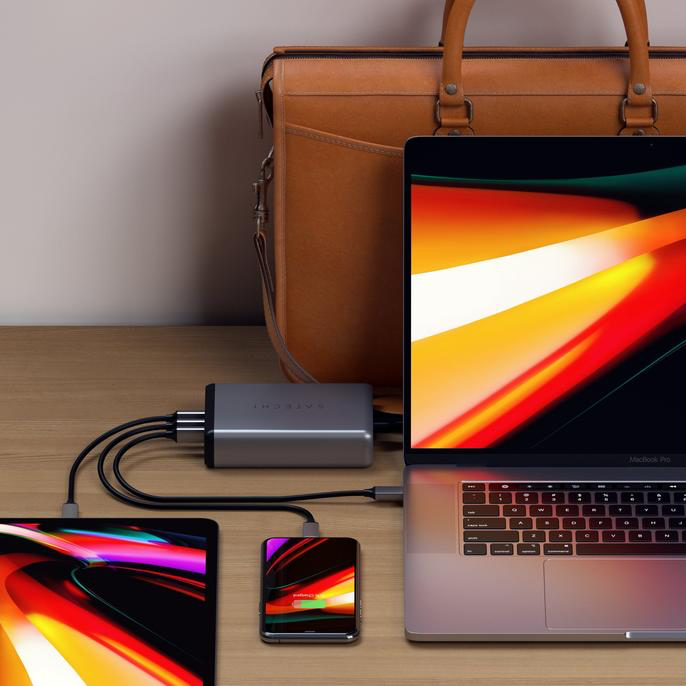 The 108W Pro USB-C PD Desktop Charger can charge four gadgets at once. It includes two USB-C PD (90W, 18W) and two USB-A (total: 12W) ports. However, you'll have to provide your own charging cables.
Housed in durable, heat-resistant materials, the Charger complies with CE, ETL, USBIF and FCC safety standards. You can't slip it into a pocket, but, at 4.75 x 1.19 x 3.13 inches and 14.7 ounces, it is portable.
When I'm traveling, I can use it to charge my 16-inch MacBook Pro, 12.9-inch iPad Pro, and iPhone 11 Pro Max simultaneously. However, there's no wireless charging pad for, say, AirPods and AirPods Pro with a wireless charging case
The $79.99 Satechi Desktop Charger is available on Amazon. That's a decent price for the charging capabilities.
Apple World Today Rating (out of 5 stars): ★★★★