Many of us do work on our Macs that requires a lot of research, as well as numerous open files. We have to-do lists telling us what needs to be done, notes about work that is underway or planned, emails from collaborators or clients, and web pages with source information. All these files can make for a complex, non-productive work life, which is why I'm so excited about Hook (free to try, Lite (free, limited functionality after 30 days), Essentials – $14.99, Pro – $24.99).
Hook is a macOS tool that connects all the parts of your work — or real — life together, whether they're notes, emails, web pages, documents, or those never-ending to-do tasks. How does it do this? Developed by experts in cognitive productivity, Hook uses file system bookmarks and a database to link items — and the interface used to accomplish this is surprisingly simple.
Cognitive Productivity books say that to remain focused and productive, 80% of the items that you access in a given day should be retrievable within two seconds — what the Hook team calls the "2-second rule". Why? Your brain has limited working memory and searching for information takes you out of "the zone", meaning that you often need to repeatedly look up the same info. Linking those items with Hook makes it possible to stay focused on the task at hand and stay productive. This one app provides endless benefits and the app icon (an infinity symbol) demonstrates that perfectly.
Creating a link between two files is done by opening Hook on one of the files, selecting "Copy as Link", then opening the Hook window with a keyboard shortcut when selecting another file and choosing "Link to Copied Address." To cross-link multiple files, drag them onto Hook's icon in the Mac menu bar. Opening Hook on any of the linked files reveals all of the other related files for viewing or opening.
Links can be copied as Rich Text Format (RTF) or even Markdown links to paste into other documents. Incredibly, moving a file doesn't break a link, as it is automatically changed to reflect the new file location.
Hook links can be emailed. For example, while I was working on this review, Hook developer Luc Beaudoin sent me several emails with Hook links to prior emails in our discussion. Since I use Hook, clicking that link opened a previous email message in the macOS Mail app without any searching on my part.
For some readers, seeing Hook in action is going to provide a better explanation. Here's a short video:
I'm personally finding Hook to be a powerful productivity tool for my work. Let's say that I'm working on an article based on something I see on the web. I can launch Hook, create a new file in Bear (my favorite text editor), and take notes as I gather more background information in a web browser, creating links to every web article in a Hook file. An email I receive about the topic can be copied and linked to my other research as well. The screenshot seen below is from Hook, showing linked files that I can now access in a flash for reference: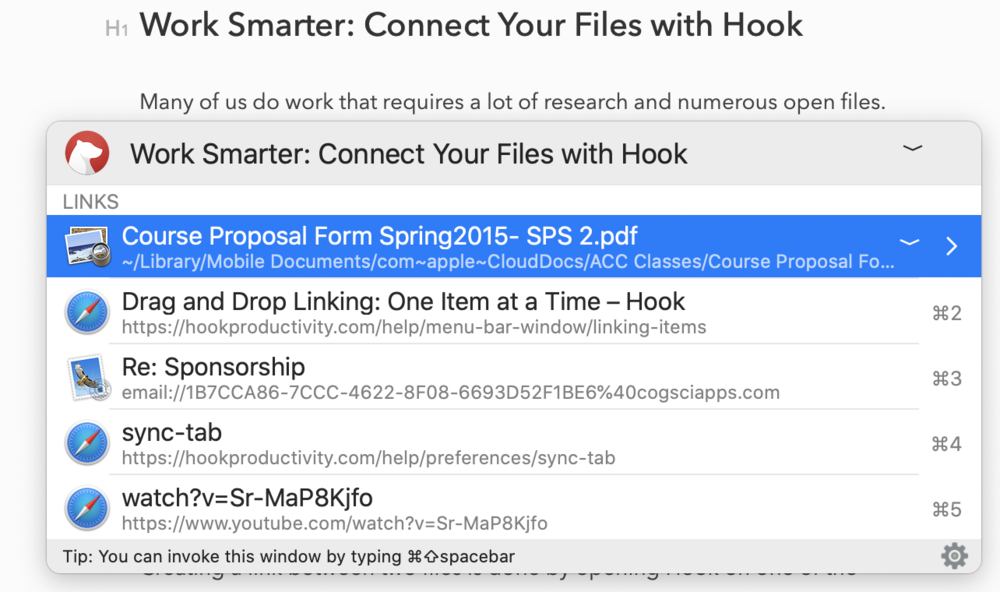 Have multiple Macs? The latest version of Hook (1.4) includes the beta ability to link Hook files between devices so that productivity doesn't suffer switching from Mac Pro to MacBook Pro or vice-versa.
Especially when I'm working on a new class to teach or writing a detailed article, I love Hook's ability to link files from Finder and other apps. Hook works seamlessly with a large and growing list of supported apps, and the developers are always working to expand that list. Basically, most scriptable apps are compatible with Hook.
If you're ready to really boost your personal productivity, you need Hook. I became a believer in the app in a very short amount of time. To get started, just download a free copy of the latest version of Hook. Give it a try in your daily workflow for up to 30 days, and when you see the benefits, you'll want to buy a license.
Dedicated Hook users find the $14.99 Essentials license to be perfect, providing software updates for one year, the ability to be used on two Macs, link items, and more. The $24.99 Pro version is even more flexible, adding the ability to copy all links, copy as Markdown links, do multi-linking, generate search links, and edit integration scripts. Oh, and if you need an answer from the developers immediately about how to do something, priority email support is included with the Pro license.
Hook's slogan is "one app, infinite applications." I'm sure you'll agree when you've had the opportunity to give Hook a try and link all of your digital work.