Whether it's a new product your company is considering, a meeting you're managing, gathering ideas for an international marketing plan, or trying to determine a new corporate direction, mind-mapping is a well-established process for capturing thoughts in a logical order. Focusplan is a new mind-mapping tool in the Mac App Store that is sure to stimulate your creativity and help you visualize your thoughts in an easy-to-understand graphic format.
What Is Mind Mapping?
According to Wikipedia,
"A mind map is a diagram used to visually organize information. A mind map is hierarchical and shows relationships among pieces of the whole. It is often created around a single concept, drawn as an image in the center of a blank page, to which associated representations of ideas such as images, words and parts of words are added. Major ideas are connected directly to the central concept, and other ideas branch out from those major ideas.

Mind maps can also be drawn by hand, either as "notes" during a lecture, meeting or planning session, for example, or as higher quality pictures when more time is available."
Whether you're a corporate executive strategizing the future of your company or a student trying to visualize a difficult concept, mind-mapping can create order out of chaotic creative brainstorming.
How Does Focusplan Work?
Like mind-mapping with a whiteboard and marker pens, Focusplan starts with a blank canvas. To add consistency to mind maps created by a project team, those team members can choose one of six specific themes to provide a common look.
The process begins by adding a topic to be analyzed, then adding child topics — solutions or ideas that support the primary topic. If there are different possible solutions that need to be analyzed, sibling topics are created at the same level.
Any topic can have a number of child topics branching from it, and those child topics can have sibling topics at the same level. For example, the mind map for a website redesign project seen below has several child topics — completely rebranding the site and starting from scratch, using a new content management system, and using the existing content management system. Each of those child topics can have its own set of child topics to further focus on the problem at hand.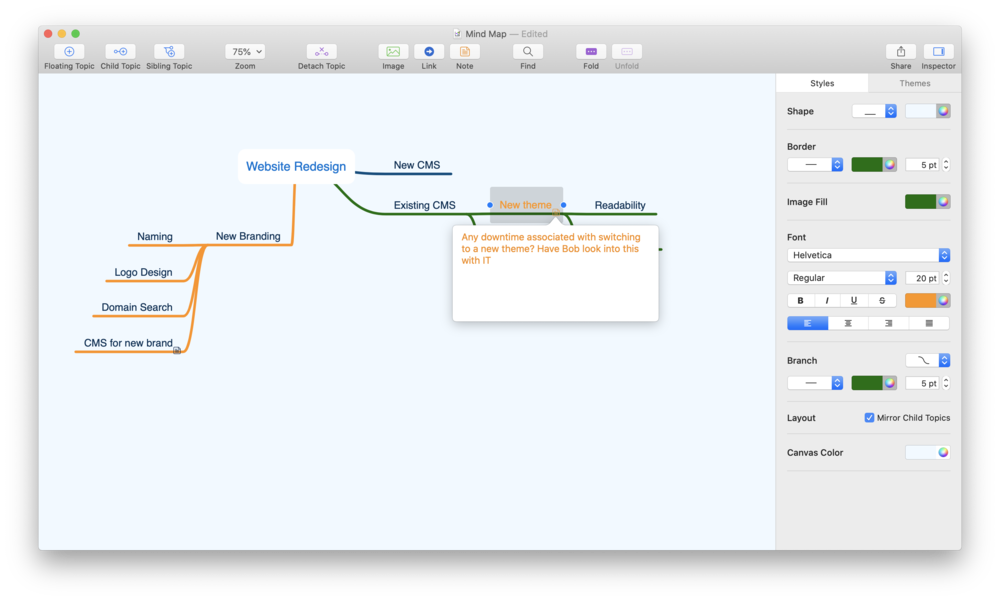 As seen in the screenshot above, each topic can have notes associated with it. To make your mind map really pop visually, Focusplan has hundreds of graphic icons that can be added at any point.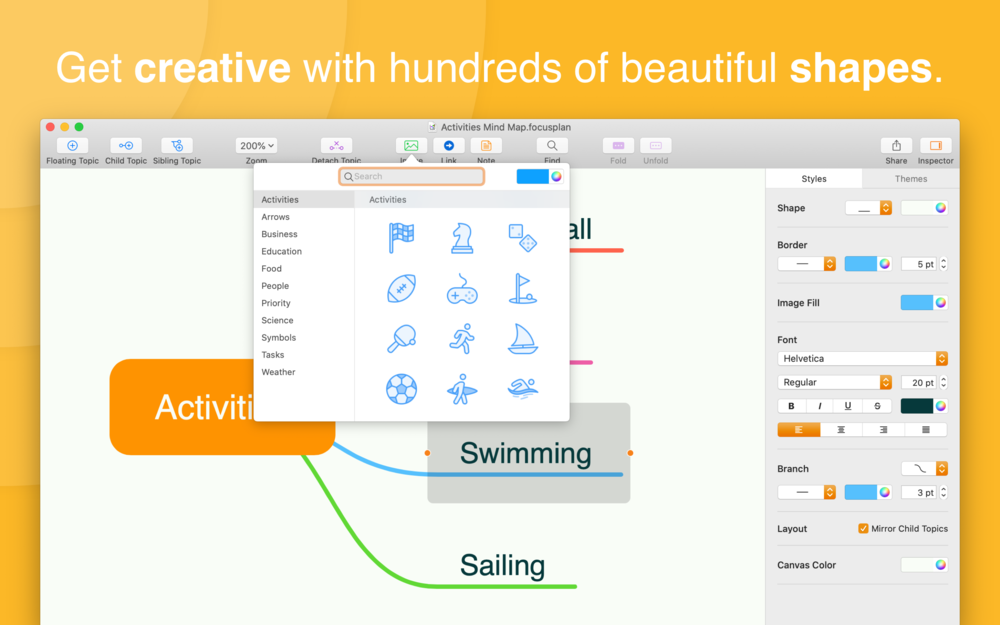 Sharing your mind map with others is easy! Export the map as a text file for a properly-formatted outline that can be used for further exploration, imported into a project management tool, or used as the structure for a presentation to display your ideas to others.
The other option? Export your mind map as a PNG image that can be emailed or used in apps such as Keynote and PowerPoint.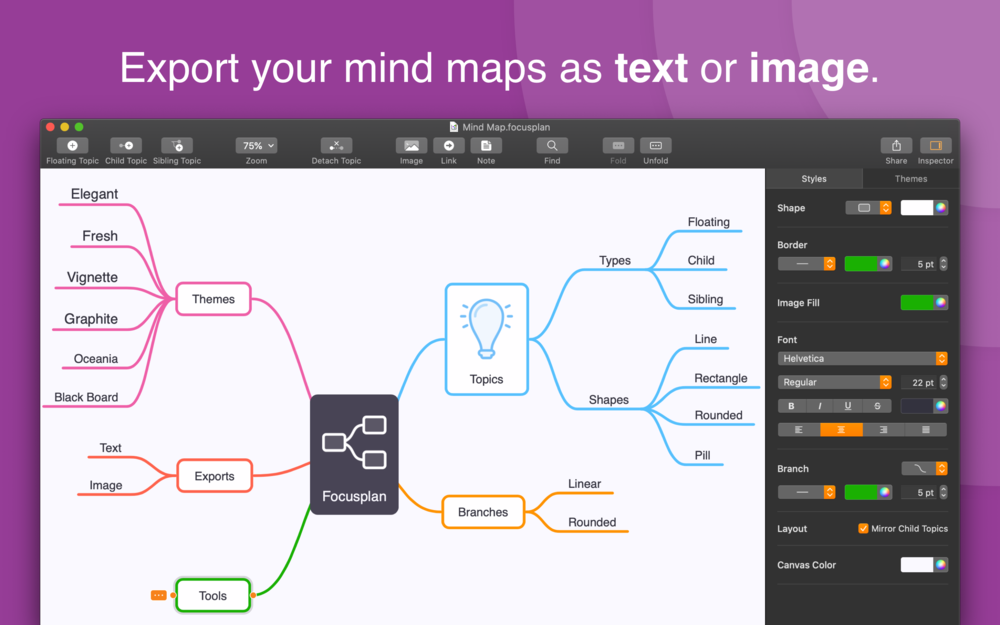 Conversely, at the beginning of your mind mapping session, you can paste formatted text in an outline format to automatically create your mind map.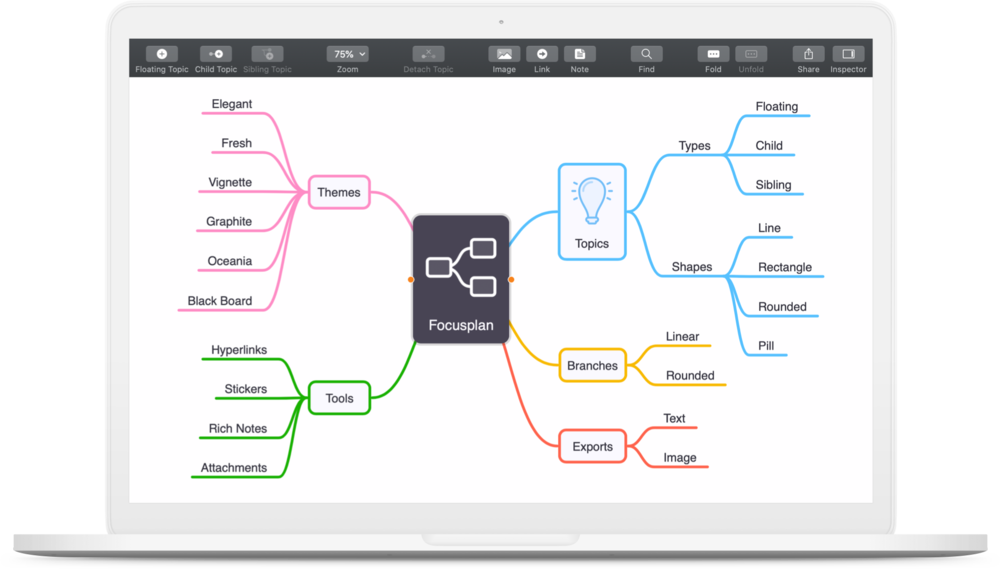 Made for the Mac
Focusplan is a Mac app, not a Windows app that has been made to work with macOS. It fully supports macOS Catalina:
Sidecar support

iCloud Sync to keep documents synchronized across all of your devices

Continuity Camera lets you snap photos using your iOS and iPadOS devices for immediate insertion into your mind map

Dark Mode support for those late-night brainstorming sessions

Supports Family Sharing, so up to six family members can take advantage of one purchase
Try Focusplan for Free
Focusplan is reasonably priced, featuring both monthly ($1.99) and annual ($19.99) subscription plans. With the monthly plan, potential Focusplan users can try the app for three days at no cost. Sign up with an annual subscription plan and you have a full week to try Focusplan.
Just install Focusplan from the Mac App Store, select your subscription option, and give it a try. If for any reason you're not satisfied, simply cancel your subscription through the Mac App Store before the subscription renewal date.