Just Mobile's ShutterGrip2 isn't due until February, but AppleWorld.Today received an advance copy. Like its predecessor, it's a nifty accessory for smartphone owners who take lots of photos.
The design goal of ShutterGrip2 is to re-create the comfort and control of a traditional DSLR camera. Features include a sculpted palm grip and a well-positioned shutter release button.
The ShutterGrip2 is a "grab and go" camera control gadget that's compatible with all 2019 iPhone models, the iPhone X, iPhone 8/8 Plus, iPhone 7/7 Plus, iPhone 6s/6s Plus, iPhone 6/6 Plus, and iPhone 5/5s. It uses a tensioned grip to attach to these Apple smartphones, whether or not they're in a case or not. Well, as long as the phone/case measures between 2.4 and 3.4 inches.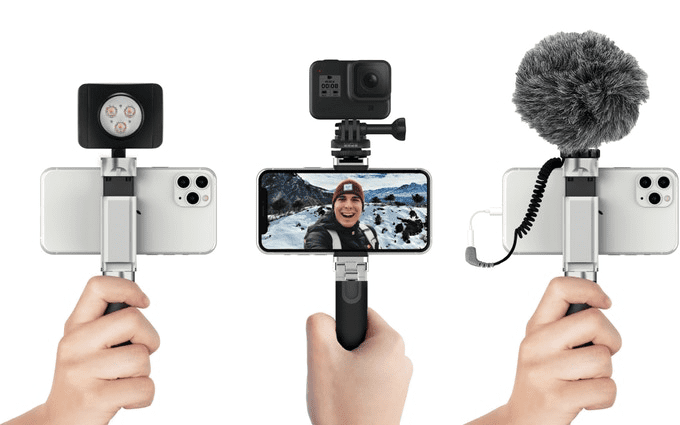 With it attached (and there's no app to install), you have a solid, ergonomic handle and wireless shutter button that helps eliminate shaky shots. The ShutterGrip2 automatically turns itself off after three minutes of nonuse, so there's no on/off switch. After it's turned off, a press of the button will wake up the ShutterGrip2, which automatically attempts to connect to your paired smartphone.
With a tripod screw, lanyard hole and non-slip grip, the ShutterGrip2 makes it easy to attach accessories. It's non-slip ergonomic grip helps ensure you don't drop your iPhone. It also comes with a copper-core wrist strap that provides added security.
The ShutterGrip is easy to use whether you're left-handed right-handed.You can clip it on either end of your smartphone and find the hand grip that works best for you.
It supports landscape and portrait grips for snapping photos in either orientation. When taking landscape videos or cinematography, you want to hold the camera steady like holding a torch. Place the ShutterGrip2 in the middle of the phone and flip the palm grip down. For instagram or portrait life streaming, turn the grip 90 degrees, hold it with one hand, and adjust the pitch of the camera with the other hand. Both ways allow you to grip the phone steadily for an extended period of time.
The palm grip "hides" a telescoping arm that expands to 15cm long if (unlike me) you're into taking selfies. If you're not using it, the arm can be tucked safely inside the palm grip.
The ShutterGrip2's standard cold shoe slot attaches to accessories such as fill light, monitors, microphones and more. There's a hidden hex wrench built into the ShutterGrip2 for tightening the arm hinge. 
For a large group photo or time-lapse video, you can attach a tripod. You can control the exact timing of the shutter release from a distance with the detached remote. The ShutterGrip2 can transform into a phone stand, setting up vertically or horizontally.
It's built to make battery replacement easy. Of course, with it attached, you can't slip your iPhone into a pocket, as you might otherwise. Still, the ShutterGrip2 itself is compact enough to fit into a pocket or purse.
It uses a CR2032 disc battery that you can pic up in in most supermarkets and drug stores. You should't have to replace the battery very often; according to the folks at Just Mobile, it will last up to 180 days based on 500 presses per day.
The ShutterGrip2 is still in a Kickstarter campaign. If you pledge to the campaign, you get a discount on the release price of $250.
If you're an avid iPhone-grapher, this little accessory is a must-have for your toolkit.
Apple World Today Rating (out of 5 stars): ★★★★★