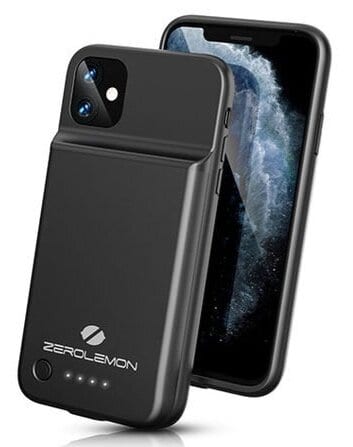 Apple's latest iPhones are notable for their incredible battery life, but what if you're not going to be near an AC outlet for days? The ZeroLemon SlimJuicer Wireless Charging Case for iPhone 11 Pro Max, iPhone 11 Pro and iPhone 11 are slender, wireless-enabled, and on sale today. Use promo code MERRYSAVE15 at checkout and you can get the 11 Pro Max version for $21.25!
Having an extra 100% battery life right in your pocket is no longer a dream. Thanks to this powerful 5,000mAh battery charging case. It's just like your typical iPhone case, but better. It features a Qi-enabled wireless charging battery, so you can simply slip in your device and with just a single click, recharge it back to 100%, giving your phone extra 15 hours internet use, 18 hours video playback, 30 hours talking time, or 65 hours of audio playback. Here's more: it isn't just your phone that can be wirelessly charged, even this very case can be charged via Qi! This powerful case comes in slim yet full-edge protection keeping your phone safe from bumps and scratching. Get style, protection, and power all in one with SlimJuicer.
Powerful 5000mAh battery provides an extra 100% battery life to the iPhone 11

Qi-enabled wireless charging allows you to charge the battery case & phone through a wireless charging pad

Compatible w/ Lightning Earphones, Data Sync & CarPlay

Slim yet full-edge protection case protects your iPhone against bumps & scratches
The iPhone 11 Pro Max version features 5,000 mAh of charging power, the iPhone 11 version 4,500 mAh, and the iPhone 11 Pro version 4,000 mAh. All are bargain-priced and will be just $21.25 if you use the promo code MERRYSAVE15 at checkout.