Your household is probably like the Sellers household: filled with multiple electronic gadgets (in our case, two Mac laptops, an iMac, two iPads, an iPad Pro, and multiple iPhones). All need charging, which means a plethora of charging accessories all over the place.
The $59.99 ChargeHub HomeBase Power Bank Docking Station is one viable, if imperfect, solution for streamlining things. It charges four power banks, plus one additional device via its USB Charging Port. 
Each power bank has 4000mAh power capacity in a relatively tough aluminum case that's color-coordinated with a metallic-finish. This makes it easy to remember (if you need to) which bank you've allotted to which device.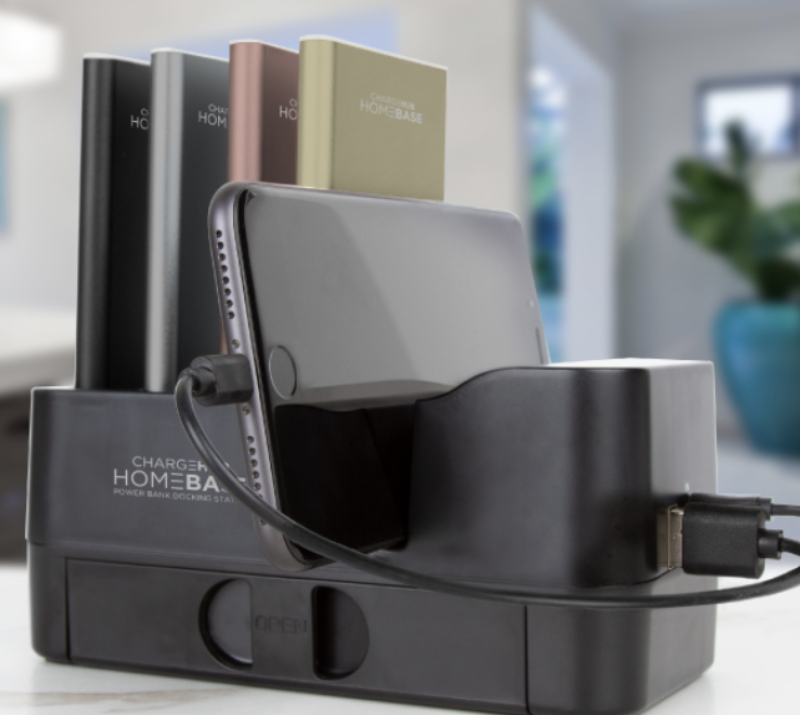 You can charge all four power banks simultaneous or juice up just one by using the included Micro USB Cable. The ChargeHub HomeBase Power Bank Docking Station comes with 2x Micro and 1x Lightning USB Cables. 
There's a storage drawer for conveniently storing cables. To open the drawer, pinch the dual openings and pull outward. Plus, each power bank includes a mini-LED flashlight. Just press and hold the flashlight button to, for instance, find those door keys you dropped in the dark. If you short press the power button, the LED will illuminate and indicate the remaining power (25%, 50%, 75%, 100%) of the power bank.
To install the power banks in the docking station, locate the lower panel (three circles) on each and insert it into the port.  The circular charging ports are centered, so it doesn't matter which direction you orient the battery case.  
To power a device from one of the battery packs use the included cable or another of your choice.  Plug the USB-A end of the cable into the port, then the appropriate micro/Lightning end into your gadget. Each of the 4.23-ounce battery packs easily slips into a jacket pocket, purse, or backpack. 
All this is very convenient, but I wish the battery packs packed more than 5V/1A of juice. Also, charging all four simultaneously took about four hours, which is longer than I anticipated. My final gripe: no support for USB-C only batteries. 
Despite the limitations, the ChargeHub HomeBase Power Bank Docking Station is a solid, reasonably priced solution for overnight charging for multiple devices.
Apple World Today Rating (out of 5 stars): ★★★1/2