The GoPower 3-in-1 charging station from Kanex is a simple-yet-clever device for charging an iPhone, Apple Watch, and another gadget simultaneously.
It sports an inductive charging arm for all models of Apple's smartwatch and all the company's smartphones that support wireless charging. An iPhone immediately starts wirelessly charging as soon as it makes contact with the base, so there's no need for an additional cable. The GoPower is also equipped with a 2-amp USB port for charging other devices.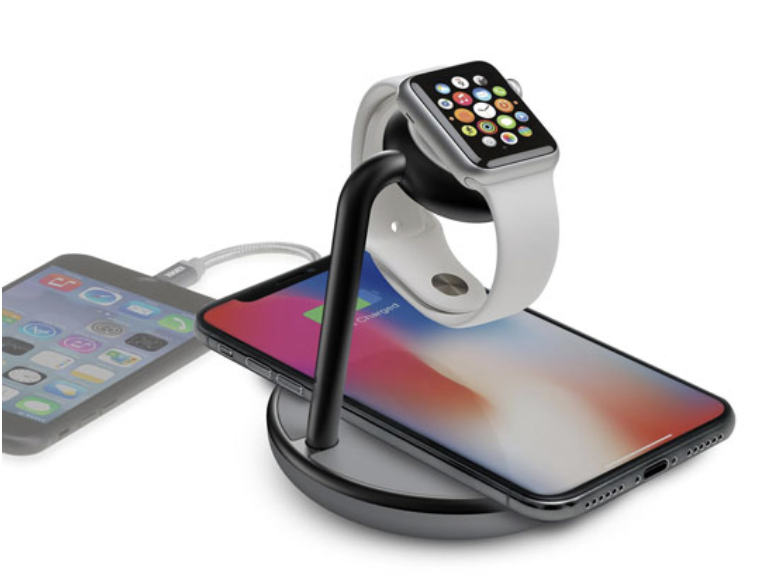 I use the GoPower on a bedside table to recharge my Apple Watch and iPhone 11 Pro Max. I use the latter as my "alarm clock." You could do the same with the smartwatch since the GoPower elevates it. Your Apple Watch sits on the podium of the Kanex stand, where you can see the time and use the touchscreen.
Using the GoPower is a no-brainer. Just plug your charging cable into the USB port located on the back of the stand. Place your Apple Watch on the stand and place iPhone on the pad. The magnetic charger securely holds your watch in place and automatically starts charging.
The GoPower is a bit pricey at $79.99. But if you want a stylish charger that can juice up your Apple smartwatch and smart phone simultaneously (plus, one more electronic device) at the end of the day, it's worth a look.
The GoPower — available in black/grey — is relatively portable with a small footprint of (approximately) 1.5 x 14.5 x 5.5 inches (not counting the included DC adapter, of course).
Apple World Today Rating (out of 5 stars): ★★★★