Perhaps Apple is listening to users' requests for better laptops with better keyboards. Apple has filed for a patent (number 10,474,189) for a "portable computer unified top case" that hints at future iterations of the MacBook Pro, MacBook Air, and MacBook.
In the patent filing, Apple notes that designers of laptops are faced with competing demands. For example, users like such devices to be lightweight. Often, weight can be saved, but only at the expense of reducing the size or strength of device components.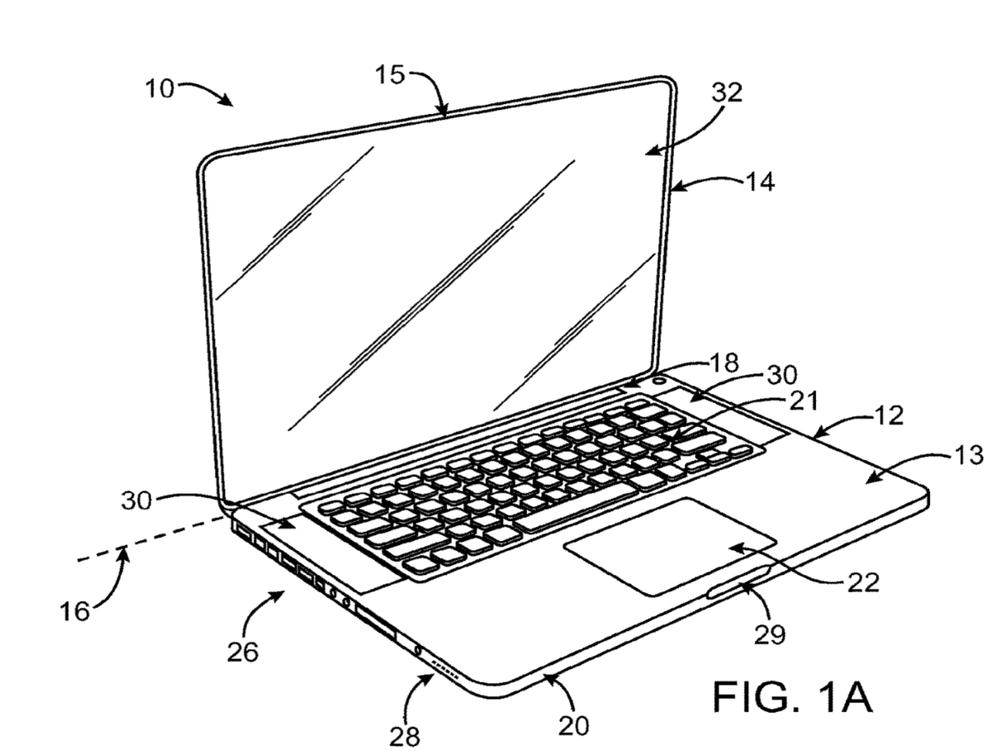 Similarly, it may be possible to improve device appearance, but only at the expense of making a device more fragile and susceptible to damage. For example, it can be difficult to form robust computer enclosures while satisfying desired performance and appearance criteria. 
Apple says that conventional computer enclosures are formed by assembling multiple pieces to create a single enclosure. However, enclosures formed from multiple pieces add size, weight, complexity, can be relatively expensive, and can require an excessive amount of time to assemble the portable computer and the portable computer's enclosure. 
In addition, computer enclosures formed from multiple pieces assembled together have a relatively high probability of failure because the entire enclosure may fail if any single piece fails (e.g., because there are multiple failure points). Moreover, conventional computer enclosures can be difficult to recycle and therefore can be burdensome on the environment. 
For example, some of the pieces used to form the enclosure are typically formed non-recyclable materials that have to be removed from the enclosure before recycling. In addition, if the pieces are formed from different materials, the pieces may need to be separate and sorted before recycling. Glues and/or welding materials used to hold the pieces of the computer enclosure together may also interfere with recycling the enclosure. 
Apple says that it would be desirable to be able to provide improved enclosures that are more cost effective, smaller, lighter, stronger and aesthetically more pleasing than current enclosure designs. In addition, the tech giant notes that there's a need for improvements in the manner in which structures are mounted within the enclosures. For example, there is a need for improvements that enable structures to be quickly and easily installed within the enclosure, and that help position and support the structures in the enclosure. 
Here's Apple's summary of the invention: "A top case assembly for a portable computer is disclosed. The assembly may include an integral unified (e.g., homogenous) top case formed from a single part. The integral top case provides an enclosure, frame and cosmetic exterior of the portable computer. The integral top case also serves as the primary structure of the portable computer. 
"The assembly may include a variety of subassemblies such as keyboards, touchpads, circuit boards, and drives that are carried by the underside of the integral top case. The integral top case may be formed from a metal part such as an aluminum slab or an aluminum core that has been machined to form walls, openings, attachment areas, and cosmetic areas of the top case."
Of course, Apple files for — and is granted — lots of patents by the U.S. Patent & Trademark Office. Many are for inventions that never see the light of day. However, you never can tell which ones will materialize in a real product.