Apple brought (very) limited mouse support to iPadOS, but the tech giant may be planning to add full mouse support in the near future to make the iPad a better productivity and gaming platform, according to Cliff Maldonado, principal analyst and founder of BayStreet Research, a firm that researches smartphone, tablet and smartwatch markets.
As reported by CNET, Maldonado had this to say: "The iPad is becoming a PC," Maldonado said. "It's a game-changer … To me, it's Apple executing a vision of 'we want the iPad to be as good and as powerful as the MacBook … There are three types of gaming: PC gaming, console gaming and mobile gaming. Apple could have a PC gaming play with the iPad with the mouse and the chips prowess they have, the way they're moving these things forward. It could be Apple's first foray into hard-core gaming."
If you want to use a mouse or trackpad with an iPad running iPadOS, you'll have to enable the mouse/trackpad support, because it's turned off by default. To enable it have your mouse or trackpad powered up and ready to go, then:
Open the Settings app.

Go to Accessibility.

Go to Touch, under the Physical and Motor section.

Turn on the AssistiveTouch toggle.

Go to Pointing Devices.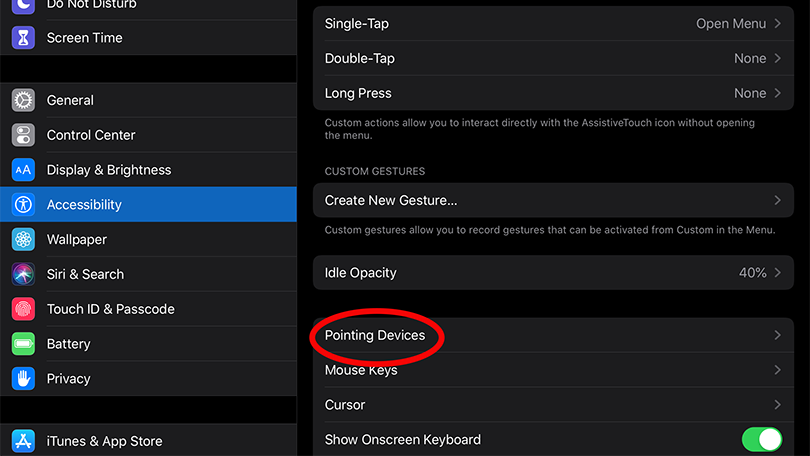 You can use a mouse or trackpad via Bluetooth or USB. If you're using the former, which I recommend, you'll have to make sure it's paired. If you have a mouse that's not a USB-C rodent, you'll need a USB-A to C adapter to plug a regular wired mouse directly into the iPad Pro's USB-C port.
Clicking a mouse does the same thing as tapping the screen. I just wish there was a way to make the huge cursor that appears smaller. Also, it only works with one button-click function, usually simulating what a finger touching the screen would do.
Also, while you can pair a wireless mouse with your iPad, Apple's own Magic Mouse 2 doesn't work. The Bluetooth Devices settings in iPadOS has this message: "AssistiveTouch allows you to connect Bluetooth and USB assistive pointer devices, such as joysticks and mice. Magic Mouse and Magic Trackpad are not supported over Bluetooth."
Bummer.