Apple has filed for a patent (number 20190310706) for "electronic finger devices with charging and storage systems." Apparently, such gadgets could be used with the rumored "Apple Glasses," an augmented reality, head-mounted display that Apple is almost certainly working on. The finger devices could also be used with Macs, iPads, iPhones, Apple Watches, and AirPods.
In the patent filing, the tech giant says electronic devices such as computers can be controlled using computer mice and other input accessories. In virtual reality systems, force-feedback gloves can be used to control virtual objects. Cellular telephones may have touch screen displays and vibrators that are used to create haptic feedback in response to touch input.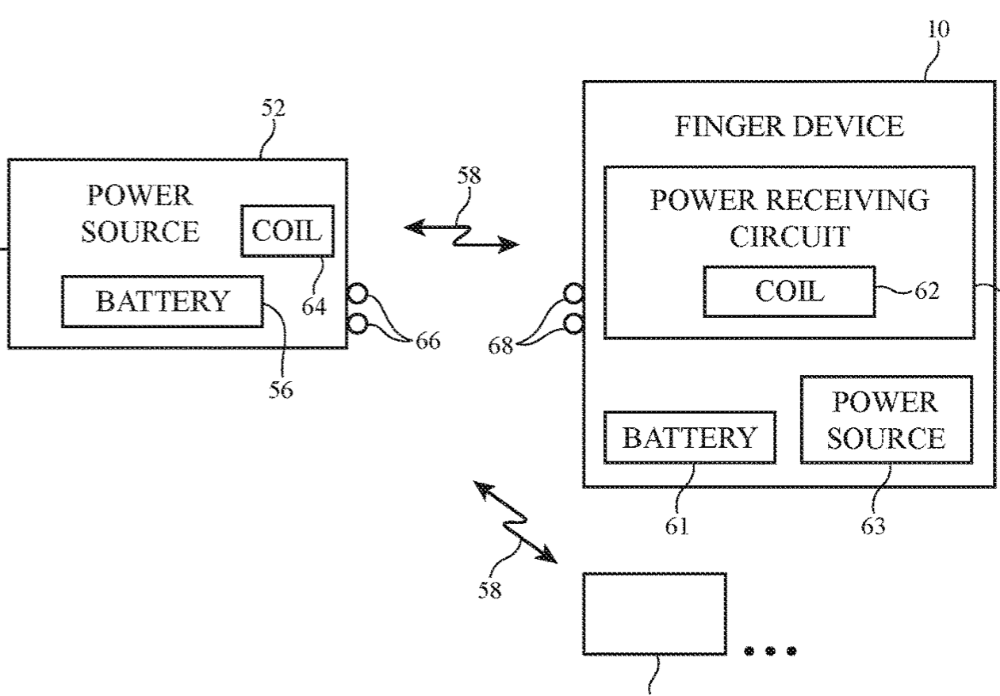 Apple's proposed solution: finger devices that can be worn on any or all of a user's fingers. They could be to used to supply input to a desktop computer, tablet, smartphone, smartwatch, ear buds, or other accessory, or to interact with other electronic equipment.
Apple says that such devices may be inconvenient for users. For example, computer mice generally require flat surfaces for operation and are mostly used with desktop computers in fixed locations. Force-feedback gloves can be cumbersome and uncomfortable. Touch screen displays with haptic feedback only provide haptic output when a user is interacting with the displays.
Here's Apple's summary of the invention: "A system may include one or more finger-mounted devices such as finger devices with U-shaped housings configured to be mounted on a user's fingers while gathering sensor input and supplying haptic output. The finger devices may have power receiving circuitry configured to receive power from a power source.
"The power source may be incorporated into an electronic device such as a battery case, a head-mounted display, or a wireless charging mat or stand. The power source may supply power through terminals that form ohmic contacts with mating terminals in the finger device or may transmit power wirelessly using capacitive coupling or inductive charging arrangements. A finger device may have hinge structures that allow portions of the device to rotate relative to each other."
Of course, Apple files for — and is granted — lots of patents by the U.S. Patent & Trademark Office. Many are for inventions that never see the light of day. However, you never can tell which ones will materialize in a real product.