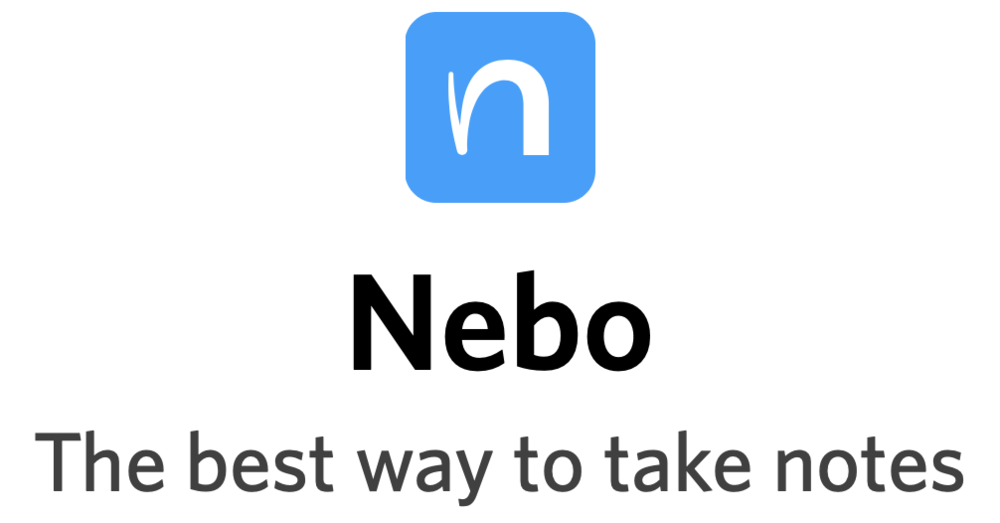 A few short weeks ago we ran a review of MyScript Nebo 2.2.1, the latest iteration of a note-taking app that uses an active stylus like the Apple Pencil to do incredible things with an iPad. Nebo instantly and accurately recognizes your handwriting (cursive or printed), has tools for adding diagrams, sketches, and editable/solvable equations to a note, and more. Nebo now features an option that lets you publish your pages privately or publicly via a unique URL. In today's post, we'll show you how the feature works, then give you a chance to grab one of 10 free promo codes for a copy of MyScript Nebo.
Want to know how Nebo works? Check out our last article for a full writeup on the app and its capabilities. If you own an iPad and Apple Pencil ( Pencil 2 and Logitech Crayon work as well) and you're intrigued, we're giving away 10 free copies of the software.
Publish Beta Now in Nebo 2.2.2
Nebo now has a powerful way to publish your notes — publicly or privately — through a unique URL. How does it work? Like this…
Let's say that you've written a page of notes and decide that you need to share them with your project team. Tap the … button in the upper right corner of the Nebo screen and select Publish (beta). A thumbnail of your document appears, along with a Publish button to tap:
When tapped, the note is published, the dialog changes and there's an option for Private Access that can be enabled: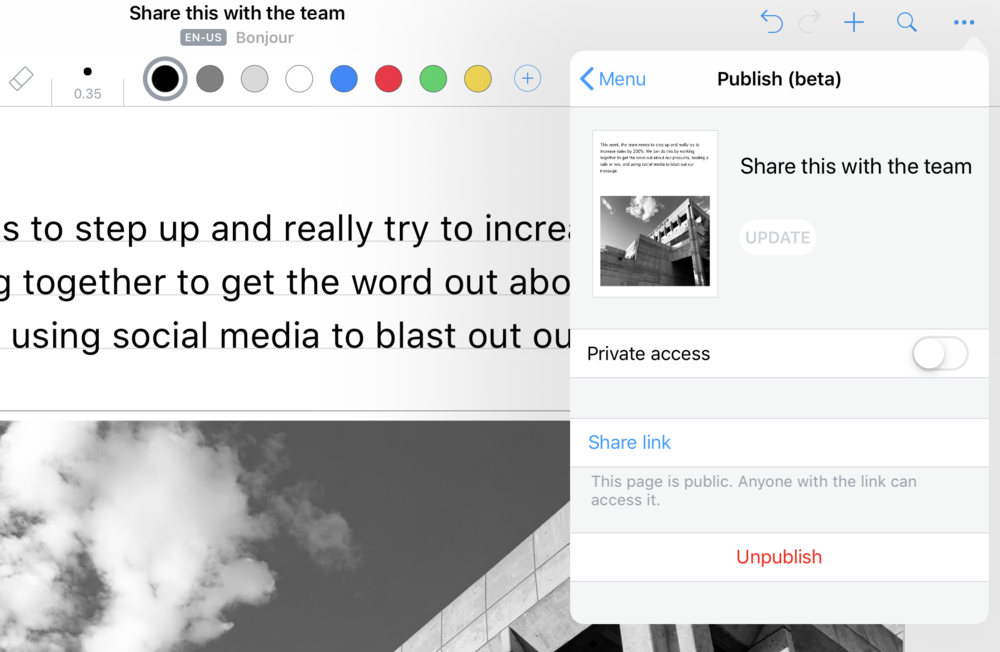 At any time, the notes — which are now published at a Nebo.app website — can be unpublished by the owner. Sharing the link is as easy as tapping "Share link", which automatically copies the link to AirDrop, Mail, and Messages:

Use Private Access to protect the document by making it available only to team members with a free MyScript account and password. When you add email addresses to Private Access, the app creates an email that's sent to each recipient:
When the recipient clicks the Open button, they're asked to enter their free MyScript account email and password for access. Once in the document (see below), they can choose to download a copy to their own Nebo library or grab a .docx file for further editing in Microsoft Word or any other app compatible with .docx.
How to Try Out the Publish Beta in Nebo 2.2.2
Did you win a copy of Nebo during our last giveaway? Perhaps you've used the app for years. We want you to be able to try out the new Publish Beta feature, but you'll need to become part of the Nebo Insider program to do so.
That's easy to do! Sign up for a free MyScript account in the app settings, and you'll gain access to cloud synchronization (Dropbox, iCloud and Google Drive), multiple-device synching, and access to beta features.
Once your account is set up, sign in, then tap Settings in the Nebo app. Page sharing will already be enabled for you as an Insider, but it's a good idea to tap the Support button to see exactly how the feature works.
Next, just grab one of your notes and follow the example in this article to share it.
Enter Our Giveaway To Get A Full License For Nebo 2.2.2
MyScript has provided Apple World Today with ten licenses for Nebo 2.2.2 so you can try out all of the features on your iPad or iPad Pro. Of course, it helps to have an Apple Pencil, Pencil 2, or Logitech Crayon to take full advantage of the handwriting recognition, sketching, and diagram features. Just fill out the entry form below and the first ten respondents get a free license. Those licenses went quickly the last time, so don't delay!
THANKS to the ten Apple World Today readers who responded immediately and are now trying out Nebo. Stay tuned to AWT in the future for other possible Nebo giveaways.