iAvatar, anyone? Apple has filed for another  patent (number 20160086386) for an "avatar creation and editing" that would allow users to create custom avatars (onscreen representations of a person) for use in online games and other applications. The other two patent filings are number 20160086386 and 9,576,400.
Emoji are used frequently in the Apple ecosystem thanks to "Animoji" and "Memoji." 
Animojis are one type of this other multimedia content, where a user can select an avatar (e.g., a puppet) to represent themselves. The animoji can move and talk as if it were a video of the user. Animojis enable users to create personalized versions of emojis in a fun and creative way.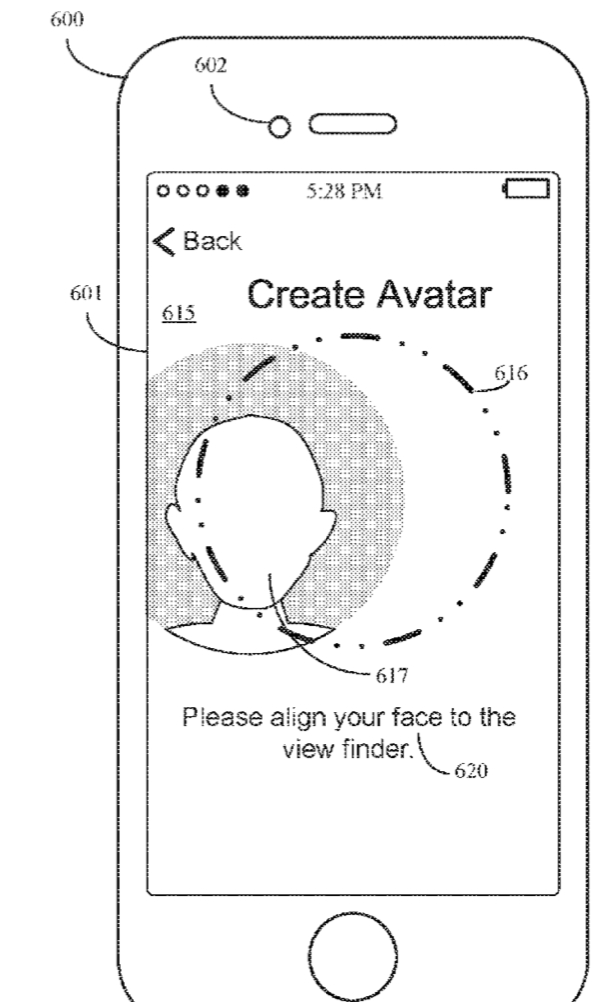 Memoji is the name used for iOS's personalized "Animoji" characters that can be created and customized right within Messages by choosing from a set of inclusive and diverse characteristics to form a unique personality. 
In the patent filing, Apple notes that techniques for avatar creation and editing using electronic devices, "are generally cumbersome and inefficient." The company wants to provide "more efficient methods and interfaces for avatar creation and editing."
Starting with a blank face the user can add, rescale and position different elements (e.g., eyes, nose, mouth) on the blank face. The user can also change the shape of the avatar's face, the avatar's skin color and the color of all the elements. In some implementations, touch input and gestures can be used to manually edit the avatar. 
Here's Apple's summary of the invention: The present disclosure generally relates to creating and editing user avatars. In some examples, guidance is provided to a user while capturing image data for use in generating a user-specific avatar. 
"In some examples, a user interface allows a user to intuitively customize a user avatar. In some examples, avatars are generated for a messaging session based on an avatar model for a user of the messaging application. In some examples, an avatar editing interface updates a user avatar in response to gestures and based on the type of gesture and the avatar feature that is selected for editing."
Of course, Apple files for — and is granted — lots of patents by the U.S. Patent & Trademark Office. Many are for inventions that never see the light of day. However, you never can tell which ones will materialize in a real product.