I'm a big fan of Pixelmator Pro, my go-to app for image editing. It has most of the features I need in a relatively easy-to-use interface. 
It sports a modern single-window interface, nondestructive, GPU-powered image editing tools, machine learning-enhanced editing features, and more. The pro version is different from the "standard" $29.99 version, but yet is familiar enough that it doesn't require TOO much of a learning curve, though it's not quite as intuitive as its predecessor. 
For example, most of the floating palettes of tools are gone, having been moved to right and left translucent panels that sit on a layer about an image. When you zoom in, the image "transparently" extends under the panels, so you know that part of the image is obscured.
Both panels are resizable and can be hidden. The toolbar has also been revamped and reduced to icons above the panels. The reimagined, user-centered workflow design makes the professional editing tools fairly accessible to newbies to the app.
The dark single-window interface of Pixelmator Pro sports a streamlined design that's consistent with the look and feel of macOS. However, the dark interface and gray type make smaller elements harder to read than before. A setting for full-color icons or persistent text labels would be nice. And while I'm at it, the new user interface seems more cramped when used on a smaller Mac, especially a 12-inch MacBook.
Effects and color adjustments are a lot more powerful with Pixelmator Pro. Nondestructive color adjustments, effects, styles, and layouting tools in Pixelmator Pro allow you to go back and modify or delete individual changes at any point in the editing workflow. 
Thanks to the presets feature, you can create a variety of combinations of multiple adjustments, effects, or styles, save them to your favorites and reuse them in any of your images. Drag and drop sharing allows you to share presets with others. However, the "Add" button for sharing your own presets is hard to find since the scrollbars vanish if you're not scrolling the app's interface.
Integrated via Apple's Core ML framework (the foundation for domain-specific frameworks and functionality), machine learning lets Pixelmator Pro detect and understand various features within images, bringing a number of advancements, such as accurate automatic layer naming, automatic horizon detection, realistic object removal, and intelligent quick selections.
Pixelmator Pro uses the Mac graphics processor in tandem with the latest Mac graphics technologies, such as Metal 2, Core Image, and OpenGL, to deliver fast, GPU-powered image editing. 
The Pixelmator Team has packed a range of other useful features into Pixelmator Pro, such as: full RAW support, including support for multiple RAW layers; HEIF file format compatibility; support for Adobe Photoshop images; complete macOS integration via full support for iCloud, Versions, Tabs, Full Screen, Split View, Sharing, Wide Color, and others; Metal 2-powered painting tools and dual texture brushes; retouching, reshaping, selecting, type, shape and vector tools; and more.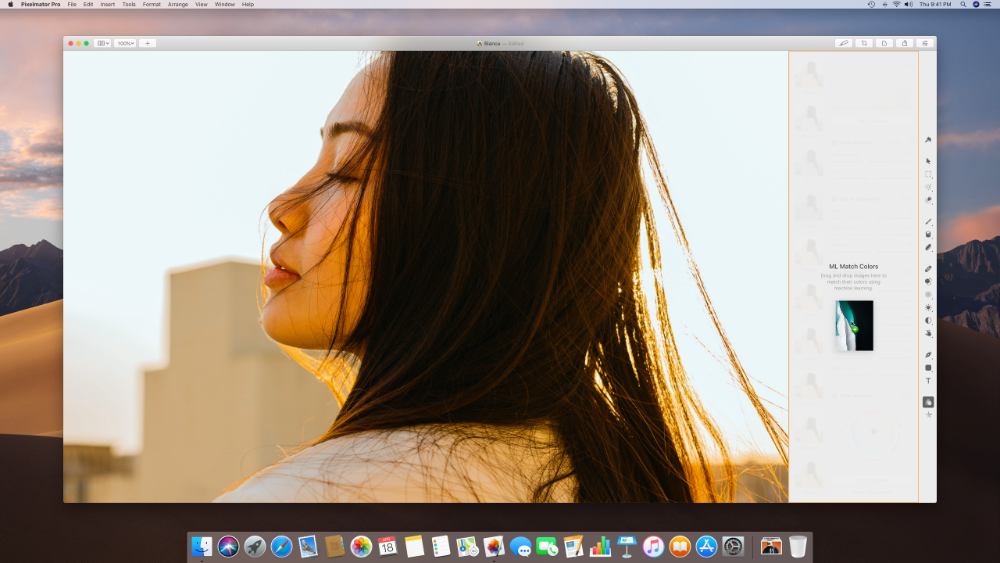 Yesterday, Pixelmator Pro 1.3.4 was released, making a good app even better. The upgrade adds a new Core ML-powered feature that intelligently matches the colors of different photos or objects using a machine learning algorithm trained on millions of professional photos. The update also brings a new Free Transform feature to freely resize, distort, and transform layers, and includes a number of additional improvements and fixes.
Still, there are several features I'd like to see: 
The ability to customize the toolbars;
The ability to right-click or control-click on a layer in the sidebar to convert it to pixels;

Support for Mac Photos Extensions.

These features will hopefully appear soon, as The Pixelmator Team is great at updated its software on a regular basis. 

Pixelmater Pro 1.3.4 requires macOS 10.13 or later. It costs $39.99 and is available worldwide exclusively through the Mac App Store. Version 1.3.4 is a free update for registered users.
Apple World Today Rating (out of 5 stars): ★★★★