Apple has been granted a patent (number 10,264,355) for a "loudspeaker cabinet with thermal and power mitigation control effort." I've not noticed my HomePod running hot, but perhaps Apple is planning an even more powerful speaker.
The cabinet in the patent refers to the enclosure in which speaker drivers (loudspeakers and tweeters) are mounted.The cabinet's power level would be determined by the output of the audio signal of the loudspeaker, which I,m guessing would be the HomePod.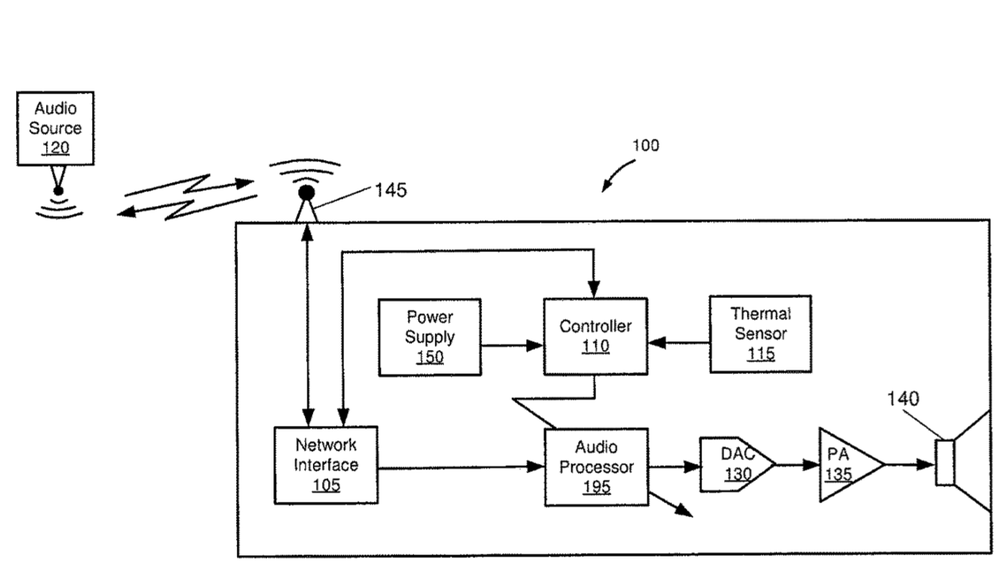 The target power level is based on temperature data for the loudspeaker cabinet and varies as the temperature data changes. Based on the operating power level and the target power level, values of two or more control parameters for controlling audio output of the loudspeaker cabinet are generated, where at least one of the control parameters controls the gain of a specific audio frequency band. The audio signal is adjusted according to the generated values of the control parameters, where doing so reduces power consumption of the loudspeaker cabinet during the audio output. 
In the patent filing, Apple notes that loudspeakers, particularly wireless speakers, are becoming more prevalent inside and outside of users' homes. These speakers may wirelessly pair with audio sources (e.g., a desktop computer, laptop, tablet, or smartphone) over a computer network using Bluetooth or WiFi, and perform rendering and playback (output) of audio signals that are wireless received from the audio sources. 
However, placing such speakers inside a typical cabinet can generate heat and perhaps damage the speaker. Apple wants to change this.
Of course, Apple files for — and is granted — lots of patents by the U.S. Patent & Trademark Office. Many are for inventions that never see the light of day. However, you never can tell which ones will materialize in a real product.