On a regular basis, Apple World Today posts a list of notable new apps or app updates that have been released. They may not necessarily be new, but they're popular and deserve mention. Here are this week's picks.
macOS
Lemke Software has launched GraphicConverter 10.7, an update to their award-image editing utility for macOS. 
The app offers users the ability to convert most any format graphic file to one of nearly 80 other graphic formats. Version 10.7 brings a dehaze batch action, the ability to sort by rating and aspect ratio as well as resolution and pixel size, converting to JPEG at 75 or 85%, and more.
GraphicConverter 10.7 requires macOS 10.9 or higher. It costs $39.95 and is available worldwide through the Mac App Store in the Photography category. It can also be directly purchased online from the Lemkesoft website. 
GraphicConverter 10.7 is a free update for all customers of version 10.x. Upgrades from older versions of GraphicConverter are available for $25.95.
Xeric Design has launched a new cloud image service for EarthDesk Data subscribers. 
The cloud image is now precisely geo-located and parallax-corrected, contains data from up to 23 satellites, and includes polar coverage. The folks at Xeric Design say they've worked with the Space Science and Engineering Center's RealEarth project at the University of Wisconsin, Madison to bring this high-quality data feed to EarthDesk. Previously, only six satellites were used and the data did not extend to the poles.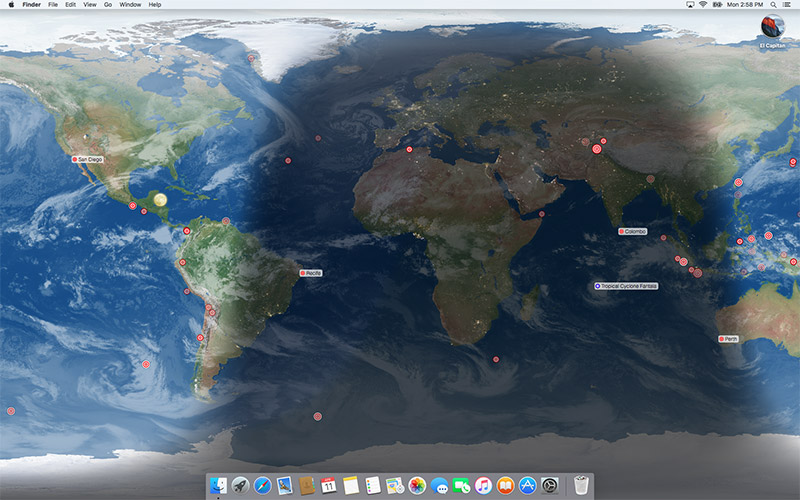 EarthDesk replaces your static desktop with an image of the Earth showing current sun, moon and city illumination, as well as near real-time cloud coverage. The software allows users to purchase an optional data subscription that offers the new precision clouds with 16 times more detail than the standard cloud layer. In addition, this service displays real-time data including worldwide earthquakes, named storms (typhoons, hurricanes, etc.) and the position of the International Space Station.
EarthDesk is compatible with macOS 10.10 and higher. It costs $24.99 for singles user licenses. Upgrades to the latest version are $12.99 for licensed users of versions 5 and 6. A data subscription adds precision clouds, earthquakes, named storms and tracking of the International Space Station starting at $11.99 per year. Bundles that include EarthDesk and a discounted data subscription are available.
Cisdem has upgraded PDFConverterOCR for Mac to version 6.3.0.
It's a tool with OCR ability that can convert both normal and scanned PDF documents or images into other popular documents (including Word, PowerPoint, Excel, Text, Rtfd, ePub, HTML, Keynote, Pages, and Image) while preserves original tables, text, fonts, images, graphics and hyperlinks. Version 6.3.0 improves OCR accuracy and OCR memory usage performance. It also supports auto update.
Cisdem PDFConverterOCR requires macOS 10.10 or later. It's available at the Cisdem website. A demo is available. A single user license of PDFConverterOCR is available for $59.99.