The AirPower may be dead, but Apple hasn't given up on making its own charging systems.The company has been granted a patent (number 20190203751) for "smart charging systems for portable electronic devices" such as iPhones, iPads, Apple Watches,and Mac laptops.
In the patent filing, Apple notes that some portable electronic devices (e.g., laptop computers, tablets, mobile phones, media players, smart watches, and the like) operate when there is charge stored in their batteries include a rechargeable battery that can be charged by coupling the portable electronic device to a power source through a physical connection, such as through a charging cord. Sometimes, however, the device experiences a jolting event that causes the portable electronic device to dramatically jolt in one direction, such as when the portable electronic device is kicked or dropped.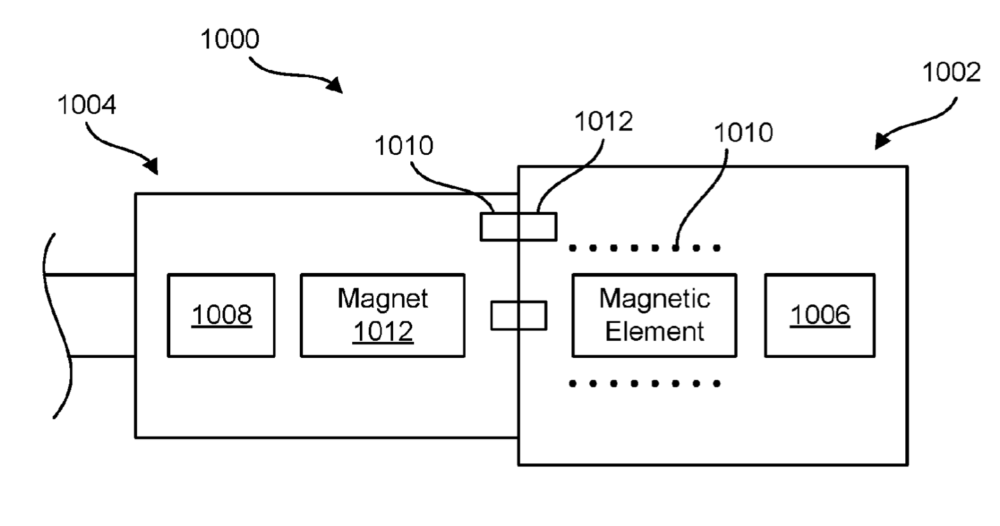 In such situations, the plug connector can be pulled in a direction that it is not intended to travel, thereby causing physical damage to the plug connector and/or the receptacle connector. To reduce such shortcomings, plug and receptacle connectors have been configured with magnets to assist with mating without the need for a strong static frictional force to exist between the two connectors. These connectors utilize magnetic forces to perform the coupling while providing easier disconnection. 
Apple says that, however, even though the severity of physical damage is reduced, magnetic connectors still have a high likelihood of suffering physical damage when experiencing a jolting event because the magnetic connectors maintain attracting force between the two connectors throughout the entire jolting event.  What's more, the plug connector often includes a visual indicator that emits a colored light indicating whether a successful mating between the two connectors has been achieved. This visual indicator is constantly on, thereby wasting power and decreasing the efficiency at which the portable electronic device receives power. 
Removing the visual indicator, however, makes it difficult to communicate to a user whether the connectors are successfully mated. Apple thinks it can do better.
Here's Apple's summary of the patent: "Embodiments describe a charging component for an electronic device that includes an interface surface comprising a portion of an external surface of a housing of the electronic device; a plurality of contacts positioned at the interface surface and exposed for making contact with contacts of a connector; one or more sensors for detecting a separation event; an inductor coil positioned proximate to the interface surface, wherein a central axis of the inductor coil is perpendicular to at least a portion of the interface surface; and a processor coupled to the inductor coil and the one or more sensors, wherein the processor is configured to change an operation of the inductor coil based at least in part on a measurement from the one or more sensors."
Of course, Apple files for — and is granted — lots of patents by the U.S. Patent & Trademark Office. Many are for inventions that never see the light of day. However, you never can tell which ones will materialize in a real product.