The global market for true wireless hearables such as Apple's AirPods is estimated to reach a volume of 129 million units by 2020, according to the latest research from Counterpoint Research's Emerging Technology Opportunities (ETO) service.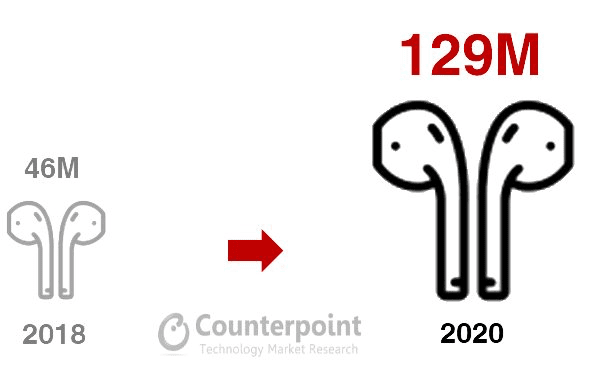 The upcoming second-generation of AirPods and similar earbuds from other technology giants will be the catalyst for market growth, adds the research group. This forecast is based upon the premise that the penetration of wireless hearables among global smartphone users will keep increasing along with the view that Apple will aggressively drive this business to offset declining smartphone sales. Apple AirPods' sales were estimated at around 35 million units accounting almost three-fourths of this emerging segment last year, according to Counterpoint Research. Samsung, Bose, Jabra, Huawei, Bragi, LG all are prevalent and will grow from a smaller base from last year, adds the research group. New entrants such as Google and eventually likes of Amazon, Plantronics will drive the market forward.
"2019 will be the year that hearables evolve into an important market. During the year, major technology companies are expected to drive innovations in true wireless hearable devices," says Peter Richardson, research director. "A rise in discretionary incomes of consumers and evolving digital habits are expected to propel the demand for hearables across the world as well. The global market for true wireless hearables is expected to reach US$27 billion in terms of value by 2021."
Personal voice assistants such as Apple Siri, Google Assistant, and Amazon Alexa are likely to boost the market from 2019. Future generations of hearable devices will be able to accommodate virtual personal assistants and used for a multitude of tasks such as queries and hands-free directions, says Senior Analyst Liz Lee. Ultimately, advanced hearables can reduce smartphone use, as they may take over many tasks that users solve with the help of their smartphones today, she adds.
The adoption of "wireless hearables" amongpremium smartphone users is increasing. Apple is a distinct leader with AirPods in the category of true wireless earbuds. Ease of use, comfort and fit, and portability were highlighted as the key reasons for choosing Apple AirPods over other wireless headsets, according to Counterpoint Research.