According to the International Data Corporation (IDC) Worldwide Quarterly Mobile Phone Tracker, worldwide smartphone shipments are expected to decline by 3% in 2018 before returning to low single-digit growth in 2019 and through 2022. iPhones are forecast to drop by 2.5% in 2018 to 210.4 million, though the research group is forecasting Apple smartphone shipments to grow at a five-year compound annual growth rate of 0.1%, reaching volumes of 217.3 million in 2022.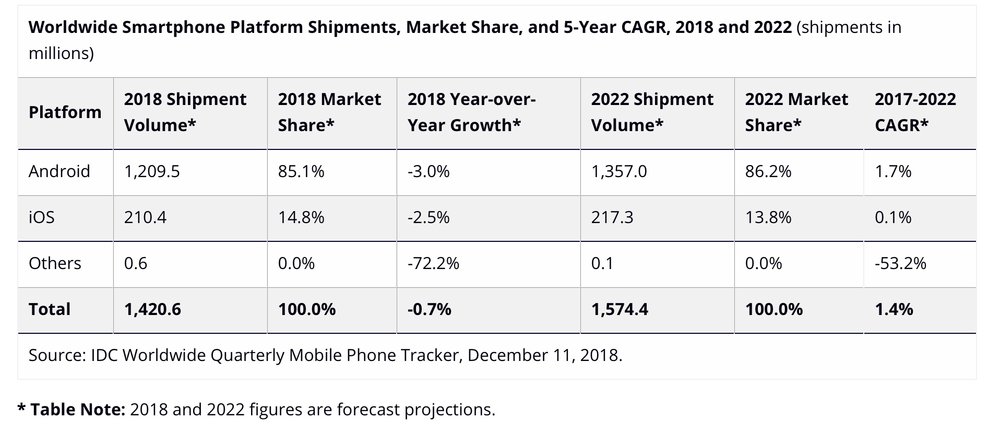 "The launch of expensive and bigger screen iOS smartphones in Q3 2018 helped Apple to raise its ASP, simultaneously making it somewhat difficult to increase shipments in the current market slump," says IDC. "…. Despite the challenges, there is no ambiguity that Apple will continue to lead the global premium market segment."
While the on-going U.S.-China trade war has the industry on edge, IDC still believes that continued developments from emerging markets, mixed with potential around 5G and new product form factors, will bring the smartphone market back to positive growth.
<!— code from sekindo - Appleworld.today In-Article - outstream —>

<!— code from sekindo —>
Smartphone shipments are expected to drop to 1.42 billion units in 2018, down from 1.47 billion in 2017. However, IDC expects year-over-year shipment growth of 2.6% in 2019. Over the long-term, smartphone shipments are forecast to reach 1.57 billion units in 2022. From a geographic perspective, the China market, which represented 30% of total smartphone shipments in 2017, is finally showing signs of recovery.
While the world's largest market is still forecast to be down 8.8% in 2018 (worse than the 2017 downturn), IDC anticipates a flat 2019, then back to positive territory through 2022. The U.S. is also forecast to return to positive growth in 2019 (up 2.1% year over year) after experiencing a decline in 2018.