On a regular basis, Apple World Today posts a list of notable new apps or app updates that have been released. They may not necessarily be new, but they're popular and deserve mention. Here are this week's picks.
iOS Apps/Updates
GBTI Games has unleashed Sleepy Sheepie AR. It's a single tap game with a touch of augmented reality. The hero of the game is a very special kind of sheep. Just an ordinary grass eater by day, but a genius programmer by night. Place the AR game plane on your lawn, driveway, carpet etc. and help poor Sleepy Sheepie get as many coffees as possible to keep him working. Sleepy Sheep is free, but does offer in-app purchases.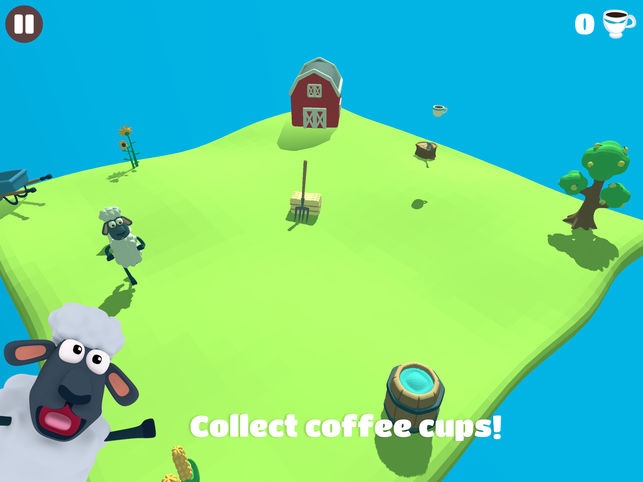 James Hollender has announced INR Assist – for Users of Coumadin or Warfarin 1.0. The $4.99 app is specifically designed to aid patients on blood thinners in keeping track of their Vitamin K intake, which can affect INR/PT results. The app provides fast access to nutritional data for foods and food servings, based on the USDA National Nutrient Database for Standard Reference for Calories and Vitamins K1, K1D, and K2.
macOS Apps/Updates
Digiarty Software has rolled out VideoProc 3.0, an update of its 4K video processing software with full support for GPU acceleration for Mac and Windows users.
It boasts abilities to cut, merge, edit, transcode, download and record 4K videos and other media with 47x real-time faster speed. With a specialized ToolBox, the program also offers options to deshake, denoise, make GIFs, correct lens distortion and so much more.
VideoProc 3.0 is available now worldwide for users on macOS Mojave or earlier and Windows 10/8/7/Vista. Normally $59.90, a full license is being offered at $29.95 for a limited time, together with various flexible license options offered at discounts in celebration of its grand release.
PCI Geomatics has released Geomatica 2018, a new version of the company's flagship software for desktop and enterprise geoimage processing.
<!— code from sekindo - Appleworld.today In-Article - outstream —>

<!— code from sekindo —>
Geomatica features tools for remote sensing, digital photogrammetry, geospatial analysis, mosaicking, and more that can be deployed through the Geomatica desktop, Python workflows, or through large-volume-production GXL systems. The 2018 release introduces Analysis Ready Data (ARD) tools, which addresses critical requirements for performing authoritative and scientifically accurate single-image analysis and multitemporal analytics.
With the new ARD tools, customers can perform radiometric normalization and geometric alignment of large stacks of images through scalable and automated workflows. There is also support for the Committee on Earth Observation Satellites (CEOS) Open Data Cube (ODC), which provides organizations with a unique opportunity to leverage deep catalogs of historical satellite imagery to gain multi-temporal insights.
Plus, PCI Geomatics continues to add support for new sensors, including optical and synthetic-aperture radar (SAR) satellites. For more info, including pricing options, go to http://www.pcigeomatics.com/ .
Boris FX has released Mocha Pro 2019, a planar tracking tool for visual effects and post-production. New features include a new magnetic spline tool, GPU-accelerated object removal, and new streamlined Essentials interface.
It's available on macOS, Windows, and Linux systems, and as integrated plug-in for Adobe, Avid & OFX hosts such as Nuke, Fusion, HitFilm, and VEGAS Pro. Mocha Pro 2019 is available in multi-host and individual host options.
Zevrix Solutions has introduced Output Factory 2.3.13, a compatibility update to company's output automation solution for Adobe InDesign.
Output Factory automates printing, exporting from InDesign through batch processing, export as single pages, layer versioning, auto-preflighting, custom scripts integration and other time-saving options. Version 2.3.13 makes Output Factory compatible with the recently released macOS 10.14 Mojave and enhances some advanced file naming options.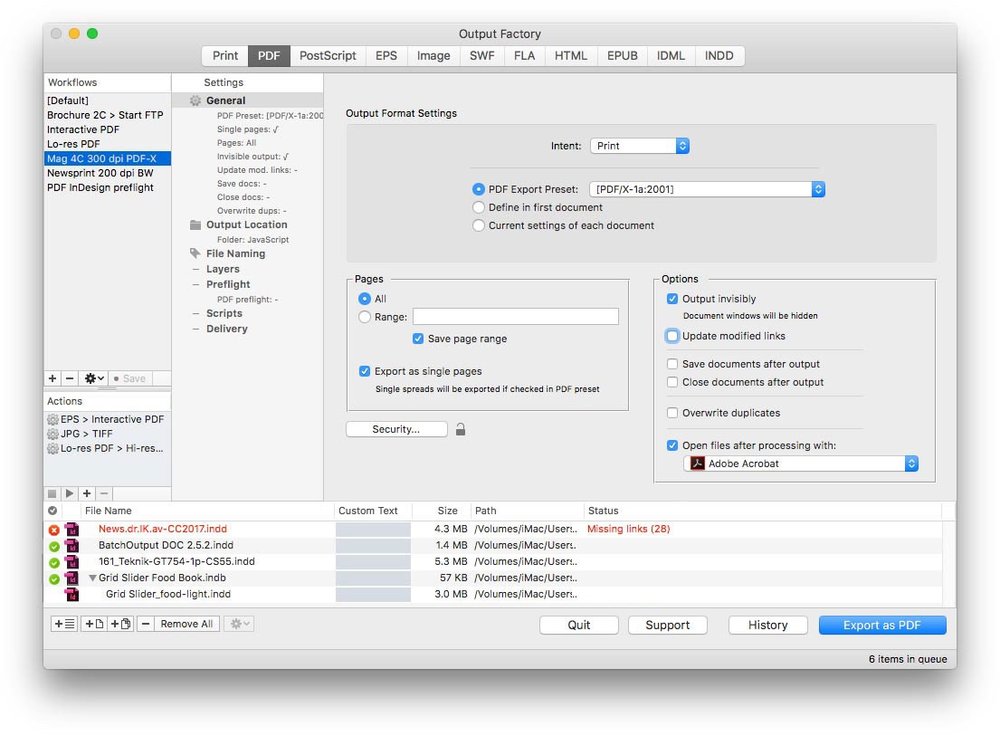 Output Factory can be purchased from the Zevrix website for $169.95; a "lite" version is available for $119.95. A demo is available for download. The update is free for the users of Output Factory 2.x, and $84.97 to upgrade from Output Factory 1.x and BatchOutput. Output Factory requires macOS 10.7-10.14 and Adobe InDesign CS3-CC 2018.
Solesignal has revved SmartBackup, their backup and cloning utility for macOS, to version 4.2. The new version adds support for macOS Mojave and a new option to exclude symlinks from syncs.
SmartBackup is a utility to sync folders, volumes, or to create a bootable clone of your startup disk. It supports different configurations for multiple destinations, excludes, can archive deleted or changed files, and features built-in automation.
SmartBackup requires macOS 10.10 or higher. It's a free download at Solesignal online.