Apple's HomeKit home automation framework seems to be gaining momentum, with more and more HomeKit-enabled devices being added to the ecosystem every month. One item that caught our attention was the new Fibaro Flood Sensor ($69.99), designed to alert iPhone users to a possible water line break or flooding in their homes. Let's take a look!
Design
A sleek white round pod, the sensor has three gold-plated probes on the bottom that — when water flows around them — create a circuit that then notifies a homeowner that water has been detected.
Where would the Flood Sensor be useful? In my home, I can think of two important locations — in the laundry room near my washing machine, where a break in the water inlet line could flood the room, and near the sump pump in my basement. The sump pump works to keep our high water table from flooding our basement…until it doesn't work. The Flood Sensor could alert me of a non-working sump pump, useful since I don't always go into that location.
With a twist, the top of the sensor comes off for battery replacement. The battery is designed to last for two years. A loud beep from a built-in speaker and an iPhone notification will not only let you know when the Flood Sensor has detected water, but also when the device has been tampered with or moved.
The Flood Sensor is unlike most similar sensors I've seen (all of which were non-HomeKit compatible) in that it's not only waterproof, but can float.
Fibaro also makes a Z-Wave version of the Flood Sensor, but Apple users will want to get the more expensive HomeKit version.
Function
To test the Flood Sensor, I placed it into a sink and turned on the water. As I expected, the sensor immediately started beeping and flashing a red LED, and a notification appeared on my Macs (running Mojave), iPhone and Apple Watch telling me that a leak had been detected in my laundry room: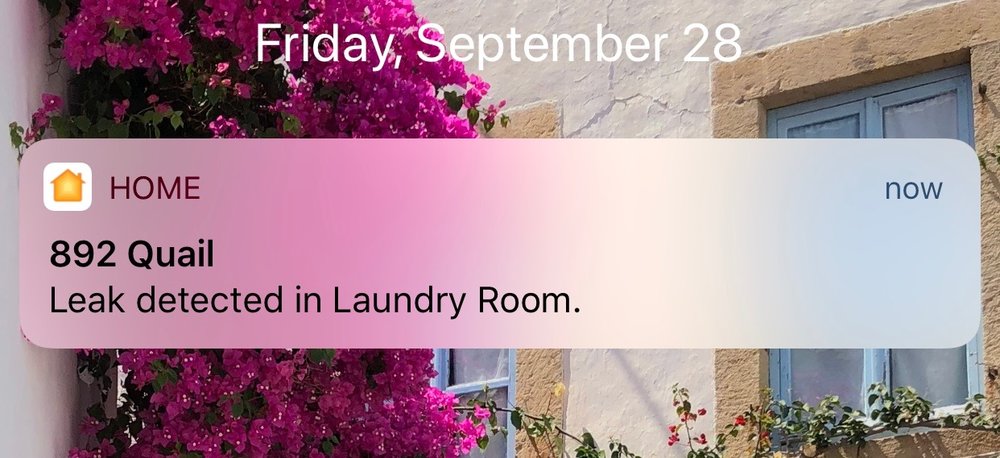 This is a very useful tool — I sometimes run my washing machine while I'm away from home, and in the event of a failure of a hose or a component inside the washer, I'd get a warning immediately.
But that's not all the Flood Sensor does. I can also ask Siri for the temperature in that room: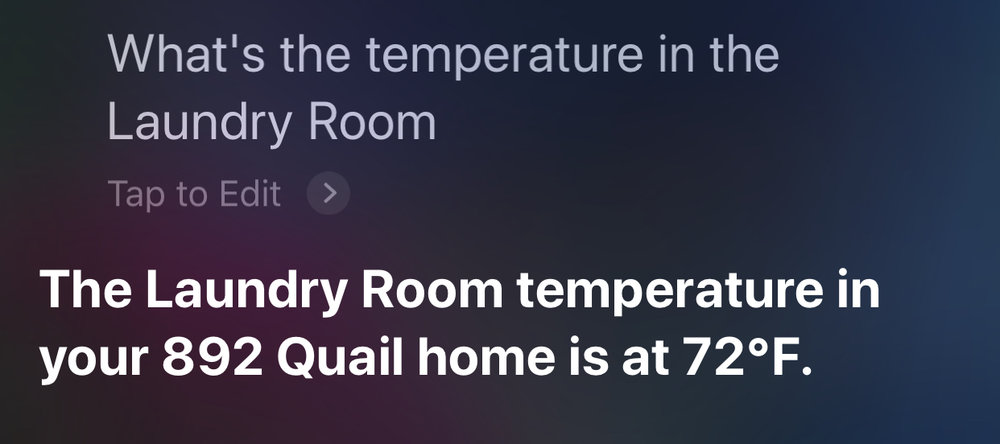 <!— code from sekindo - Appleworld.today In-Article - outstream —>

<!— code from sekindo —>
All in all, the Fibaro Flood Sensor is a solid addition to any smart home using Apple's HomeKit framework. If you decide to purchase one or more Flood Sensors, please consider purchasing through our Amazon Affiliate account at this link. Apple World Today will receive remuneration for your purchase.
Apple World Today Rating (out of 5 stars): ★★★★★