The majority of smartphone owners use navigation apps and most prefer Google Maps, according to new survey data from The Manifest. It has 67% of the market compared to 12% for Waze, 11% for Apple Maps, and 8% for MapQuest.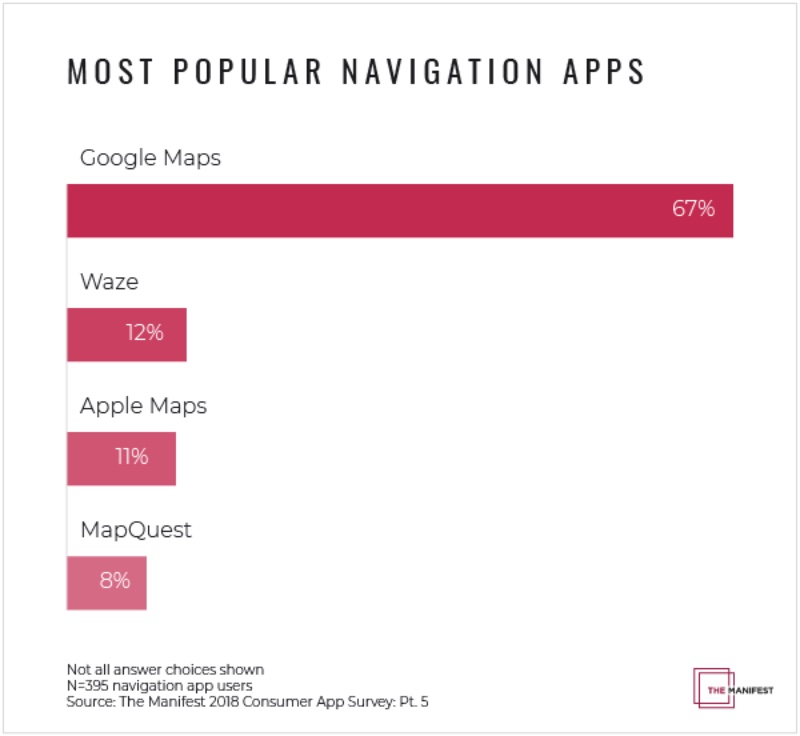 Other details from The Manifest survey include:
One-quarter (25%) of smartphone owners say they use their preferred navigation app because they believe it offers better directions.
Over one-third (36%) of smartphone owners use navigation apps prior to leaving their location; 34% use them en route, and 30% use them both prior to leaving and en route equally.
An overwhelming number of respondents (87%) use navigation apps for driving directions the most.
People use navigation apps for non-driving directions such as public transportation, walking, or cycling twice as much in the Northeast as in other U.S. regions.
Guess we'll see if Apple's planned revamp of its Maps app helps it gain ground on Google Maps.
The Manifest is a site that "compiles and analyzes practical business wisdom for innovators, entrepreneurs, and small and mid-market businesses." The survey includes responses from 511 smartphone owners who use at least three different apps daily. The respondents were primarily female (72%). Age was split among respondents: 18 to 24 years old (15%), 25 to 34 (28%), 35 to 44 (21%), 45 to 54 (18%), 55 to 64 (12%), and 65 and over (5%).
---
Like this article? Consider supporting Apple World Today with a $5 monthly Team AWT membership.