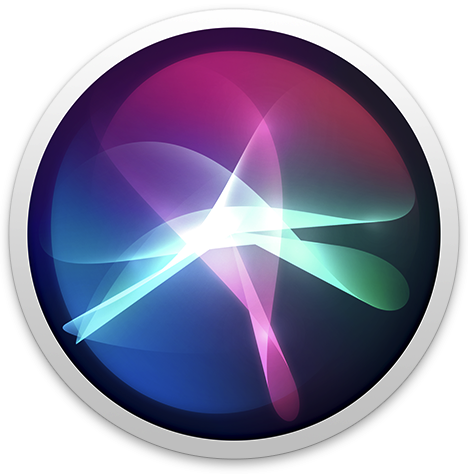 Lots of people use Siri on their iPhones; hey, it's a great way to get things done while you're walking or driving. But poor Siri gets ignored by most Mac users for some strange reason, so today I'll show you two ways that you can make use of Siri to speed up common daily tasks — making lists and calendar appointments with your voice instead of your keyboard.
Adding Calendar Appointments
To launch Siri on your Mac, either click the Siri icon in the right hand side of the Mac menu bar or the Siri Dock icon. When Siri pops up, I'll tell it to "Set up a meeting with Jeff McDonald Wednesday at 9":
Siri recognized that I already had a meeting scheduled at that time and asked if I wanted to put the new meeting on the calendar anyway. Siri knows Jeff's email address, so it invited him to the meeting as well. That saved me the step of having to manually add him to the calendar event!
Siri can understand some complex queries as well. Let's try another one:
In this case, Siri understood that yesterday was Thursday, looks ahead two weeks, and is smart enough to understand that most people don't want meetings at 1:30 AM so it sets it up in the afternoon.
The appointments were scheduled without doing anything other than clicking on the Siri icon and speaking. Not bad, huh?
Making and adding items to lists
If it weren't for lists, I'd never accomplish anything. I like to use Siri on my Mac to create, add to, and mark items completed on lists. The great thing is that I can do a lot of this spur of the moment when I think of something while working on my Mac, and through iCloud syncing the lists show up everywhere — on my Mac, iPhone, iPad and Apple Watch. Let's start by creating a new list:
That list is created in Reminders, but left empty until I add items to it. Let's add some landscaping tasks to the list: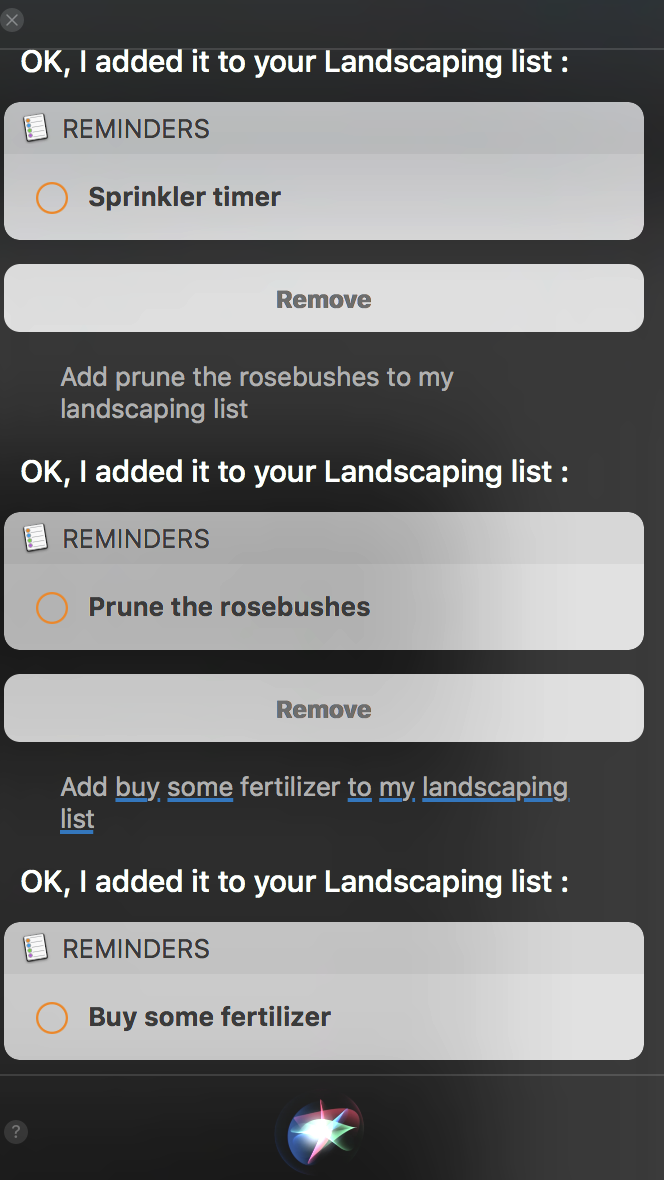 Each time I add something, Siri displays a "remove" button in case I inadvertently added a task or Siri misunderstood me. If I want to view my Landscaping list, all I need to do is ask Siri to show me my landscaping list: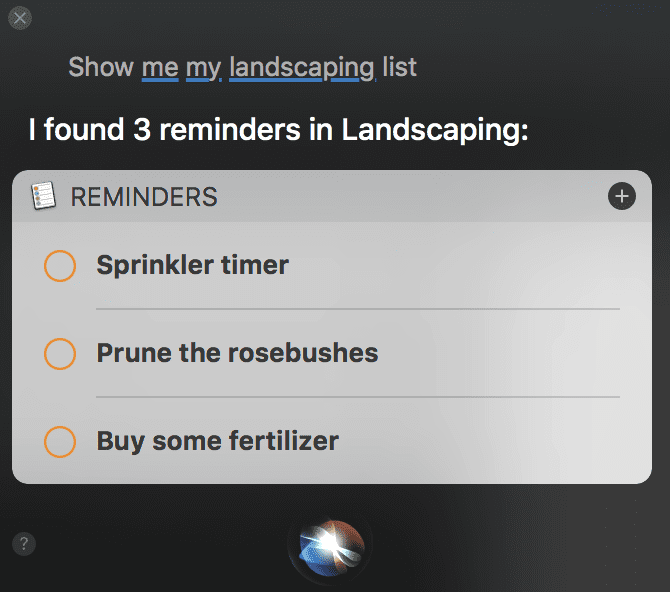 When I finally pull myself away from the keyboard for a while and get some of the tasks done, I can just tell Siri — on my Mac, iPhone, or Apple Watch — that I've completed that task:
The one thing you can't do with Siri is delete one of your reminder lists; it will tell you to go to the Reminders app to do that.
Siri might not be as smart as Amazon Alexa or Google Now, but it can be used to really pump up your personal productivity. If you're sitting at your Mac right now, try using Siri to make lists or set appointments for you. You'll gain more confidence in using Siri and find that it can be quite useful in getting tasks done quickly.
Like this article? Consider supporting Apple World Today with a $5 monthly Team AWT membership.