Welcome to Thursday's episode of the Apple World Today News Update, brought to you this week by PDFelement 6 from Wondershare. Today we have news of cheap iPhones (new in the box!), a security scare that doesn't seem too scary, and how Apple employees at Apple Park are going to be made uncomfortable so they'll stand at least part of each work day: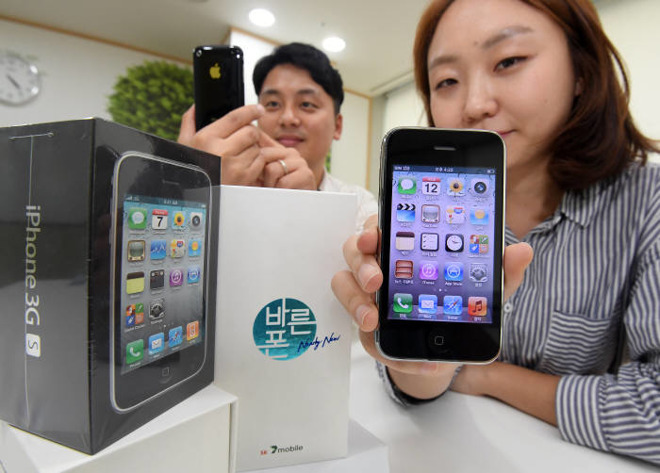 Get an iPhone in South Korea for $40! They're new in the box, they're unlocked, but there's a catch…
Russian smartphone cracker ElcomSoft says they can read your entire iMessages history…but they pretty much need all of your login information before they can do it
Every desk at Apple Park is a standing desk that converts for sitting use, but the chairs are made to make you uncomfortable
The text version of the podcast can be read below. To listen to the podcast here, click the play button on the player below. Apple News readers need to visit Apple World Today in order to listen to the podcast.
Text Version
This is Steve Sande for Apple World Today, and you're listening to the AWT News Update podcast for Thursday, June 14th, 2018. This week's podcast is sponsored by PDFelement 6 from Wondershare. It's the most powerful and popular PDF creation, editing and sharing app for Mac and iOS, and you can download a free trial. Read all about it on Apple World Today.
Want a brand new iPhone in the box for the equivalent of $40? That's what customers of South Korea's SK Telink will be able to get soon… but there's a catch. The phones that they're selling are the 9-year-old iPhone 3GS, and they can be purchased without a contract. Sadly, accessories will be hard to come by since the iPhone 3GS used the old 30-pin connector instead of Lightning, and purchasing apps is going to be equally as hard since the 3GS won't run anything later than iOS 6. But you should be able to use the phone for the basic things people use iPhones for — making phone calls, sending or receiving text messages, and playing music.
Russian company ElcomSoft is well known for its Phone Breaker software that's used by law enforcement officials — or anyone else who buys the software — to poke around in the personal data stored on smartphones. The company today claimed that the latest version of its app can remotely access iMessage conversation histories stored in iCloud. However, the situations in which someone would be able to do this are going to be limited. The person breaking into the iPhone would need ElcomSoft Phone Breaker 8.3, the Apple ID email and password for the iCloud account, the passcode of an iPhone, iPad or iPod Touch or system password of a Mac, with at least one of the devices needing to be enrolled in Messages in iCloud. Finally, they'd have to have access to a two-factor authentication method. Now, if they have this info they'll be ready to read at least part of the iMessage history simply by opening the app, but ElcomSoft claims that they can get all of the messages that have been sent or received from iCloud. Given the amount of data that is required just to get this to work, it's unlikely that anyone will go through the hassle of looking at your messages just for the heck of it. However, if you must have absolutely secure communications, you'll want to make sure that you set a strong password for your Apple ID, not share that password with anyone, enable two-factor authentication and keep your devices close at hand.
Tim Cook did an interview with Bloomberg's David Rubenstein the other day, and one of the little gems that came out of the interview is that if you work at Apple Park, you're going to get a desk that converts between sitting and standing. That's right, Apple employees are going to be asked to sit and stand in order to get them moving. Back in 2015 when the Apple Watch appeared, Cook referred to sitting as "the new cancer" because of the adverse health effects of sitting too long. In fact, Apple chose Vitra chairs to accompany the desks at the new Apple headquarters because they didn't want employees to get too comfortable in the Aeron chairs used by most companies.
Join me tomorrow afternoon for the next edition of the AWT News Update.
Like this podcast? Consider supporting Apple World Today with a $5 monthly Team AWT membership.