On a regular basis, Apple World Today posts a list of notable new apps or app updates that have been released. They may not necessarily be new, but they're popular and deserve mention. Here are today's picks.
macOS Apps/Updates
CoreCode has announced MacUpdater 1.2.7, a new version of the app updating utility for macOS.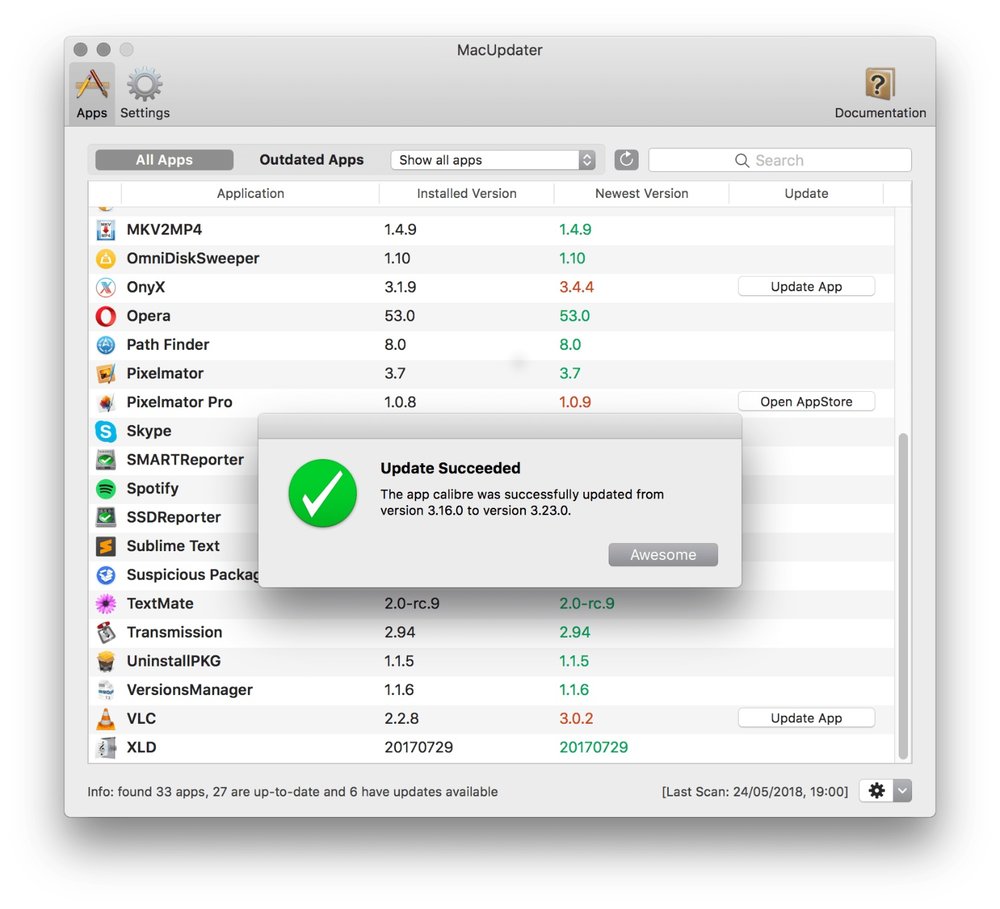 The utility scans a Mac's Applications folder to identify applications that have updates available. Once identified, out-of-date applications can be updated with just a few clicks of the mouse. MacUpdater runs silently in the background, notifying users when an update is available. No registration is required, and app usage isn't tracked in any way.
MacUpdate requires macOS 10.11 or later. It's a free download and is available worldwide exclusively through the CoreCode website. Users can scan for updates for free and update up to 10 apps for free. It costs $9.99 to unlock the ability to update additional apps.
Econ Technologies (www.econtechnologies.com) has released ChronoSync, an update to their multipurpose app for local and cloud backup, bootable clones and folder synchronizing under macOS.
The upgrade makes connecting to cloud providers offering lower-cost S3 compatible object storage solutions easier. ChronoSync runs on macOS version 10.10 and newer.
Licenses are available for purchase from ChronoSync for $49.99. ChronoSync's $14.99 companion app, ChronoAgent, allows any Mac to accept direct, secure connections from any ChronoSync Mac or any InterConneX iOS device to access or transfer data. ChronoMonitor is an iPhone app that monitorsMacs running ChronoSync or ChronoAgent. ChronoMonitor is available in the Apple App Store for $3.99.
Cisdem has upgraded PDFConverterOCR for Mac to version 5.3.0.

It's a PDF Converter with OCR ability that can convert both normal and scanned PDF documents or images into other popular documents (including Word, PowerPoint, Excel, Text, Rtfd, ePub, HTML, Keynote, Pages, and Image) while preserving original tables, text, fonts, images, graphics and hyperlinks. Version 5.3.0 enhances the functionality of converting PDF to docx, pages, and HTML formats.
Cisdem PDFConverterOCR requires macOS 10.10 or higher and is available now through the Cisdem website. A demo is available. A single user license of PDFConverterOCR is available for $49.99.
Tension Software has revved Notelist, a macOS app for manning notes and storing them in a data free format, to version 4.8. It's a maintenance upgrade with bug fixes and performance tweaks.
In Notelist any note has an assigned category, where each category has a distinctive color and label. Categories are editable, and the user can create and manage how many categories he needs inside any document and apply them to notes.
Notelist requires macOS 10.10 or higher. It costs $9.99 and is available at the Tension Software website and the Mac App Store.
---
Like this article? Consider supporting Apple World Today with a $5 monthly Team AWT membership.