You've got to love a company with a name like [Fuse]Chicken, especially when the fun name comes with a commitment to designing and manufacturing good accessories for iPhone. The company's Titan, Shield and Armour charging cables are virtually indestructible, and now [Fuse]Chicken has joined the move away from cables and into the wireless charging world. Today we're looking at the Gravity Touch ($44.95) and Gravity Lift ($59.95), a pair of wireless chargers that look good and will make you wish everything charged wirelessly.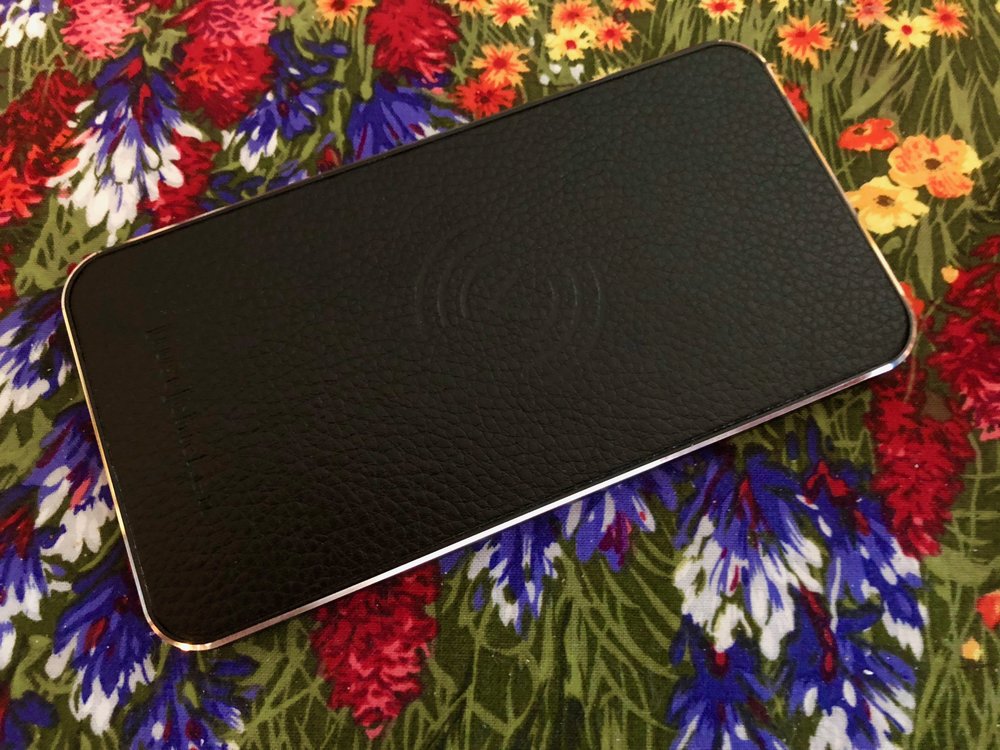 Gravity Touch
Gravity Touch is a flat, rectangular charging pad that's made for those situations where you just want to top off your Qi-enabled iPhone but don't necessarily need to look at the screen. The Gravity Touch comes in two "flavors" — one with a black finish and black leather top, the other with a silver finish and bamboo top. Either model looks great — I reviewed the leather model and love the little touches that give it a classy look, like a thin silver bevel between the side and top.
The base of Gravity Touch has four rubber feet to keep it from moving on your desktop or table, and it has a surprising amount of heft thanks to aluminum construction.
The pad comes with a USB to micro-USB cable, so all you need to supply is a Mac or other power supply that can handle a USB cable. Once everything is plugged in, all you need to do is lay your iPhone on top of the Gravity Touch and it begins to charge. A small blue LED indicates that charging is underway.
I have to admit that I love the convenience of wireless charging and don't miss plugging in a cable all the time. In case you're wondering if Gravity Touch works with iPhone cases, it sure does — I have a polyurethane and leather case on my iPhone X, and it charged with no issues.
I like the portability of Gravity Touch — it is about the same size and depth as an iPhone X, and wouldn't take up much room at all in a travel bag. The product comes with a warranty; registration is required, but considering that cheap knockoff chargers don't come with a warranty makes me feel good about both the safety and durability of the product.
Apple World Today Rating (out of 5 stars): ★★★★★
PROMOTIONAL CONTENT: ARTICLE CONTINUES BELOW
---
---
Gravity Lift
The team at [Fuse]Chicken knows that some people like to have their iPhone screens elevated while charging, so they created the Gravity Lift for that demographic. It's a full charging stand made of solid aluminum with a small ledge for the iPhone to sit on, covered with a black leather on the front.
Like the Gravity Touch, the Lift has four rubber feet on the bottom to keep the stand from moving when you place or remove your iPhone. It also has a permanently attached cable rather than the removable one found on the Gravity Touch.
[Fuse]Chicken points out that the Gravity Lift uses multiple charging coils so that it doesn't need to be precisely placed on the charging surface.
While it's not as portable as the Gravity Touch, the Gravity Lift is perfect for those who want to have the face of their iPhone in easy view while it's charging. I can see this as a perfect accessory to plug into the back of an iMac for charging an iPhone, as the finish matches the computer almost exactly.
Apple World Today Rating (out of 5 stars): ★★★★★
Like this article? Consider supporting Apple World Today with a $5 monthly Team AWT membership.