According to the latest quarterly research from Strategy Analytics, global smart speaker shipments reached 9.2 million units in the first quarter (Q1) of 2018. The research group says Apple shipped about 600,000 HomePods to garner 6% of the market.
That's well below market leader Amazon, which is estimated to have shipped four million smart speakers during the quarter though its global market share has nearly halved from the same period last year. Google and Alibaba consolidated their number two and three rankings with sales of 2.4 million and 700,000 worldwide, according to Strategy Analytics.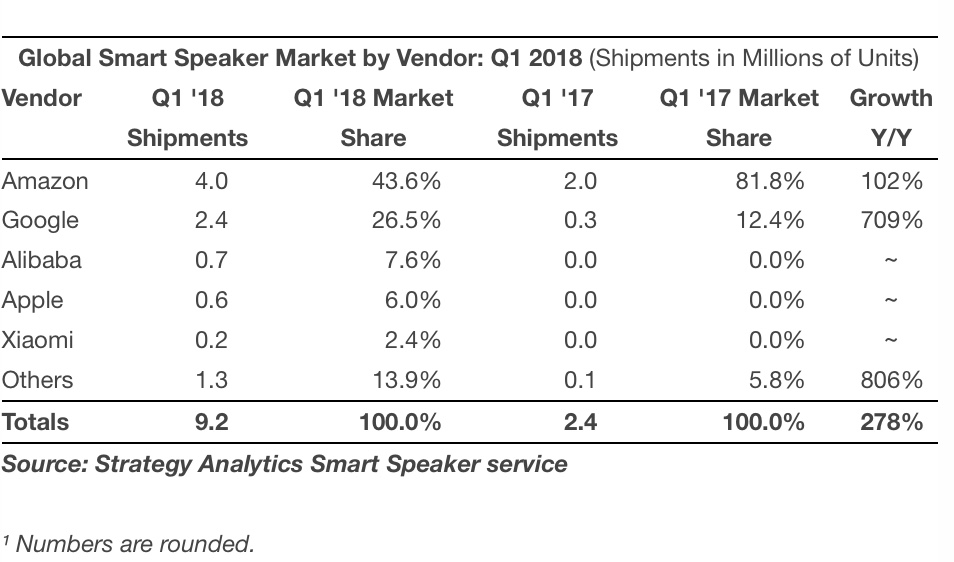 "Amazon and Google accounted for a dominant 70% share of global smart speaker shipments in Q1 2018 although their combined share has fallen from 84% in Q4 2017 and 94% in the year ago quarter," says David Watkins, director at Strategy Analytics. "This is partly as a result of strong growth in the Chinese market for smart speakers where both Amazon and Google are currently absent. Alibaba and Xiaomi are leading the way in China and their strength in the domestic market alone is proving enough to propel them into the global top five."
Note that HomePod wasn't available for the all of quarter one as it rolled out on Feb. 9. Also, it's average selling price ($349) is considerably higher than that of its competitors.
---
Like this article? Consider supporting Apple World Today with a $5 monthly Team AWT membership.