Remember the Mac keyboard used by H.G. Wells when he wrote War of the Worlds? Neither do I, but if Macs had been around then, their keyboards would probably have looked something like the AZIO Retro Classic, which is packed with modern features in its vintage typewriter-inspired design.
For example, it's available in a Bluetooth version ($220) or wired-only model ($190). Also, the keycaps are round instead of rectangular, a throwback feature, yet they're backlit (something none of Apple's desktop keyboards can claim). Round keys means there's more space around each key and the concave keytops offer a tactile advantage.
These keycaps (which look like metal, but are actually plastic) are housed on a tough Zinc alloy frame, a handsome genuine leather top plate. and black chrome or satin-copper finish  that accompanies the leather top plate. (I prefer the black chrome, which, by the way, looks great with Apple's space gray Magic Mouse). Hex bolts are added for structural enhancements and to add an industrial vintage feel.
Each keyboard boasts a designed custom logo plaque, featuring grade brushed anodized aluminum. To enhance the vintage appeal, each plaque is embossed with the product name and filled with a glossy lacquer paint for a classy shine.
Shift, Enter and Backspace are all extra-large keys, and even the secondary keys like Ctrl, Alt, Function and right click are larger than usual. There's plenty of space between the numeric keys and the function keys.
The back of the Retro Classic has a switch for selecting either Bluetooth or USB on the wireless edition. When USB mode is selected, just connect the included Type-C cable to the computer and type away. When Bluetooth is selected, you'll have to go through the macOS procedure for pairing a Bluetooth accessory.
The back of the Retro also has a switch for Mac and Windows layouts. When Mac mode is selected, you'll have to pop on the included macOS hot keys for Expose, Dashboard, Back Track, Next Track, Play/Pause, Mute, Calculator, and Win Lock.
The wireless Retro packs a high-capacity 6,000 mAh Lithium Ion rechargeable battery. With the backlight off, usage time is purportedly about six months. 
The keyboard is backlit with white light and has three levels of backlit intensity. With the backlight on, about 1-4 weeks depending on backlight intensity, according to the folks at AZIO. I can't verify those figures, as I've only been using the Retro for a week.
You charge the keyboard via its Type-C port. The wired version has a six-foot cord; that seems a bit too long to me, but, then I'm using the wireless version.
There are a couple of factors you need to consider if you're pondering a purchase of the Retro Classic: noise and size.
Regarding the former, this is a keyboard with audible, as well as tactile, feedback. When typing, you'll be treated to the satisfying, clicky typewriter sound of yesteryear. Or annoyed by it. If you like a totally silent keyboard, or are surrounded by office workers that might not appreciate the clicking, avoid the Retro Classic. However, if you're a typewriter aficionado (like Tom Hanks), you'll love it.
Speaking of the typewriter motif, the keys themselves sit higher above the board than the ones on most other keyboards, so there may be a bit of a learning curve.
You should also note that the Retro Classic is big. It weighs 3.5 pounds and is 17.9 x 1.6 x 5.8 inches. If you've been using Apple's teeny Magic Keyboard, the AZIO keyboard is going to feel like it's eating all your desktop real estate. However, that extra space does offer a lot of specialized keys that the Apple keyboard lacks.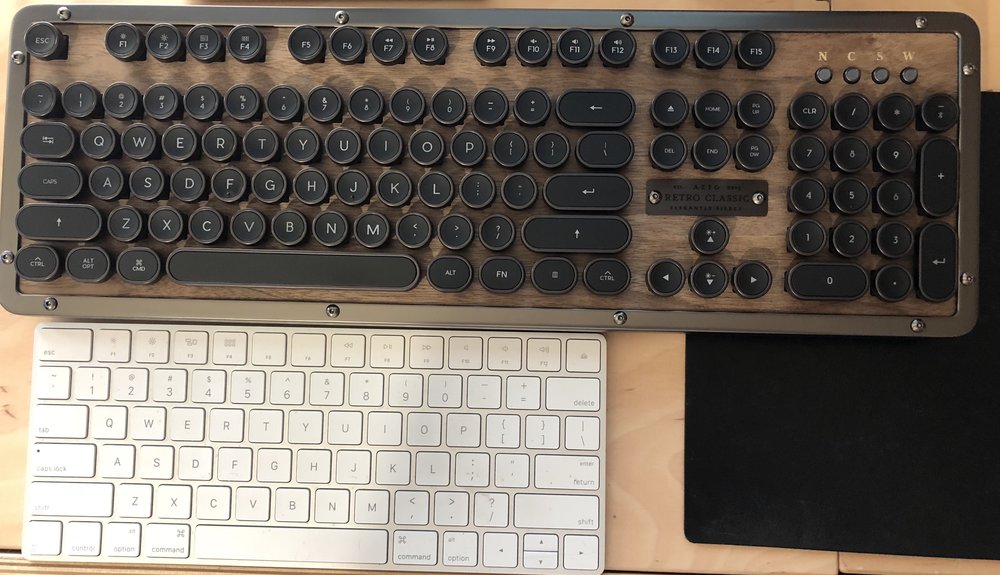 The Retro is certainly not going to slide around on your desk. There's a grippy rubber foot in each corner. Another nice touch that shows AZIO's dedication to detail: the frames around the back two feet rotate counter-clockwise to slightly extend the feet and clockwise to lower the feet to provide a custom angle for typing. Finally, the bottom of the keyboard has a panel with two screws, so you can access to 6,000mAh rechargeable battery if it ever needs replacing.
Also, note that there are no programmable keys and no auxiliary ports for plugging in USB peripherals, headphones, etc. And this isn't a keyboard designed for gamers.
The Retro Classic certainly isn't for everyone. But for some folks, it will be the perfect keyboard.
Now I'm just waiting for AZIO's steampunk mouse.
Apple World Today Rating (out of 5 stars): ★★★★
---
Like this article? Consider supporting Apple World Today with a $5 monthly Team AWT membership.