November 16th, 2017 was the date that I decided to purchase the iPhone X to get my son the free iPhone 8. I knew going into it that there would be a wait for the iPhone X. I definitely one that loves instant gratification so this was going to be tough. The sales rep at the AT&T store told me it would be mid December before it arrived. This contradicted what the AT&T website said though. The website said that it would ship between 11/29/2017 and 12/6/2017. This was still going to be a tough waiting period for me. Shortly after I finalized the order, I received an email and text that aligned with the AT&T website's initial estimated date.
I was surprised with an email on November 19th letting me know that my iPhone X shipped. The tracking told me that it should arrive on November 22nd and it was right. I picked the package up from the UPS store that morning. It wasn't instant gratification, but it was only 6 days instead of 2-3 weeks. We've started off pretty good.
Setting Up the iPhone X
Setting up the iPhone X was much simpler than I was used to with previous iPhone experiences. The Android app that Apple created called "Move to iOS" made things very easy. The only issue I encountered was a known issue where the connection between the 2 phones would get interupted. To fix this, you simply put the Android device in airplane mode. After I figured that out, it took about 20 minutes to copy all the data from my Pixel XL to my new iPhone X.
I breezed through the initial setup by setting up Wi-Fi, Face ID, logging into my Apple ID account, setting up iCloud, etc. After all this, the iPhone X showed me a short intro to how to navigate with the absence of a home button, simple and to the point. One of the steps also asked if I wanted to import my apps from the Google Play store, I agreed and for the next 45 minutes apps filled my home screens.
Data usage went through the roof on the 1st day from all the app installs. I think that I am going to have to upgrade my data plan to unlimited.
Face ID setup was a snap and I had none of the issues that I've read about. It just works.
I spent the next couple hours going through apps. I opened all the stock apps to see what they all did so I could figure out what I was working with. I opened all the apps that I had to log into and set them up as well.
After messing with and setting up all the apps I planned to use, I started customizing. Unfortunately lack of customization is one of the issues I've always had with iOS. I did the best I could though. I uninstalled apps that I knew I would never use. I consolidated 4 screens into one with the use of folders.
I pulled my Pixel XL out and double checked it for data and apps that the migration might have missed before I reset it. I was now ready to make the iPhone X my daily driver.
1st Impressions
The phone feels much smaller than my Pixel XL, but the display isn't much smaller so the viewing experience is about the same. I don't mind the notch at all except that many apps aren't optimized to use that space properly yet.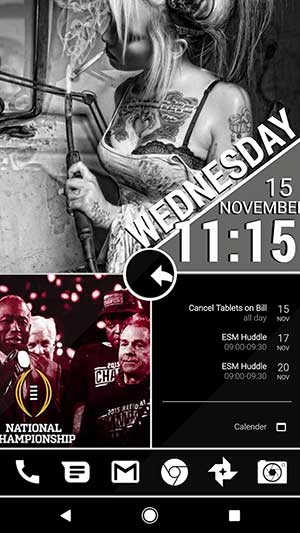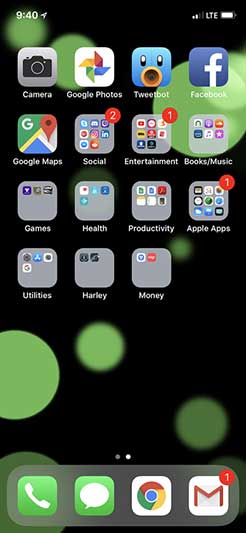 Lack of Customization
The retina screen is beautiful! Bright, Crisp, but it's ruined by a WALL of icons! I have no intentions on jailbreaking my iPhone X, those days are behind me. There are so many things I wish I could modify with iOS. I am very accustomed to really changing up the look of my phones (above left) with Android. That level of customization just doesn't seem possible with iOS without jailbreaking. I'm going to really miss having 5-6 icons down in the tray area too!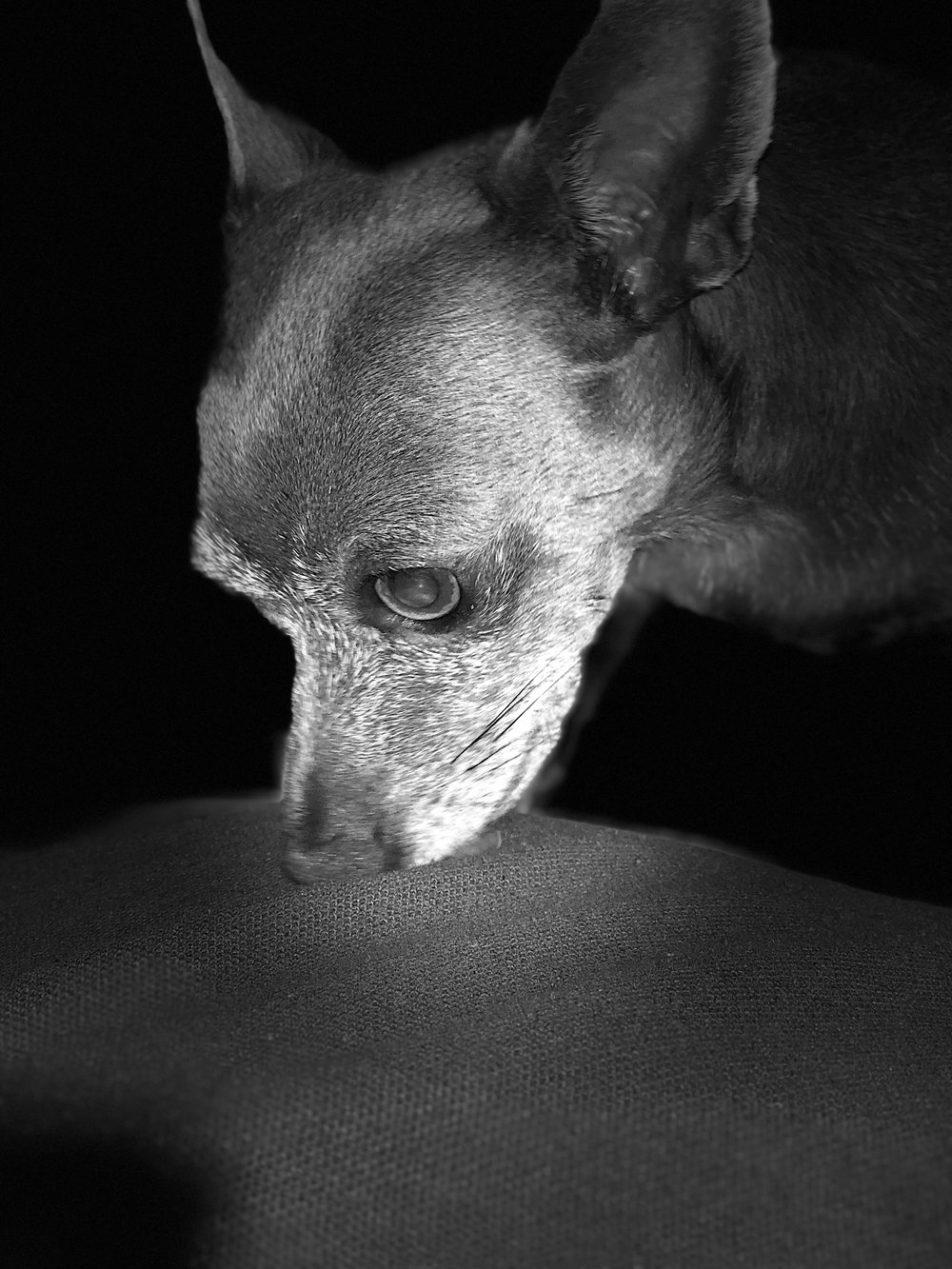 The Cameras
The camera is awesome so far, but I haven't delved too deep into it. I've taken mostly quick snapshots and I don't see any real drop off from the Pixel XL, which has arguably one of the best smartphone cameras on the market. The filters and software on the iPhone X are great so far. The photo above was taken with the front camera with the stage light mono filter.
I will touch more on the cameras in future articles.
The Google Infrastucture
I was very pleased to find that most of the Google apps that I have grown to trust for day to day productivity are available on iOS. Not only are they all available, they all work well. For now, I will use Chrome, Gmail, and Google Maps instead of the Apple provided apps. I would love to use "OK Google" over "Hey Siri" but I couldn't find a way to activate it without having to open the app first. I am sure Apple will never allow Google Assistant to override Siri so I'll just have to get used to it. I only wish I could set Chrome as the default browser when Siri takes me to a website.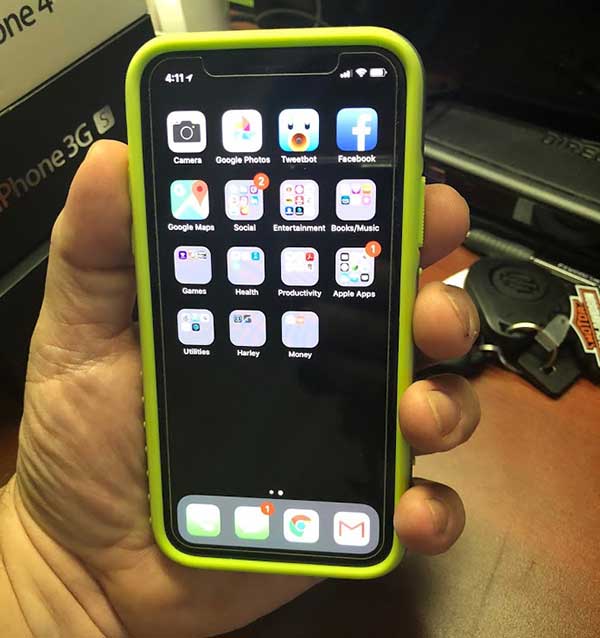 Phantom Screenshots!!!!
I can't begin to count the amount of screenshots that I've taken without even realizing it. This is my own fault due to the way I hold the phone. If you take a look at the photo above, you'll see that I have my left thumb on the volume up button and my left middle finger on the power button, the 2 buttons you press to take a screenshot. I am working on adjusting my grip to avoid this, but it's tough to change habits. I could just let the screen time out rather than manually killing the screen with the power button.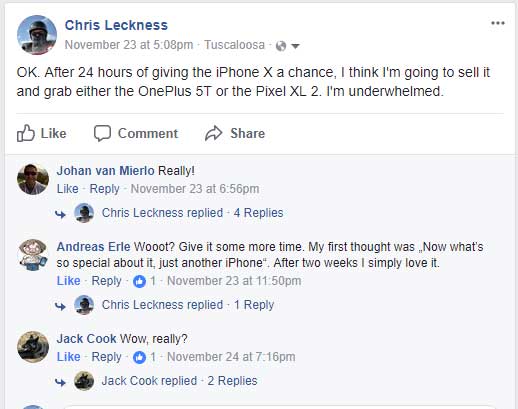 The Future of the iPhone X and Me?
As you can see, I was ready to give up on the iPhone X after one day, but I decided the next day to give it some more time. The jury is still out, but I am liking it more today than I did then.
That's it for now. I will continue to adapt to iOS and share right here on AppleWorld.Today!
Note: This is part of a series I'm writing about my experiences moving from Android to iPhone. To read the entire series and get some history on my use of mobile devices, check out the posts listed below.
From Android to iOS: Introduction
From Android to iOS: Why Switch?
From Android to iOS – The 1st Day