Battery technology has come a long way since we saw the first external battery packs for iPhones back in 2007. Today we're looking at an amazing intelligent power bank that's designed to power all of your USB-C and USB-A devices and act as a hub as well. The Omnicharge Omni 20 USB-C is currently in pre-order for December delivery for $169 (power bank only) or $199 (power bank plus protective case), and we've got a full review for you today.
Design
Like its two siblings the Omni 13 and Omni 20, the Omni 20 USB-C is a rectangular block 5 in deep x 4.75 inches wide x 1.1 inches tall (12.7 x 12.1 x 2.8 cm), weighing in at 1 lb, 2 oz. (510.3 grams). Covered with a tough soft-touch plastic material on the outside with corners that are attractively chamfered, the front of the Omni 20 USB-C features an OLED display, a power-on/off button, a switch to toggle between power and hub modes and a pair of USB-A ports. Two USB-C ports for both charging other devices and being charged are on the right and left (one on each side).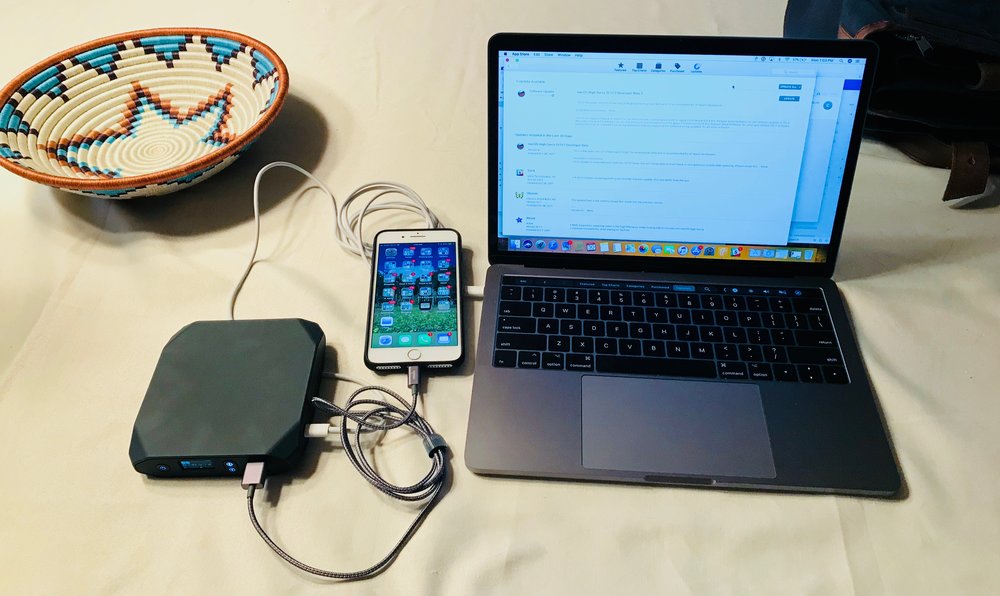 Now here's the amazing part; the Omni 20 USB-C has a capacity of 20,400 mAh, or 73Wh at 3.6V. Each of the USB-A ports can handle 5V/3A, providing 30W of power to quickly charge your iPhone or iPad. The power bank can use any USB-C charger (like the one that comes with the MacBook Pro) and can take 45W of input to fully recharge in 3 hours. It can also be charged while charging other devices, which is quite useful.
Where the Omni 20 USB-C is really going to be a lifesaver is in those situations where you need to recharge a MacBook or MacBook Pro but don't have an outlet nearby. It can provide 90% of a full charge to a 2017 15-inch MacBook Pro, 130% of a charge to a 2017 13-inch MacBook Pro, and 160% of a charge to a 2017 12-inch MacBook. When using the charger on a 2017 MacBook Pro the Omni 20 USB-C can be recharged in 3 hours, while the charger for the 2017 12-inch MacBook takes about 4.5 hours to recharge the power bank.
The OLED display on the front of the Omni 20 USB-C is a work of art, showing how the device is working with your devices. There's a real-time display of how many Wh of energy are still available, power input and output numbers in Watts, a power output time remaining number, and even a reading of the temperature of the power bank.
Omnicharge prides itself on its power protection system, and it's easy to see why. The batteries are continually monitored for low temperature, over temperature and overcharge/discharge situations, and an onboard fuse will disconnect battery power to prevent a short circuit. The device also monitors and adjusts cell performance to extend battery runtime and lifecycle. In terms of input and output, the Omni 20 USB-C will automatically disconnect when a plugged-in device doesn't match its output parameters, is getting a current overflow, or an input overvoltage. If there's an irregularity in current coming into the power bank, the device protects the charging circuits.
Lastly, there's an ARM micro-controller that keeps the motherboard of the power bank from getting too hot or short-circuiting. It will also reboot the device when it sees abnormal parameters. There's a separate ARM CPU that powers the screen.
Function
I have to admit, I was a bit dubious about being able to recharge my MacBook Pro and iPhone at the same time from this relatively small power bank, but as you can see from the photo, the Omni 20 USB-C handled this with ease. While the devices were plugged in, the display showed that it was delivering about 55 – 56 Watts of power to the two devices being charged, with the percent battery numbers on both the iPhone and MacBook Pro climbing quickly. At the same time, I could watch the Wh number on the Omni 20 USB-C dropping, and the time remaining figure slowly counted down.
One thing I didn't expect the first time I plugged in the MacBook Pro was having the power flow the wrong way — for a moment, the MBP was charging the Omni 20 USB-C. I quickly unplugged the USB-C charging cable and plugged it into the other USB-C port to rectify the issue.
Just for the heck of it, I decided to plug a 10.5-inch iPad Pro into the Omni 20 USB-C and watched as it topped off the nearly "full" iPad. The output number was at about 67 Watts at that point. One thing that was also nice to see is that both the iPad Pro and the iPhone, when plugged into the Omni 20 USB-C, were "seen" by the MacBook Pro and could be backed up to it if necessary.
As you'd expect from a device capable of transferring power quickly from its internal Lithium Ion batteries to other devices, the Omni 20 USB-C got a little warm as it was working. From a starting temperature of 69°F, it went up to 96°F while charging both the MacBook Pro and iPhone to full capacity.
Conclusion
This is one heck of a power bank, and if you own a recent MacBook or MacBook Pro, you owe it to yourself to get an Omni 20 USB-C while the price is still $169. It will jump up to $249 for just the power bank when the pre-orders are done, so you can save yourself $80 by ordering now. If you're concerned that pre-orders are being done on a crowdfunding campaign on Indiegogo, don't be — the company has shipped its other projects on time and it has raised almost $3.5 million with this campaign.
The bottom line? The Omni 20 USB-C is one accessory that is always going to accompany my MacBook Pro; it's that good.
Apple World Today Rating (out of 5 stars): ★★★★★