Earlier in the week, we looked at three inexpensive Hubs designed for the 2016 and 2017 MacBook Pro. While these were adequate for work on the road, they didn't have what it takes turn a MBP into a desktop alternative. Today we're looking at a full docking station from Belkin that will do the job: the $229.99 USB-C 3.1 Express Dock HD.
Design
The Express Dock HD is designed for those who need both the convenience of a laptop and the ability to use that laptop in an office environment connected to a big monitor and multiple peripherals. As such, it's meant to be plugged into a power outlet and left on a desk.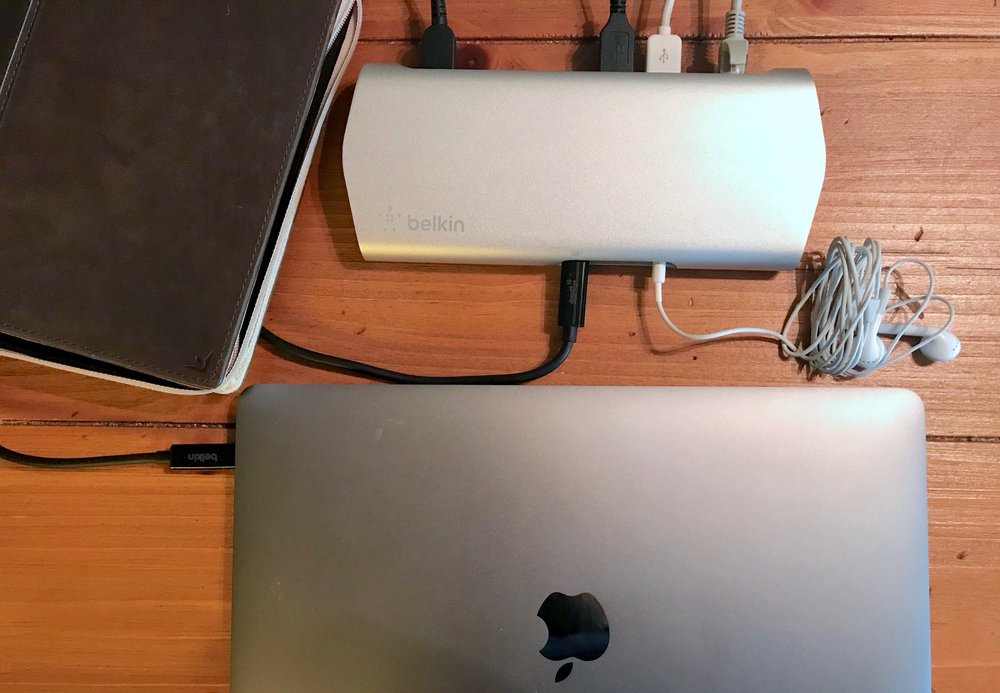 The device itself is 8.17 inches wide (20.75cm), 3.47 inches deep (8.81cm) and 1.21 inches high (3.07cm), weighing in at 2.06 pounds (934.4grams). There's a robust power supply that's included that adds another 1 lb., 2.5 ounces (524.47grams) to the package.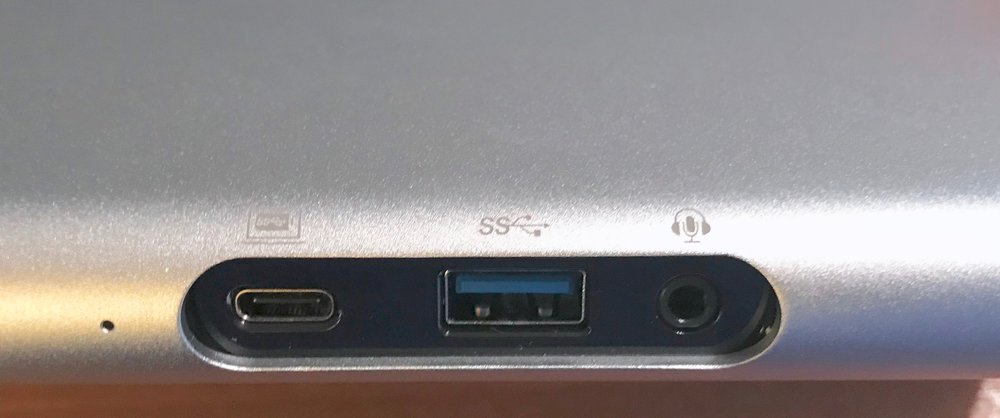 As a complete docking station for a MacBook Pro, the Express Dock HD is designed perfectly. There is a port on the front of the device for running the included 1M USB-C cable to the MacBook Pro for power (60W) and connectivity, as well as a standard USB port for charging an iPhone. If you need to plug in a microphone or headset for audio recording or listening, there's also a standard audio input/output port.

The back of the Express Dock HD is where all the business is. From left to right, looking at the back of the Express Dock HD in the photo above, are the following:
Gigabit Ethernet Port
Audio Out Port
Two USB-A ports (supporting USB 3.0 SuperSpeed)
USB-C 3.1 Port (for connectivity to other USB-C devices)
An HDMI port supporting 4K UHD output
The power port for the power supply
The Express Dock HD is finished in a nice silver tone, with black ends.
Function
A typical office setup with the Belkin USB-C Express Dock 3.1 HD would consist of the following. The Express Dock HD would be plugged into a wall outlet with a Gigabit Ethernet cable going into the supplied RJ-45 Ethernet port. A 4K monitor of some sort would be attached to the HDMI port, and perhaps some external speakers would be connected to the rear audio port.
The single USB-C 3.1 port and dual USB-A 3.0 ports on the back of the unit could be connected to a backup external drive, and USB keyboard and mouse or a similar combination of devices.
Now, when the MacBook Pro user returns to his or her office, they can use the provided 1M USB-C cable to connect to the Express Dock HD for charging and to connect to the other devices. The other USB-A 3.0 port on the front is perfect for connection an iPhone for charging, and the audio in/out port could be connected to a high-quality microphone for podcasting.
For many users, the Express Dock 3.1 HD will be sufficient to turn their MacBook Pros into connected office machines. For others, the Express Dock 3.1 HD might leave them wanting more…
To start with, this is not a Thunderbolt 3 dock; for that, you'll want the $349.99 Belkin Thunderbolt 3 Express Dock HD. The Express Dock 3.1 HD is strictly set up for USB 3.0 and 3.1.
Next, if you want to be able to drive an external 4K monitor at more than 30Hz or handle two 4K monitors, you'll also want to go with the Thunderbolt 3 dock instead of this dock.
Who's the Belkin USB-C Express Dock 3.1 HD for? It's perfect for the person who wants to have a "desktop Mac" hookup at work, then be able to disconnect all of the other connected goodies by pulling out one cable and take the MacBook Pro on the road. It's also recommended for those who don't need a Thunderbolt 3 connection and for whom a 30Hz 4K display is sufficient.
Pros:
A lot of USB-A 3.0 and USB-C 3.1 ports
Excellent design and construction
Plenty of power to charge either the 13-inch or 15-inch MacBook Pro quickly
Gigabit Ethernet
Power to MacBook Pro via USB-C Power Distribution
A pair of audio ports (one in/out, one out)
2-year limited warranty
Cons:
Rather expensive for a USB-only dock
Apple World Today Rating (out of 5 stars): ★★★★