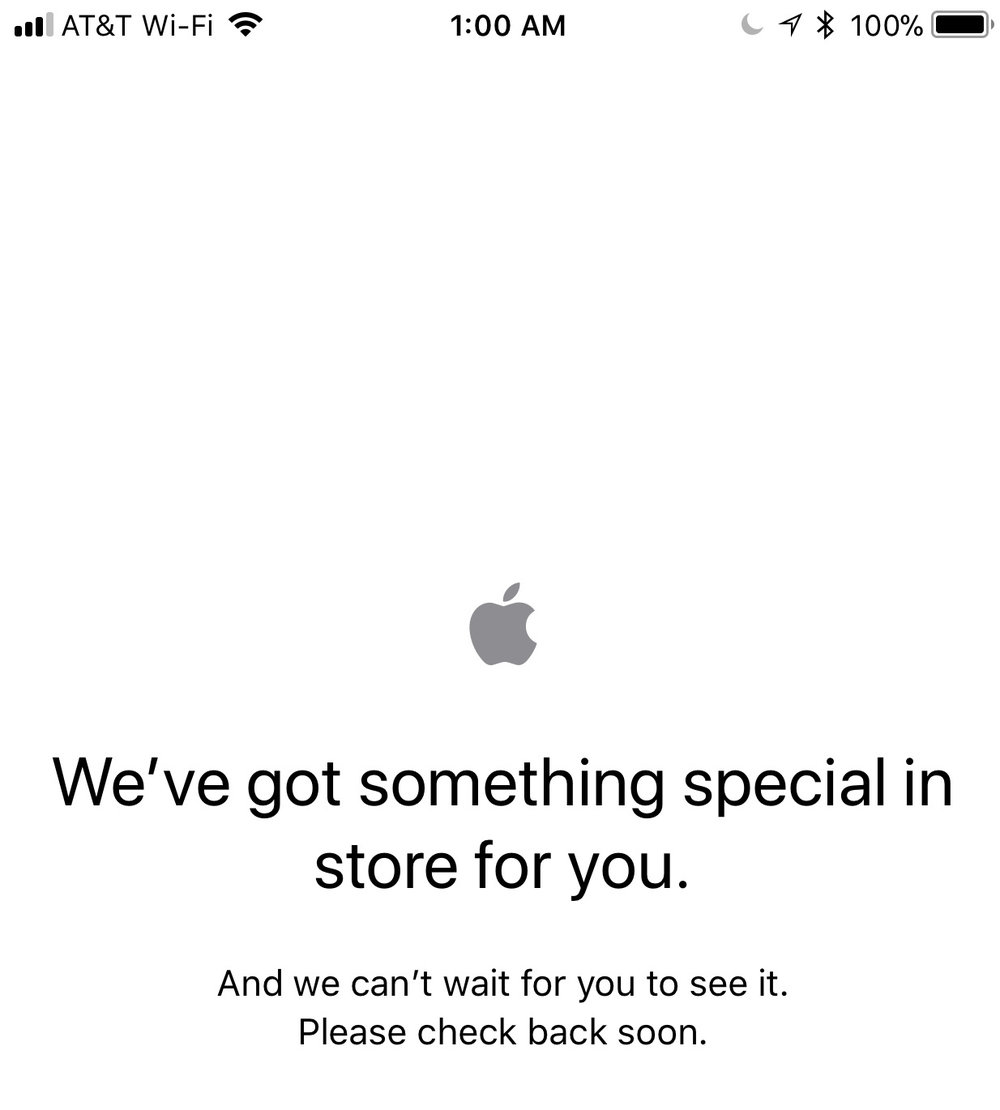 Today's the day, and our pre-orders for the iPhone X have been made. Earlier this week, Dennis and I were discussing how easy or difficult our pre-order process had been, so we decided to write a joint article showing how the process went. Here are our experiences:
Steve Sande
On Monday, October 23 I received an email from Apple's iPhone Upgrade Program notifying me that I could pre-qualify for a new iPhone X before Friday. I joined the iPhone Upgrade Program last year, and I like the fact that I can get a new iPhone every year — AppleCare included — for one monthly fee.
The pre-approval process was simple for me. I launched the iOS Apple Store app, tapped on iPhone, then tapped on the type of iPhone I wanted — the iPhone X. The app "knew" that I was an iPhone Upgrade Program member and then started me on the pre-approval process. That was done entirely in the iPhone app and took about two minutes as it pre-filled most of the information required.
The steps involved were:
Confirm your upgrade eligibility – that was established almost immediately with no work on my part
Choose your preferred iPhone X – I chose the Space Gray 256GB model
Confirm your carrier – The app knew I'm on AT&T and just needed to verify that info and the phone number
Get pre-approved for your iPhone Upgrade Program Loan – The app pre-filled every bit of information it could. The only things I needed to enter were my SSN and household income.
The next step? Haul my sleepy body out of bed at 1 AM MDT this morning to "Complete your upgrade" How did that go?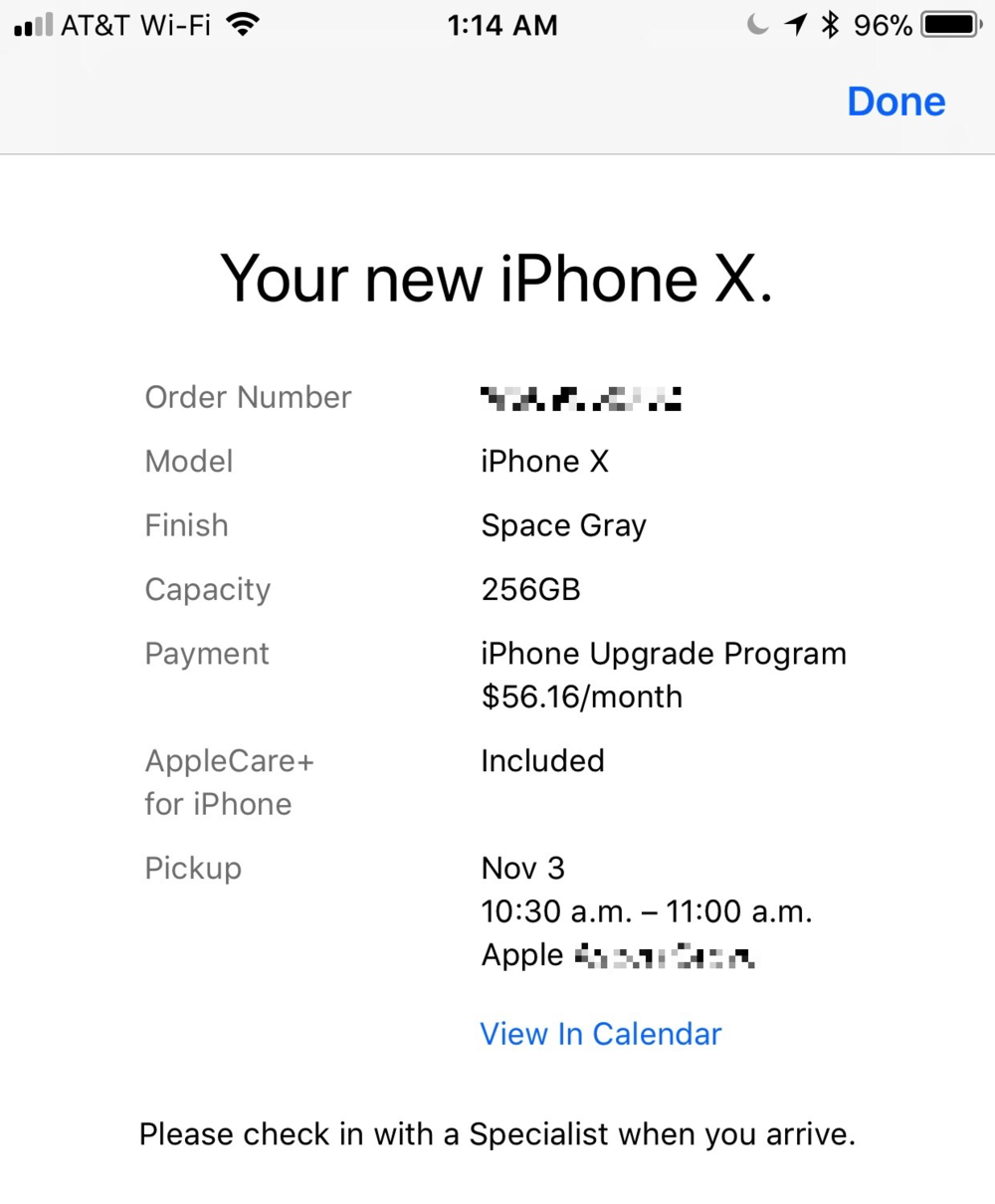 Well, at 1:01 AM MDT I started loading and reloading the Apple Store app, and continued to do so until about 1:11 AM when I finally got the prompt to "Complete your upgrade". From here, the entire process was quite easy. All of the information was pre-entered from my previous session (see above) and when I got to the confirmation page it had the "iPhone X 256GB Space Gray (GSM), AT&T" entered and was showing a shipping time of "2 – 3 weeks"… Fortunately it also said I could pick it up on November 3 at my local Apple Store.
Of course I chose the Apple Store pickup, checked out, and now I'll be heading over there at 10:30 AM local time next Friday!
I did run into a glitch when I was asked to enter my Apple ID password prior to the checkout; I got a nice error message (see image below), probably due to the volume of orders being processed. The second time I entered it everything went through quickly.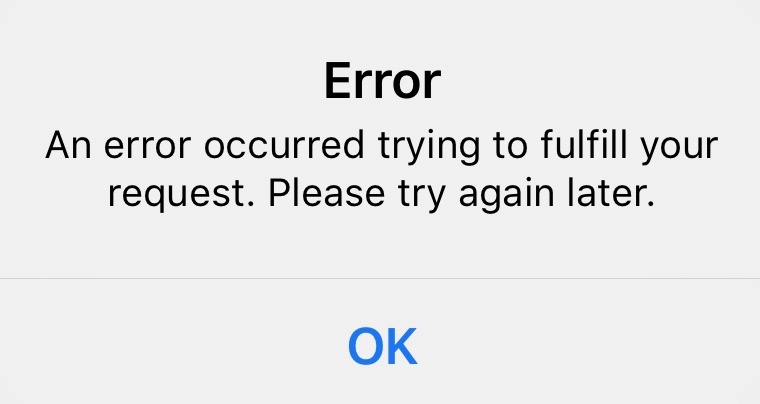 At 4:08 AM a "Your order is being processed" email came through, complete with pickup rules. My wife is the primary account holder on our AT&T account, so I will need to be "authorized to pick up the iPhone" before next Friday.
All in all, it went pretty smoothly! I think it helps to be a member of the iPhone Upgrade Program if you want to get a new unit each and every year.
Dennis Sellers
I tried enrolling, as a new member, in the iPhone Upgrade Program before Oct. 27, all to no avail.
First, I tried the App Store App on my iPhone. I chose iPhone, then selected iPhone X. I choose the "buy a new iPhone on an existing wireless account" option. I went through the on-screen steps and was asked if I'd like to enroll in the iPhone Upgrade Program. I click this option and am moved to a screen that says "Frequently Asked Questions" at the top with a blue Continue button/box at the bottom. But when I clicked it, nothing happened.
So I tried on my Mac at the iPhone Upgrade Program website. Again, I went through the onscreen steps, but when I got to the end I couldn't complete the process because the iPhone X was "currently unable."
Thankfully, it didn't seem to be a problem. I was up and online at 12:01 a.m. (Pacific). I ordered a 256GB iPhone X (space grey) and was told that one was being reserved for me. The first units will arrive next Friday, Nov. 3. Hopefully, that will include mine, but all I know is that I received a reservation number and an email from Apple that says: "We will email when we're able to reach the carrier system. The email will include instructions to complete your order, as well as the return link. You will have 24 hours from the time the email is sent to return to the Apple Online store to proceed with your order. If you do not complete your purchase within 24 hours, your reservation will be canceled."