Discover says cardmembers can now redeem Cashback Bonus for a statement credit through Apple Pay. The company is the first major credit card issuer to offer the ability to redeem rewards after a purchase through Apple's mobile payment service, says Szabolcs Paldy, vice president of e-business for Discover.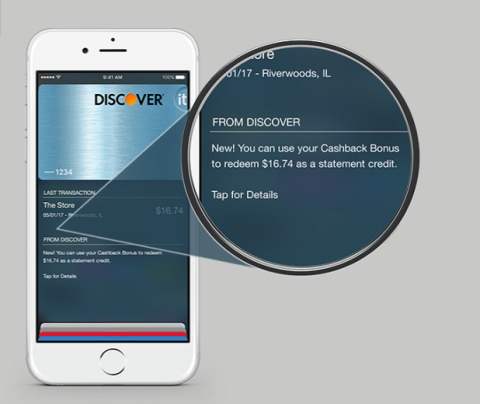 Discover Cashback Bonus redemption through Apple Pay requires an iPhone 6 or later. Cardmembers must have: a Discover card added to Apple Pay; the Discover Mobile app version 8.9.0 or above installed; and a rewards balance higher than purchase amount. In order to redeem Cashback Bonus for statement credit through Apple Pay, Discover cardmembers:
Make a qualifying purchase with their Discover card using Apple Pay on your iPhone.
Select "Tap for Details" under the Discover redemption message in Apple Wallet.
Then tap to redeem your Cashback Bonus as a statement credit in the amount of the purchase.
Apple Pay is currently available in 15 countries: Australia, Canada, China, France, Hong Kong, Italy, Japan, New Zealand, Russia, Singapore, Spain, Switzerland, the UK and U.S.