On a regular basis, Apple World Today posts a list of notable new apps or app updates that have been released. They may not necessarily be new, but they're popular and deserve mention. Here are today's picks.
macOS Apps/Updates
Dejal has announced Time Out 2.3, an update to their break reminder app for macOS.
Using a computer for hours on end can lead to eye, back, and neck strain. Time Out 2 offers users reminders to take breaks, allowing them to stretch and relax. Version 2.3 adds the ability to show the number of times each break has been postponed, skipped, and/or done today, and can set daily limits on postponing and skipping. There's also a mini-pie-chart option, and High Sierra compatibility.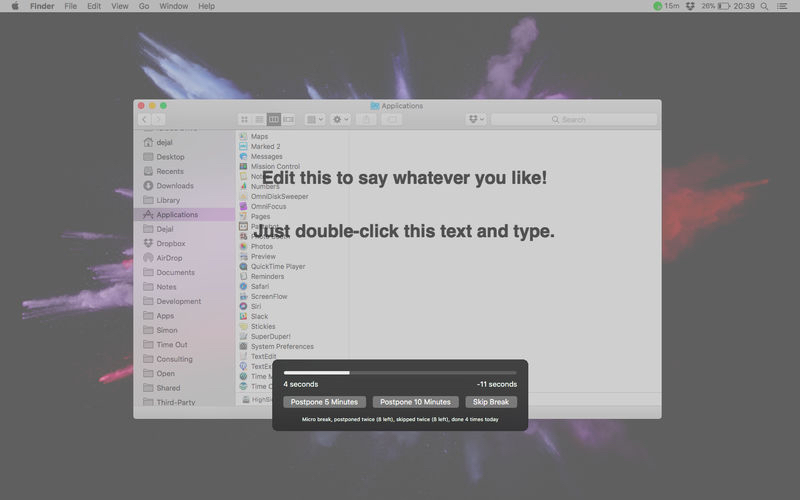 Time Out 2.3 requires macOS 10.10 or higher. It's free and available at the Mac App Store.
Zevrix Solutions has released BatchOutput XLS 2.4.3, a compatibility update to company's output automation solution for Microsoft Excel. The app automates printing and exporting of multiple spreadsheets to PDF and allows to carry out professional PDF production directly from Excel. It offers PDF security, image compression, variable file names and other options. Version 2.4.3 makes BatchOutput XLS a 64-bit app and introduces support for the recently released macOS High Sierra.
BatchOutput XLS can be purchased for $19.95 from the Zevrix website. A demo is available for download. BatchOutput XLS requires macOS 10.7-10.13 and Microsoft Excel 2008, 2011 and 2016.