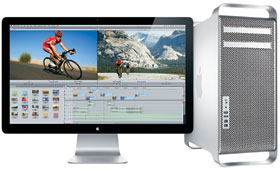 It's High Sierra Day, and we have a bit of info for owners of one particular model of Mac Pro. Everything else for today deals with other Apple products: iPhones, iPad Pros, the Apple TV 4K, and more!
Netflix has added HDR support for iOS on the iPhone 8, iPhone X and 2017 iPad Pros
Warning! All-glass iPhones like the iPhone 8, iPhone 8 Plus and upcoming iPhone X can and do break, so get a case for your phone and purchase AppleCare+
Have a 2012 – 2013 Mac Pro "cheese grater"? It gets a firmware update when you upgrade the device to macOS High Sierra
Amazon has drastically lowered prices on 4K movie titles
The text version of the podcast can be read below. To listen to the podcast here, click the play button on the player below. Apple News readers need to visit Apple World Today in order to listen to the podcast.

Text Version
This is Steve Sande for Apple World Today, and you're listening to the AWT News Update podcast for September 25, 2017. I'm back in town and a year older, sorry about the missing podcast on Friday.
Netflix has added HDR support on iOS for the iPhone 8, iPhone X and the 2017 iPad Pro models. Netflix HDR streaming requires a premium subscription plan in addition to those particular devices. It's not known if this will be true HDR support — by that I mean that it's actually fitting one of the HDR standards like HDR10 or Dolby Vision — but it should still be very lifelike video on a portable device.
If you have either already purchased an iPhone 8 or 8 Plus or are planning on getting one soon, we have two pieces of advice for you. First, get a case for your new iPhone. Second, Purchase AppleCare+ if you can. Why? Well, SquareTrade, which provides extended warranties for consumer electronics, performed drop tests on the iPhone 8, iPhone 8 Plus and the Samsung Galaxy Note 8. The similarity between these phones is that they all have glass bodies. The iPhone 8 models and the Galaxy Note 8 shattered on both sides in every drop test performed, including front and back drops from six feet of height, dropping a steel shot onto the phone from 22 feet up, and a tumble test — the last being something that's a lot more like what most people will encounter. The results? The score for the iPhone 8 was 67, considered a medium risk. The iPhone 8 Plus fared worse at a 74 score, considered a medium-high risk. And the Galaxy Note 8 was the worst of the bunch, pulling in an 80 score and a high risk of breaking. The same is sure to happen with the upcoming iPhone X, which also has an all-glass body, except with a stainless steel frame.
Have one of the old Mac Pros? I don't mean the 2013 Mac Pro that looks like a little black trash can — I mean one of the silver models made between June 2012 and October 2013. Those Mac Pros get a firmware update along with the High Sierra upgrade, and the update is required before your High Sierra upgrade can run. The firmware update adds a little bit of time to the entire update, but it will ensure that your Mac Pro is able to bump up to High Sierra successfully.
Amazon is apparently responding to Apple's offer to bump HD movies that have been purchased in the past up to 4K for free by drastically reducing 4K movie costs. Some titles have been discounted to as low as $5, while most will be found in the $7 to $19 range. Apple usually charges $19.99 for 4K films, which is a deal compared to some other sources. Amazon was charging over $30 in many cases, but dropped the prices in response to Apple's challenge. The company has also stopped selling Fire TV set-tops — those devices currently support 4K, but it's expected that Amazon will try to match the HDR compatibility of the Apple TV 4K.
That's all for today; I'll be back tomorrow afternoon with another edition of the AWT News Update.