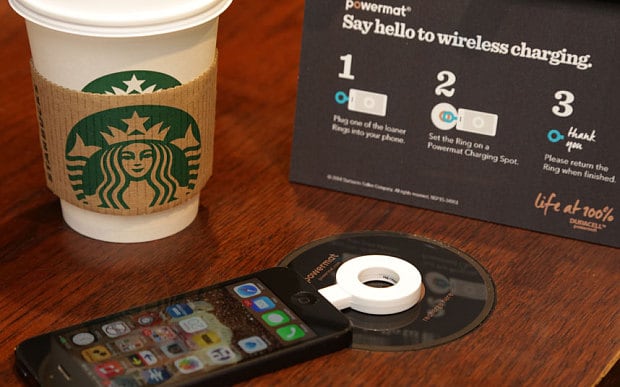 Steve's office is a construction zone right now, so we apologize in advance for the sound of front-end loaders and backup horns in the background of the podcast.
Starbucks says that its stores worldwide should be able to handle wireless charging of the iPhone 8 and 8 Plus starting next week
We have the definitive word on APFS compatibility under macOS High Sierra from Apple
Samsung's pricy Galaxy Note 8 went on pre-sale today, the same day as the iPhone 8 and 8 Plus
The text version of the podcast can be read below. To listen to the podcast here, click the play button on the player below. Apple News readers need to visit Apple World Today in order to listen to the podcast.

Text Version
This is Steve Sande for Apple World Today, and you're listening to the AWT News Update podcast for September 15, 2017. You may hear construction equipment in the background of this recording; I apologize for that, we're having some new landscaping put in.
Starbucks coffee shops have had Qi charging pads available at many locations for a long time, and now the chain says that they'll make sure by next week that iPhone 8 and 8 Plus owners can top off their new phones at Starbucks while sipping on an overpriced latté. Starbucks uses charging pads made by Powermat, which said that the millions of pads in those coffee shops around the world just need to download and install some new software to support iPhone charging. Just a handful of locations can currently handle the newest iPhones, but Starbucks said they anticipate that iPhone wireless charging support should be available at all of its locations by the time iPhone 8s start showing up next week.
We finally have definitive word from Apple on APFS in macOS High Sierra, found in a technical document for system administrators on the Apple website. According to Apple, "When you install macOS High Sierra on the built-in solid-state drive (SSD) of a Mac, that drive is automatically converted to APFS. Fusion Drives and hard disk drives (HDDs) aren't converted. You can't opt out of the transition to APFS." In case you're wondering if you can still use external drives that are formatted as HFS+ from a system that's converted to APFS, well, you can. Devices that are formatted as Mac OS Extended (HFS+) can be read from and written to by devices formatted as APFS. Devices formatted as APFS can be read from and written to by other devices formatted as APFS and by devices formatted as Mac OS Extended…but only if you're using macOS High Sierra. Apple's example is that a USB flash drive formatted as APFS can be read by a Mac using High Sierra, but not by a Mac using earlier operating systems. FileVault volumes are converted to APFS just like unencrypted volumes. Boot Camp? It doesn't read from or write to APFS-formatted volumes, but it is compatible with High Sierra. I interpreted this as meaning that you can't use Boot Camp with High Sierra on a Mac with a built-in SSD, since they'll default to APFS. If you use Time Machine, Apple says "you don't need to change any Time Machine settings to back up APFS-formatted disks" but that any Time Machine share points (for macOS Server) must be shared over SMB (Server Message Block) instead of AFP (Apple Filing Protocol). And last but not least, volumes that are formatted as APFS can't offer share points over a network using AFP. APFS supports SMB and NFS, with the option to enforce only SMB-encrypted share points.
For the first time in the history of smartphone launches, the iPhone 8 and iPhone 8 Plus went on sale through pre-orders the same day as a major competitor — in this case, the new Samsung Galaxy Note 8. While people have been complaining about the high cost of the upcoming iPhone X at $999, the new Galaxy Note appears to start at $929.99. The iPhone 8 and iPhone 8 Plus start at $699 and $849 respectively.
That's all for today; I'll be back Monday afternoon with another edition of the AWT News Update.