Good news for the Apple Watch and Apple's AirPod: the International Data Corporation (IDC) expects the popularity of wrist-worn devices – including watches and wrist bands – to continue to drive the wearables market forward.
Meanwhile, lesser-known wearable products, such as clothing and earwear, will experience market-beating growth in the years to come. According to the research group's forecast, vendors will ship a total of 121.7 million wearable devices this year, marking a 16.6% increase from the 104.4 million units shipped in 2016. The wearables market is forecast to maintain this pace of growth with shipments reaching 229.5 million units in 2021, resulting in a five-year compound annual growth rate (CAGR) of 17.2%.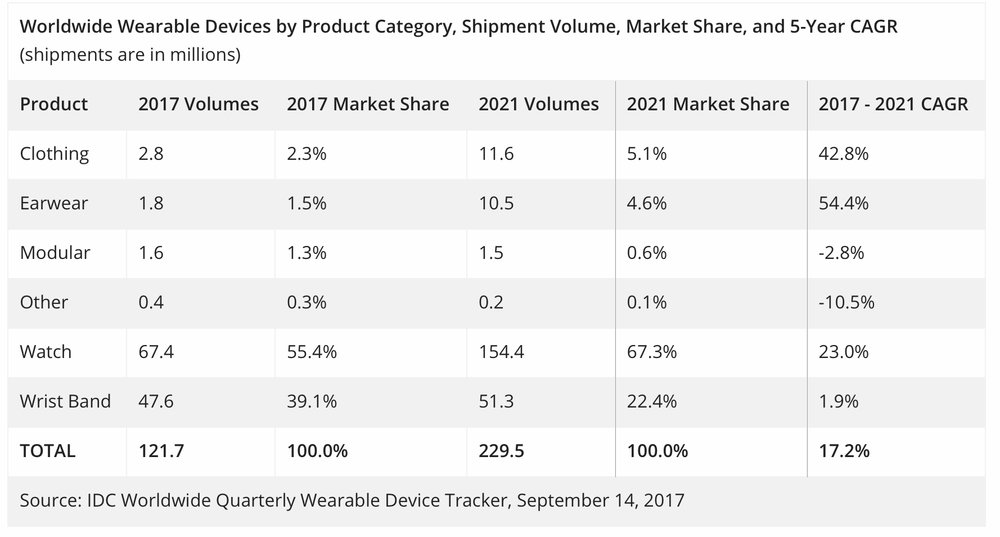 "We expect the most innovation and development in the wearables market to take place on the wrist," says Ramon T. Llamas, research manager for IDC's Wearables team. "It's the ideal location for users to collect, view, and interact with data and applications, and the point to execute tasks like responding to notifications or communicating with other people and devices. Layer on top of that varieties in style, design, segment, and feature set, and wristworn wearables are poised to remain well out in front of the market."
Outside of wrist-worn wearables, IDC also anticipates clothing and earwear (such as the AirPod)– though small in volume and market share – will develop quickly as feature sets emerge. Earworn wearables with personal assistants built in or clothing that tracks your vital signs and transmits them to your doctor can be very powerful solutions for select users, and clearly there will be plenty of possible use cases.
Watches, encompassing both smartwatches (capable of running third-party applications) and basic watches (which do not run third party applications), will comprise the majority of wearable devices throughout the forecast. Apple and Android Wear will drive the market forward, but the market will also see new entrants running on their own proprietary operating systems (i.e., Fitbit's own Java-based operating system and Garmin's Connect IQ), according to IDC.