On a regular basis, Apple World Today posts a list of notable new apps or app updates that have been released. They may not necessarily be new, but they're popular and deserve mention. Here are today's picks.
iOS Apps/Updates
Mobile Creators has debuted Pomodororo 1.0. Loosely based on the"Pomodoro Technique" method, the app is a minimal timer that can be used for a variety of tasks. Pomodororo is free, but does offer in-app purchases.
Selosoft has introduced Don't Hit! 1.0. In the free (but ad-supported) game, players control a triangle as it speeds through a course of chaotic twists and turns. Gravity will pull the triangle down relative to its orientation, and players must press their finger on the screen to counter the gravitational pull. Collecting cubes will increase their score, but they must be careful to avoid the walls, as a collision will end their run.
Parents can now check their child's spine for possible signs of scoliosis with the new app SpineScreen developed by Shriners Hospitals for Children. Available for free on the App Store, it detects curves as the cell phone is moved along a child's back, giving parents a quick, informal way to regularly monitor their child's spine.
macOS Apps/Updates
AKVIS has released AKVIS AirBrush 5.0, an update of the software for transforming digital photos into airbrushed works of art. Version 5.0 offers a new multicolor mode that allows users to choose five colors for creating mesmerizing airbrush paintings. It also adds a sdpray parameter group.
A demo is available for download. On the Mac platform AKVIS AirBrush requires macOS 10.7 or higher. The product is available as a standalone application and as a plugin to photo editors: AliveColors by AKVIS, Adobe Photoshop, and others.
AKVIS AirBrush 5.0 Home sells for $49, Deluxe for $69, Business for $89. One license key allows activating and using the software on two computers. Version 5.0 is a free upgrade for recent buyers as well for those who bought "1 Year of Updates" during the last 12 months. Users, whose license isn't valid for the new version, can get AirBrush 5.0 for $14.95.
WDSoft has rolled out FLAC to MP3 Mac 2.0, an update to the free audio conversion app. It requires macOS 10.10 or higher.
The tool converts FLAC media files to MP3, WMA, M4A, AAC, OGG and WAV audio formats. FLAC to MP3 Mac shrinks the file size to enable the playing of files on almost any device. Users can also extract audio from movie file formats such as MP4, MPG, and more.
Fidelity Media has released the fourth update to MegaSeg 6 Pro, DJ and radio automation software for macOS (10.6 and higher). Version 6.0.4 features over 50 important fixes including new controller presets, with improvements to search, segues, events, automatic volume, and interface refinements.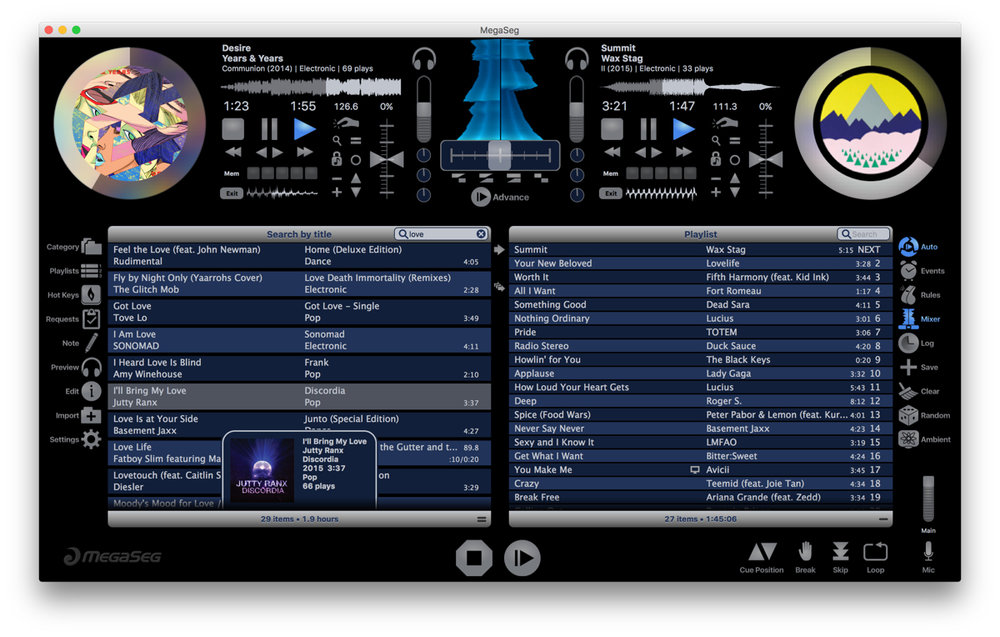 MegaSeg 6 introduced a redesigned interface among many new features including smart volume sensing for automatic segues, a new playlist browser, full-track waveforms with draggable loop points, album art progress rings, second-precision events, video overlays, exportable logs, daypart restricted tracks, and support for macOS Sierra.
MegaSeg 6 DJ and Pro editions can be purchased for $99 and $199, respectively. Older versions of MegaSeg DJ and Pro editions can be upgraded for $29 and $69, respectively.