Good news for Apple and its ARKit: worldwide revenues for the augmented reality and virtual reality (AR/VR) market are forecast to increase by 100% or more over each of the next four years, according to the latest update to the Worldwide Semiannual Augmented and Virtual Reality Spending Guide from the International Data Corporation (IDC).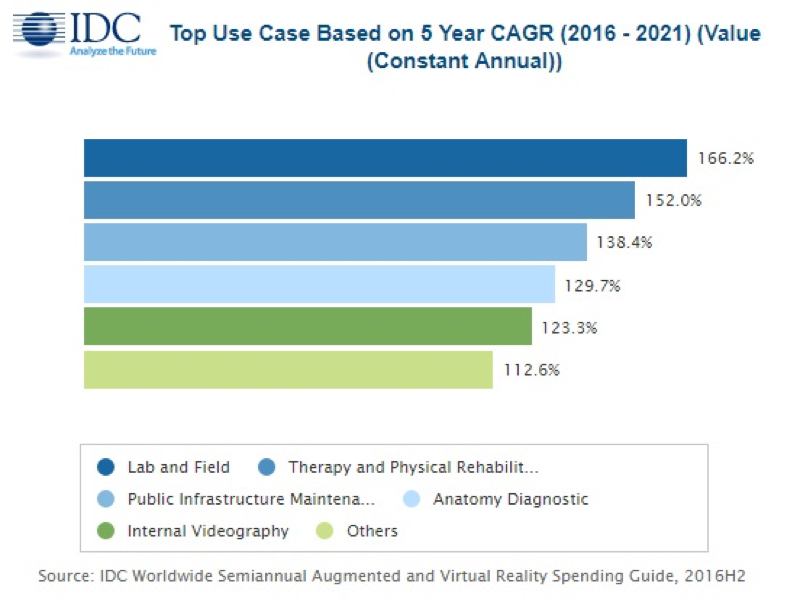 At this summer's Worldwide Developer Conference, Apple introduced ARKit. It allows developers to tap into the latest computer vision technologies to build detailed virtual content on top of real-world scenes for interactive gaming, immersive shopping experiences, industrial design and more. According to IDC, total spending on AR/VR products and services is expected to soar from $11.4 billion in 2017 to nearly $215 billion 2021, achieving a compound annual growth rate (CAGR) of 113.2% along the way.
The research group says the industry segments driving AR/VR spending start from roughly the same place, but then evolve quite differently over time. The consumer segment will be the largest source of AR/VR revenues in each region in 2017. In the U.S. and Western Europe, the next largest segments are discrete manufacturing and process manufacturing. Over the course of the forecast, IDC says the consumer segment in the U.S. will be overtaken by process manufacturing, government, discrete manufacturing, retail, construction, transportation, and professional services.