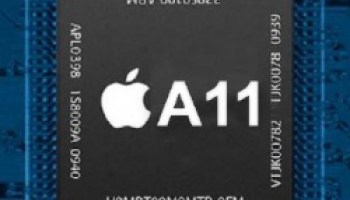 The week starts with a flurry of activity in the world of Apple:
Samsung may be manufacturing some of the A12 chips for 2018 iPhones in a bid to gain more contract chipmaking marketshare
The fourth developer betas of iOS 11, macOS High Sierra, tvOS 11 and watchOS 4 were released today
iRobot wants to sell data collected by its Roomba 900-series vacuum robots to companies like Apple, Amazon and Google
Honda has added the 2018 Ridgeline pickup truck to its list of lines compatible with Apple CarPlay
The text version of the podcast can be viewed below. To listen to the podcast here, click the play button on the player below. Apple News readers need to visit Apple World Today in order to listen to the podcast.

Text Version
This is Steve Sande for Apple World Today, and you're listening to the AWT News Update for July 24th, 2017.
As much as Samsung and Apple publicly denigrate each other, the two companies actually work quite closely as Samsung is a large supplier of components for Apple devices. A Samsung executive today said that the company wants to triple its share of the contract chip manufacturing industry within five years, which possibly adds credence to the rumor that Apple will add the company back as a producer of A-series chips for next year's iPhones. TSMC is currently the world's largest manufacturer of contract chips, with 50.6 percent of the entire contract industry last year. By contrast, Samsung had just 7.9 percent of the market. TSMC manufactures all of the A-series processors for iPhones and iPads, and if Samsung can grab some of that manufacturing it might be able to hit its goal of 25 percent marketshare and being a "strong No. 2 player". Some industry pundits noted that Samsung has grabbed some orders for A-series processors that will ship next year, possibly the A12 using a 7 nanometer process.
The fourth developer betas of iOS 11, macOS 10.13 High Sierra, tvOS 11 and watchOS 4 were released today. No noticeable changes appear to be jumping out at beta testers for this release, so Apple has probably fixed a few more bugs and done some additional performance enhancements. Any developer who has registered a device will get the new beta release through Software Update, and standalone images are available through the Apple Developer Download portal.
iRobot, the company that has marketed the Roomba home vacuum robot since 2002 and sparked a huge number of competitors, added a camera, sensor suite and new software to the 900-series vacuum. Now the company is looking at selling information gathered by the devices as they trundle around the floors of houses around the world, targeting such companies as Apple, Amazon and Google. Reuters said that the Roomba 900 series can measure the dimensions of a room as well as furniture orientation and size, as well as location of those pieces in a room. This is done through a technology called SLAM — simultaneous localization and mapping. If you own one of these fancy Roombas, which start at $700, don't worry — iRobot CEO Colin Angle says that the company won't sell the data without the permission of owners. He believes that customers will give consent willingly so that the information can be used by hardware manufacturers to tweak acoustics of products like the upcoming Apple HomePod, change the airflow ventilation in a house for optimal heating and cooling, and adjust smart lighting based on the time of day and position of the fixtures. In addition, the smart maps could suggest ideas to Apple and its competitors on new home automation products for the future.
Automobile manufacturer Honda appears to be embracing Apple's CarPlay wholeheartedly, today announcing that the 2018 Ridgeline pickup truck will support the technology. CarPlay connects Siri and iPhone apps to in-dash touchscreens, so future Ridgeline owners will need to get the 8-inch Display Audio touchscreen as an option to take advantage of the technology. Honda also recently added CarPlay to the 2018 Fit line of subcompacts, and it has been available in the Civic, Accord and CR-V lines for several years.
That's all for today ; I'll be back tomorrow afternoon with another edition of the AWT News Update.